Staying on top of the ever-evolving text message marketing trends is critical. After all, SMS messaging is one of the newer channels marketers use to keep in touch with their clients, and they're always brainstorming new ways to lock down a sale and keep their company top of mind.
By reason of that, we've broken down the top SMS marketing trends for 2023. If you're not already using these in your text marketing strategy, make sure you incorporate them in future campaigns. 
Personalized SMS Marketing Is All the Rage
If you're still sending generic SMS messages to your subscribers, congratulations — you're living in 2001!
Jokes aside, companies can't afford to send text messages that don't resonate with their subscribers in a personalized manner. Even simple welcome messages should include something personal about the customer, such as their name or a customized thank-you letter for joining their subscriber list.
Customers are much more likely to interact with a message they perceive as "just for them." According to Forbes, 91% of consumers are more likely to shop with a company that provides personalized communication and recommendations.
Savvy marketers can find ways to incorporate personalized SMS marketing with clients. Most consumers sign up for SMS messages through loyalty programs or opt-ins during a purchase. Marketers can use their information to discover more about customers' buying behavior and preferences. 
Let's look at an example:
A customer, Sam, signs up for email and SMS messages after purchasing a new computer from Total Electronics.
Total Electronics connects Sam's purchase with his contact information during the opt-in process. The company sends him a Welcome email with a list of products compatible with his new computer, including speakers, an external hard drive, and an extra monitor. 
A day later, Total Electronics sends Sam a one-time discount via an SMS text he can use toward a single purchase in the store. 
This example shows a company's successful strategy that combines email and personalized SMS marketing.
Forget Toll-Free Text Messages
In past decades, when making a long-distance phone call resulted in fees, companies used toll-free numbers to make it easier to contact them. Customers didn't have to worry about incurring charges with phone numbers outside their area code as long as the number began with "1-800," "1-888," or "1-877."
Today, most telecoms don't charge money for calls made within the U.S. or Canada as long as the prefix starts with "+1." It's possible to sit on the phone for hours, talking with your best friend who lives in Nevada from the comfort of your New York kitchen, free of charge, aside from your monthly service bill.
As a result, companies no longer need to set up toll-free numbers so their clients can reach them. They can instead use a traditional 10-digit long code, which contains the company's actual area code or an area code the company wishes to use.
Companies that use 10-digit long codes are more likely to have higher levels of customer engagement. Clients perceive them as trustworthy since they appear as an actual number and not a toll-free number. 
While sending bulk messages through a 10-digit long code may cost a little extra, using the numbers increases your open rates. Carriers are also less likely to block them than SMS messages sent from a toll-free number.
SMS Becomes a Critical Component of Omnichannel Marketing
Omnichannel marketing involves using various channels to reach customers in all stages of the purchasing journey. Common communication channels include the company's website, email, SMS, social media, and direct mail. 
Each channel has its place in the marketing funnel — social media appeals to organizations that want to inspire brand awareness, for instance, while email encourages customer retention.
SMS marketing is appropriate for various stages of the marketing funnel. For example, an SMS message can encourage consumers to participate in a flash sale or push them toward completing a purchase after abandoning their cart. 
SMS messages are beneficial for reaching clients immediately, which other channels can't do. According to a Rebrandly study, the response rate for an SMS text message is over seven times higher than a traditional email. Most consumers respond or take action on a text message within 90 seconds of receiving it.
As one of the year's top text message marketing trends, companies can't afford to ignore SMS in their omnichannel strategy.
Influencers Will Embrace SMS Marketing
One of the newer trends in SMS marketing revolves around influencers.
While influencers primarily rely on social media and YouTube to communicate with fans, we expect more influencers will begin incorporating SMS text messaging into their communication strategies. 
If you think about it, the strategy is perfect. After all, many influencers have a robust following of fans who instantly click whenever they receive a notification of the individual's newest TikTok or YouTube video.
SMS marketing puts the process in hyperdrive; influencers can directly notify their top followers whenever they have new content they want to share.
Influencers who use SMS marketing to communicate with their followers won't need to rely on the algorithms of social media platforms to create notifications or place their content at the top of a follower's social media feed. Instead, the user can simply click on the SMS message link to view it directly. 
Companies who want to get a head-start on influencer SMS marketing trends should begin brainstorming ways to capture a consumer's consent to receive SMS messages via social media platforms.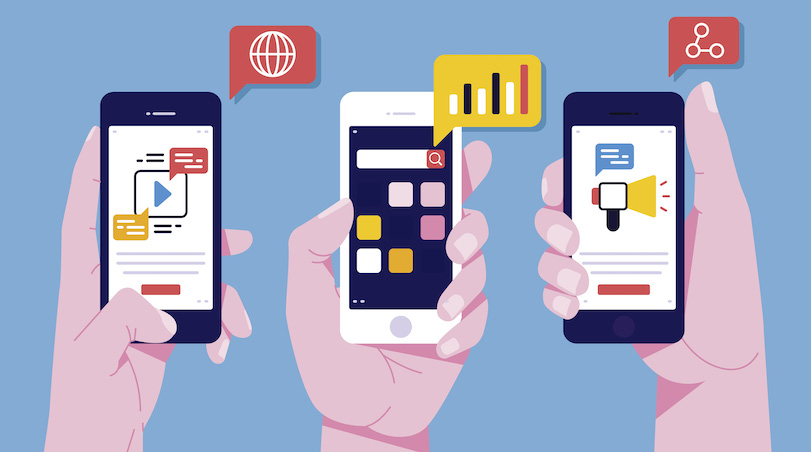 SMS Marketing Will Take Off for Administrative Activities
Another one of the more exciting trends in SMS marketing is in administrative activities, like scheduling appointments, confirming shipments, or sending out announcements. 
To understand this trend, it's essential to realize that SMS marketing isn't limited to businesses. It's helpful for every institution, including churches, hospitals, city and state governments, schools, and nonprofits. 
There are many ways to use SMS messages that don't involve making a sale. For instance, a church might use SMS texts to notify subscribers of a special holiday service. Similarly, schools can use SMS messages to inform parents of canceled extracurricular activities or unplanned closings.
Companies should think outside the box when it comes to SMS messaging to determine whether there are other ways they can use the service besides simple sales and promotions. For instance, a business might implement SMS messaging in its HR processes, allowing hiring managers to schedule interviews with candidates. 
Other businesses in the services sector, such as doctors and accountants, can use SMS messaging to schedule appointments with their patients or clients.
Improve Customer Service Communication
Another one of the more important SMS marketing trends is customer service. 
Most people are familiar with the annoyance of contacting a business for assistance only to be put on hold for ages. While there are times when talking with a customer service agent is necessary, SMS text messages can alleviate wait times and get customers answers to their questions quickly.
Many companies incorporate AI bots on their website, allowing visitors to ask questions and receive quick answers. While AI bots aren't always 100% successful in answering inquiries, they're preferable to sitting on hold all day.
Businesses can use SMS messaging as an additional communication method, allowing customers to promptly get the help they need. Customers who initiate a text message directly with a company can receive an answer to their inquiry, often from an actual customer service agent. 
Customers appreciate when companies are responsive and can answer their questions accurately. Incorporating an SMS system can significantly improve your customer retention efforts, especially for companies that often receive lots of questions, such as financial service organizations. 
SMS Text Messaging Automation Will Improve
While many platforms provide SMS text message automation (including our own Contact Consumers), there's still plenty of room for improvement. We believe SMS text messaging is poised for future growth, just like email promotions were in the mid-2000s.
There are many ways to automate text messages, such as sending welcome texts to new subscribers and generating automatic shipping notifications when a customer places an order. However, there's potential for future automation opportunities that will allow businesses to scale their SMS campaigns for growth.
For example, some companies incorporate automated customer service responses into their text messaging, similar to what an AI bot provides on a website. Companies can use specific keywords to point customers toward resolutions that are already available on their websites or other platforms. 
Businesses can also use automated text messages as part of an omnichannel marketing strategy. A coffee shop that notes a customer's preferences through their buying habits might send an automatic SMS discount to the client for their favorite latte. 
While we don't have a crystal ball, we anticipate that other opportunities for automation will appear in 2023.
SMS Will Become a Key Part of Marketing Efforts
As more businesses seek to cut costs and reduce marketing expenses due to inflation and recession concerns, they'll look to SMS marketing as an inexpensive way to retain customers. SMS marketing is cheaper than online ads, social media marketing, and influencers. It's an affordable way to maintain a presence with clients.
Instead of spending money on large-scale advertising campaigns, look for marketers to focus more on retaining their current customers. One of the best ways to do this is through SMS and email marketing promotions.
SMS marketing often brings more remarkable results than other marketing channels. For instance, when you run online ads, there's no guarantee that they'll attract customers or do much more than make consumers aware that a business exists.
With SMS marketing, customers opt-in to receive messages. They want to hear from a business, and they've already provided marketers with their contact information. As a result, they're more likely to read communications from the marketer and take further action, whether paying a simple visit to a website or making a purchase.
Regulators Stamp Out Spammy Text Messages
No one wants to find themselves on a robocall or spam text message list, but unfortunately, it happens. Sometimes consumers give their information to companies that appear legit but aren't. Other times, shady companies purchase their details from third-party advertising lists.
Regulators are already taking action to reduce spam messages and push unscrupulous actors out of SMS messages. The Federal Communications Commission recently announced proposals that will require all telecommunications providers to block text messages from companies using invalid numbers or numbers on a Do-Not-Originate list. 
The new regulations should prevent fraudulent companies from using SMS messages for nefarious purposes. Customers will have more trust in the messages they receive, allowing SMS marketing to become an even more effective marketing channel than it already is.
2023: The Year SMS Marketing Takes the Reins
We expect exciting new trends in SMS marketing to begin unfolding in 2023. Businesses can prepare themselves by learning the best practices for SMS marketing and understanding the current SMS marketing trends. 
Are you looking for a robust email and SMS marketing platform that streamlines communications with your customers and provides the tools you need to measure campaign results? Sign up with Contact Consumers today.