See What You Can Do With Text Messaging
Manage Your Human Resource Pipeline
with Text Messaging
Contact Consumers is an interactive text messaging and email marketing solution that can make life much easier for your human resources needs.
Your human resources department will appreciate the many tools that we offer to increase job application activity, manage the benefits process, and improve communication surrounding payroll.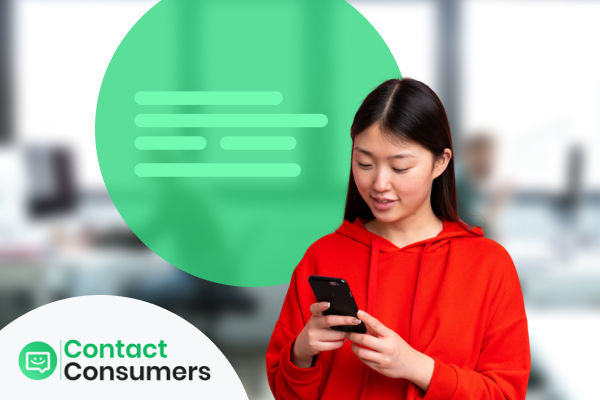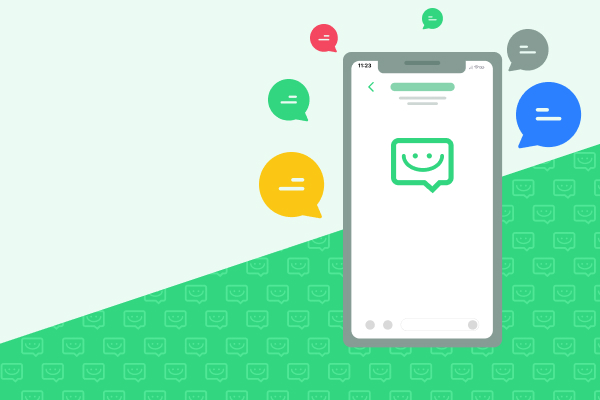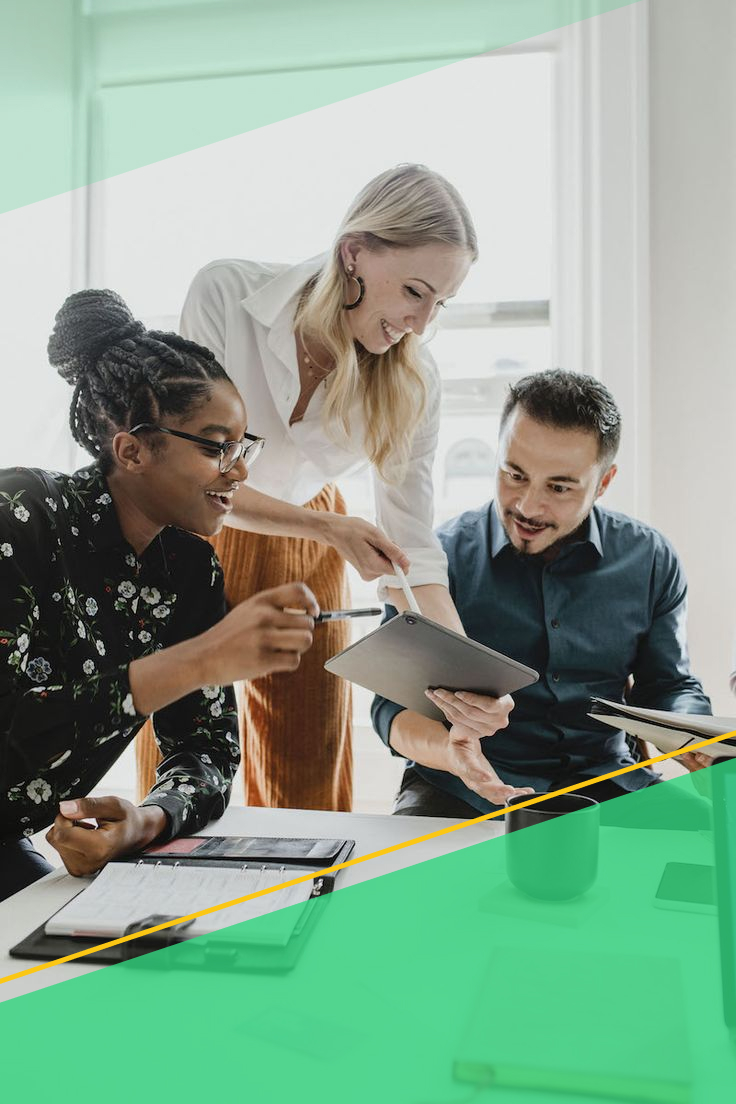 Today's human resource professionals face numerous responsibilities. The HR department locates new talent, writes job descriptions, manages company benefits, and facilitates corporate events. While emails are helpful for many of these responsibilities, text messaging is even more effective.
While emails help human resources keep everyone in the loop, text messages are even more effective. According to studies:

Text messaging returns a higher CTR than other forms of communication
The average open rate of an email across all industries is 16.97%
Text messages are seen within three minutes of receipt by over 95% of recipients
Text messaging expedites numerous processes, including:

Notifying employees of new benefit enrollment
Advising of upcoming corporate events
Providing employees and interested parties with a list of open positions
Sending payroll reminders
Ensuring compliance with training activities
Sending out employee surveys
Informing employees of mandatory training
Contact Consumers offers numerous benefits for companies seeking to improve their human resource capabilities.
Improve the Efficiency

of Human Resources
with Contact Consumers
Manage the Benefits
of Enrollment Process
Benefits are a cornerstone of corporations and businesses everywhere. Whenever a new employee joins the team, they have the opportunity to sign up for benefits, such as health and dental insurance, retirement plans, and HSAs or FSAs. Usually, employees must renew their benefit preferences annually during a period known as open enrollment.
Typically, human resources will email their employees whenever the benefits process begins. Emails provide enrollment details and information about the different options available. However, not all employees follow the timeline, and some can get so swept up in other responsibilities that they forget to enroll altogether.
Employees who subscribe to text messaging alerts receive a notification whenever the benefits process starts. Once they've appropriately enrolled, HR sends a confirmation notice directly to their phone.
Human resources can set up automation texts for employees who have not fully enrolled before the deadline. Automation texts encourage employees to drop what they're doing and register for benefits immediately.
Notify Employees
of Upcoming Payroll
Most employees know the organization's pay schedule once they start work. Whether employees receive their pay weekly, bi-weekly, or monthly, they learn how to manage their earnings to settle their rent and other essentials.
Text messages are an effective tool to inform an employee of their upcoming paycheck. Once the employee receives the notice, they know when their compensation will be deposited into their bank account.
Inform Employees
of Mandatory Training
Mid and large-size organizations often have mandatory training they provide to their employees. Types of training can vary, but sessions concerning corporate policies, leadership skills, and new software are typical.
Whenever the human resources department plans mandatory employee training, they can send a text notification. This notification improves awareness of the upcoming training sessions. If multiple training times are available, employees can schedule a time that best works for them.
Often, companies hold regular events to encourage camaraderie among team members. Company events can include dinners, outings to a theme park, or picnics. Text messaging is beneficial for ensuring employees are aware of upcoming events.
Employees who receive notification of an upcoming event can add it to their calendar. If the event requires a reservation to attend, text messaging can easily accommodate bookings to ensure the employee has a spot at the event.
Send Out Employee Surveys
Many companies prefer to keep a pulse on their employee's feelings about the business, and employee surveys are a fantastic way to do so. Often designed for anonymous input, surveys inquire about every aspect of the company, including its benefits offerings, wages, and working environment.
Text messaging is a great way to encourage employees to provide feedback to their organization. Human resources can use text messages to encourage employees to answer their surveys and provide them with a link to do so.
Best Use Case: Human Resource
Notifications of Open Positions
Human resources are usually responsible for overseeing hiring processes. Once a department has a role to fill, they'll provide human resources with the information needed to post the position on the company's website and through outside job boards.
While these methods are helpful and will attract candidates, sometimes the best applicants are those who are already part of the company or have expressed interest in working for the organization in the past.
Employees and past applicants can sign up for text messaging alerts whenever new roles open within the company.
The Job Notification
Organizations can choose to send an update to text message subscribers whenever a new job posts. Some companies decide to aggregate their postings into weekly text messages. A sample text message follows:
"XYZ corporation is hiring for a new Data Analyst. To learn more about the role, click the link provided."

Interview Reminders
Sometimes, things come up and people forget their appointments. A gentle automated reminder from the human resources department can help hiring managers avoid no-shows.
"This is a quick reminder of your scheduled interview tomorrow, July 18, with Abe Lincoln of the XYX Corporation at 3 p.m. for the Data Analyst position. Please respond HELP if this time no longer works for you; otherwise, we look forward to speaking with you!"
The Follow-Up
One-on-one text messages help update the candidate on their application status. However, email and direct phone calls are sometimes preferred, especially if the company decides to move forward with hiring the applicant.
Scheduling an Interview with an Applicant
If an application is deemed appropriate, the interview process will soon follow. Human resource managers can facilitate the interview scheduling process by sending a mass text message to individuals the hiring manager is interested in.
"Abe Lincoln, the hiring manager for the Data Analyst role at XYZ Corporation, would like to schedule an interview with you. Click on this link to schedule your appointment."
The link provides access to a calendar, where the candidate can choose a time for the interview that works best for them. Once the applicant selects a time, a follow-up text confirms the appointment.
"You've scheduled your interview for the Data Analyst role with Abe Lincoln at XYZ Corporation for Friday, July 18 at 3 p.m. We look forward to seeing you then. Text HELP if you need additional assistance."
Notification of Application Receipt
Candidates who apply for open positions often wait nervously for a response, especially if they are genuinely interested in the role. A quick automated text message from the company that notifies the candidate that their application was received alleviates stress.
"Thanks for applying for the Data Analyst position with XYZ Corporation! Your application was received and forwarded to the hiring manager. We'll let you know of the next steps."
Choose Contact Consumers for Your Human Resource Needs
It's easy to get started with Contact Consumers.
We offer a two-week trial period for all customers interested in learning how the Contact Consumers text and email messaging platforms can benefit them.
To sign up, simply reach out to us today.