See What You Can Do With Text Messaging
Text Message Marketing
for e-Commerce
At Contact Consumers, we offer an easy solution for eCommerce store owners seeking to retain their customers, improve revenues, and provide their clients with customer support. With Contact Consumers, you'll gain access to many benefits.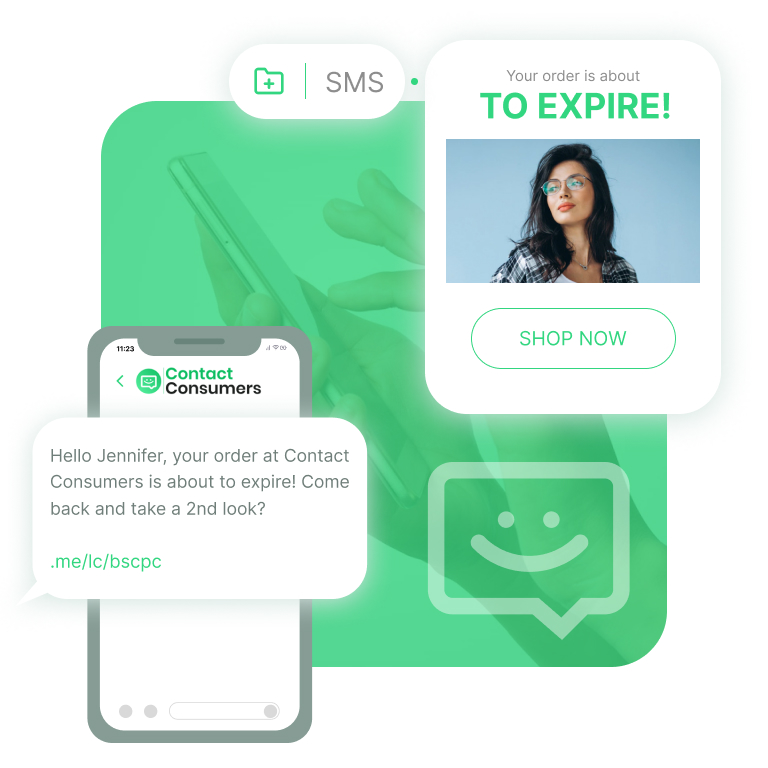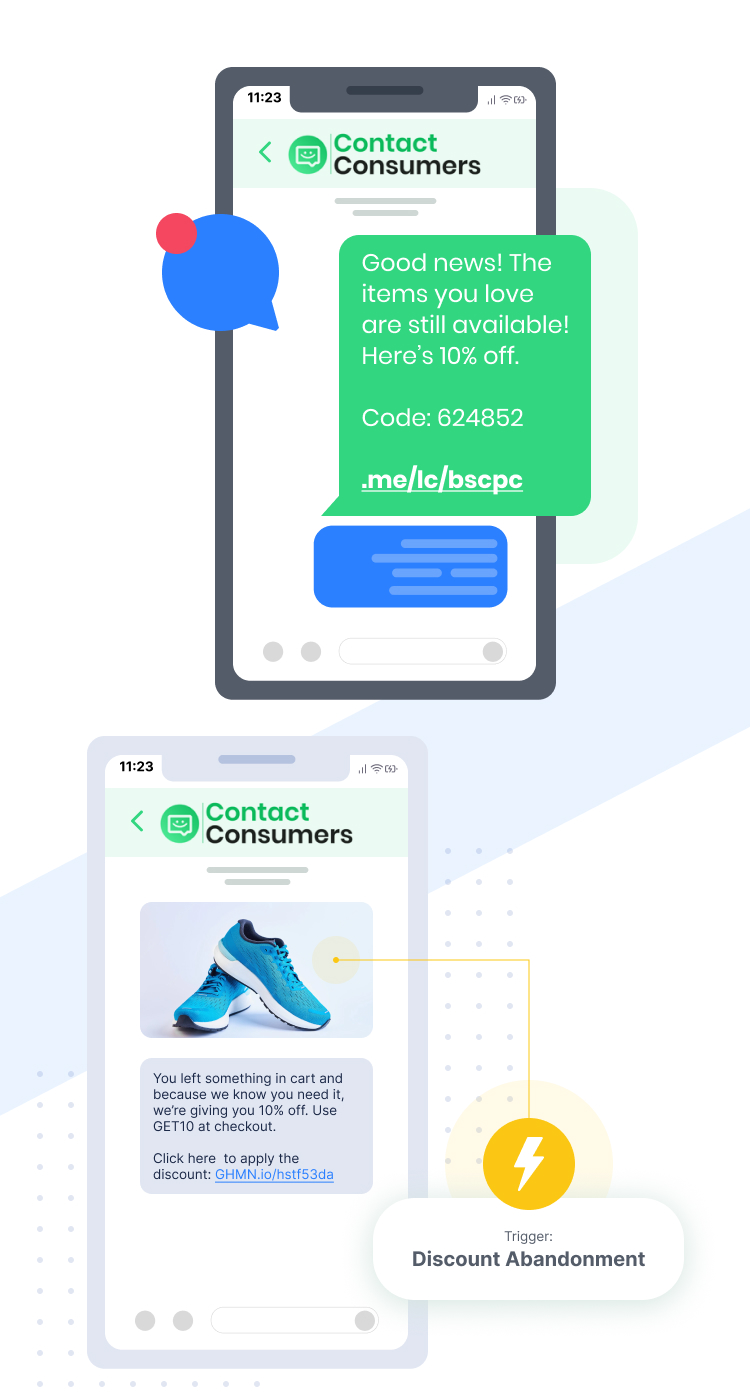 Why Is Text Messaging so Successful for e-Commerce?
While eCommerce stores can reach billions of potential consumers, they often struggle with getting customers. Popular online eCommerce sites take time to develop, and Google often ranks them far back in search engine results until they have been around for several years.
SEO strategies and digital marketing efforts help eCommerce stores to gain footing. However, results often take time and patience, and more than one eCommerce store owner has given up on the process.
Those who stick with it and stay on top of their marketing strategies see the best results. One marketing method that many eCommerce stores have yet to take advantage of is text message/SMS marketing.
Text message marketing seems simple on paper. You send a short text message to your customers, notifying them of promotions at your eCommerce store. They can click on the link provided or ignore your message altogether.
Since almost everyone reads text messages within a few minutes, you can guarantee your customer will receive your text. Text messages have a higher open rate and click-through rate than any other marketing tool.
No one will know about an eCommerce store sale unless you tell them about it.
Contact Consumers delivers to your prospects promotional notifications, provides your customers with order updates and customer success service, helps with brand marketing, works for customer retention, and more!
How
Text Message
Marketing
Can
Improve Revenue and Customer Retention
Every eCommerce store owner knows the pain of an abandoned customer shopping cart. In fact, Shopify estimates that almost 70% of online shopping carts are left unpurchased. That's a significant number of sales! If eCommerce stores can recapture a portion of abandoned shopping carts, they can grow their revenue exponentially.
Text messaging can help you gently push your customers to finalize their sales. Contact Consumers can link to the eCommerce store website and send an automated text to customers who have abandoned their shopping carts. A sample text message for an abandoned cart could read:
"Hi there! ABC eCommerce noticed you hadn't completed your order. Kindly click on the link to finish processing your purchase." The link goes directly to the consumer's shopping cart, providing the customer with an easy and direct way to finalize their purchase.
Once a client places an order, their immediate question is, "when will I receive my purchase?" Contact Consumers provides automated updates on order status that go directly to the purchaser's phone.
The customer receives a notification when their product leaves the warehouse and when it's delivered. Order updates help keep your customers informed during every step of the shipping process.
Brand marketing is an essential part of every eCommerce store's success. Every eCommerce store needs a strong following of customers who know what the brand offers and are loyal to its products and services. One way that eCommerce stores build this loyalty is through content marketing.
The most typical brand marketing platforms are blogs, social media advertisements, and emails. However, text messaging is just as effective. An eCommerce store owner can send a quick mass message to keep their brand top-of-mind with their customers.
Consider the example of an eCommerce store owner who sells fitness equipment for strength training. To establish their expertise and encourage customers to stick with a strength training program, they regularly publish detailed blogs and photo results of clients who have successfully reshaped their bodies through weight lifting. The eCommerce store can send links to their most current blogs, informing customers of the benefits of training and sparking interest in their equipment. Here are a few examples of mass texts to drive brand awareness:
"At ABC Bodies, we know how hard it can be to stick with a strength training routine. Here are ten benefits you'll experience from regular weightlifting." The above text provides a link to a blog. The blog highlights several weight-lifting products available in the ABC Bodies weight-lifting store, along with ten significant benefits of weightlifting.
"Jennifer lost 16 pounds and reshaped her body through weight lifting! Read her story and learn about her strength training program with ABC Bodies!" Ideally, Jennifer's story would relate to individuals seeking body recomposition results and needing assistance developing a strength training program they can follow.
All companies rely on some level of customer support. eCommerce stores often face a barrage of questions from their clients. Questions related to product delivery, sales promotions, the order process, and product warranties are pretty standard.
Modern eCommerce stores can support their customers through text messaging. For example, once a customer orders a product, an automated text message that provides ways to contact customer support is helpful.
"ABC eCommerce is processing your order. If you have concerns about your product, please contact us anytime by replying HELP to this text message." If the customer has questions, they can quickly respond to the text message and begin a one-on-one conversation with a customer sales agent.
Sometimes, eCommerce stores offer subscriptions for their products and services. The subscription is for a certain period, like six months or a year. Some subscriptions auto-renew, while some customers choose to renew their subscriptions on their own.
Companies offering subscriptions can reduce customer churn by notifying customers whenever a subscription ends. The text message they send their customers provides a link directly to the eCommerce website, where the client can easily renew their subscription with a few clicks.
"Your subscription with ABC eCommerce ends next week! To keep it going, click on this link to renew." The text is easy to follow and notifies the customer that their subscription will end unless they choose to renew it.
Best Use Case:
The Promotional
eCommerce Store Sale
Many retail and eCommerce stores offer regular sales to attract customers. Traditional stores notify local customers of their deals through banners, signs, local print advertising, and emails. eCommerce stores use targeted social media advertising, Google ads, and email promotional materials. However, a short text messaging blast is another excellent way to attract customers to an eCommerce sale. Let's walk through how a text messaging blast works.
The Promotional Notification
"ABC eCommerce has a two-day sale on all home goods! Save 20% to 50% off all our home goods products. Click here to visit today!"
The above is a quick message sent to ABC's 15,000 previous customers. It's straightforward and easily understood. Half of the text message recipients will likely click on the link and spend time browsing the available products.
The Order Notification
Of the 7,500 people who visit the online store, 1,000 place an order with the company. The store owner then sends a mass notification to all individuals who have bought products through the online store:
"Thanks so much for your order with ABC eCommerce! You'll receive a text notification as soon as your product is shipped!" The text notification is helpful to shoppers who want confirmation of their order.
Individual Automated Text
Suppose that the eCommerce store has enabled automation features with Contact Consumers that notify shoppers when their product has left the warehouse and is on its way. Texts are sent individually and provide a link that customers can use to track their product's delivery.
"Your order #1258475 with ABC eCommerce has been shipped. Click on this link to track its expected delivery." Customers appreciate the ability to track their order and determine when it will arrive.
The Customer Survey Text
The store owner sends a final mass text to every customer who placed an order. This text intends to collect feedback on the sale through a quick survey and identify any areas for improvement.
"ABC eCommerce truly appreciates your business. We want to ensure you have a positive experience every time you shop with us. Please answer our quick customer feedback survey by clicking this link."
Of the 1,000 customers who purchased a product, 200 decided to answer the survey questions. The eCommerce store owner receives a few actionable tips from customers that can improve the functionality of the shop and its processes.
Contact Consumers as Your Solution to Text Message Marketing
The Contact Consumers platform's two-way messaging services help your clients to interact directly with your company. With simple texts, you can provide your customers with order updates, customer service, and more!
Our analytics dashboard provides store owners with actionable insights they can use to monitor the success of their text messaging efforts. You can easily track your text message marketing efforts, including click-through rates and sales conversions. Use the analytics provided to fine-tune your business strategies.
Automation ensures your business doesn't skip a beat. Set up automated notifications that keep your customers informed whenever they place an order. Automatic notifications are perfect for order status updates, abandoned shopping carts, and customer service efforts.