Schools & Educations: Keep Staff and Parents in the Loop with Our
SMS Solutions
See What You Can Do With Text Messaging
Managing a school is an incredibly challenging, albeit rewarding, task. Of the many hurdles you will face during the school year, one of the most significant is finding a way to efficiently share information with parents, students, and staff.
Contact Consumers' dynamic platform can be tailored to meet the needs of any organization, including primary, secondary, and higher learning institutions.
The best part is that our suite of tools is user-friendly and powerful.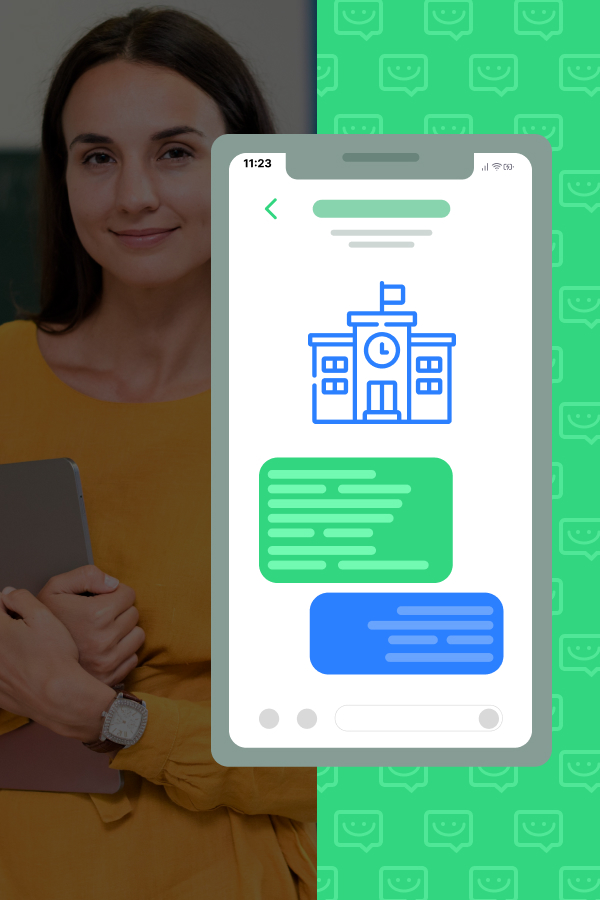 What Is Text Messaging for Schools?
Text messaging for schools is a platform that makes it easy to distribute information via SMS. You can create customized mailing lists from your school's database to distribute information to parents, teachers, or even students.
The platform's primary purpose is to send out routine updates about sporting and special events, application or enrollment deadlines, early release days, holidays, and other important occurrences.
However, it can also be used to notify students, staff, and parents about emerging issues like school closures due to inclement weather or facility safety concerns. Perhaps most importantly, our messaging system allows you to rapidly distribute information that can protect students and inform parents.
Typically, recipients open text messages much faster than they do emails. However, sending out dual messages is a great way to ensure that parents and faculty receive the information that you are attempting to distribute.
With that in mind, the Contact Consumers' platform proposes both - email and text messaging effective solutions.
Broad functionality ensures that everyone is kept in the know from the first day of school to the last.
By keeping parents informed, you are reducing the likelihood of encountering friction-filled exchanges. More importantly, you can foster feelings of trust and respect between your faculty, the students you serve, and their parents. When everyone is working towards the same goal, it will be much easier to help students reach their true potential and prepare them for the next stages of their life journeys.
Benefits of
SMS and Email Solutions

for Schools
Ever been the recipient of a parent's frustration after they have been left off of an important mailing list or email thread? If so, then you know just how stressful these scenarios can be for all involved.
Fortunately, you can make these headaches a thing of the past with ContactConsumers' SMS and email solution. As long as you have a parent's up-to-date email or phone number stored in your database, you can efficiently provide them with valuable information about their student.
Teachers and other faculty members have a lot on their plates, and that is an understatement. When teachers and support staff are not provided with important information in an efficient format, this stress is compounded.
ContactConsumers can help you alleviate this major pain point by providing you with a quick and efficient way of communicating with your staff. Use our platform to send out encouraging messaging and recognize your staff for all their hard work. You can also use it to remind them of upcoming deadlines, notify them of dress-down days, and otherwise build a feeling of community.
Increase Parent Involvement
Even the most passionate educators cannot help students reach their true potential alone. In order to effectively do their jobs, they need the support of the school's leadership and a high level of parent involvement.
However, it is important to remember that parents deal with their own set of professional and personal stresses. As a result, they may struggle to keep track of various school events, no matter how much they want to be involved in their student's educational process.
You can make this easier for your students' parents with the ContactConsumers platform. Use it to effortlessly disseminate information well in advance so that parents can request time off, reschedule their appointments, and make sure they are there for important events.
As the events draw near, you can send out reminder messages at predetermined intervals, such as two weeks out, one week out, and one day before. All of these messages can be distributed without your intervention using our platform's automated messaging functionality.
When school administrators, educators, parents, and students are all on the same page, the educational environment is harmonious and conducive to learning. Conversely, when there is no mechanism for efficiently sharing information, friction abounds.
As you know, negative emotions can snowball and result in a tense school year that distracts from the institution's mission of educating the next generation.
If you want to start off the school year on a positive note, communicating early and often is key. During the summer months, you can use the ContactConsumers platform to create email messaging for the year, set up mailing lists, and plan out your entire messaging strategy.
You can also go back in at any time and alter your message content if event dates and times change.
Minimize the Burden
on Administrative Staff
Administrative support staff members are the unsung heroes in many schools. These individuals interact with parents daily and are also tasked with crafting email messages for principals and other school leaders.
Using the ContactConsumers text messaging for schools platform, you can alleviate the burden on these staff. You can provide them with the tools to automate the sending of redundant or routine emails. This automation will lead to improved staff morale, less turnover, and a more positive work environment for everyone.
Top Features

of the Contact Consumers
Platform
There is a lot to love about the ContactConsumers text messaging for schools platform.
easy to use
This simplicity means that you and your staff will have no problem familiarizing yourselves with all of the tools and features of our solution.
Within minutes, you will be crafting your first automated email marketing campaign and preparing it for distribution.
it can easily be integrated into your existing processes and protocols.
2-way communication
That's right, not only can you send text messages to faculty and parents, but you can receive responses as well. Additionally, you can initiate one-to-one conversations or distribute text messages en masse.
powerful insights
Contact Consumers provides powerful insights into the efficacy of your messaging campaigns, including information on who opened the messages and what percentage of recipients responded.
personalized messaging
If certain parents or faculty members are consistently failing to reply to your content, you can target them with personalized messaging.
email templates
You can select from predesigned email templates that match your style, tone, and personal preference. If you do not come across any templates that suit your needs, we give you the ability to create your own.
Start Using Our School Text Messaging Solution Today
Are you ready to streamline communication and enhance your ability to share information with students, parents, and staff? Want to take advantage of Contact Consumers' powerful mass texting services for schools?
If so, then getting started is all too easy.
Simply contact our team and let us help you find the right combination of solutions to meet your school's needs.