See What You Can Do With Text Messaging
Grow Your Real Estate Clientele with
SMS and Contact Consumers
Contact Consumers text messaging is a win-win for real estate professionals seeking to keep a strong relationship with their clients and remain on their radar.
Rather than inconveniencing a customer through a phone call, a text message arrives on their phone, allowing them to answer it if they're interested in furthering the conversation or ignore it if they are not.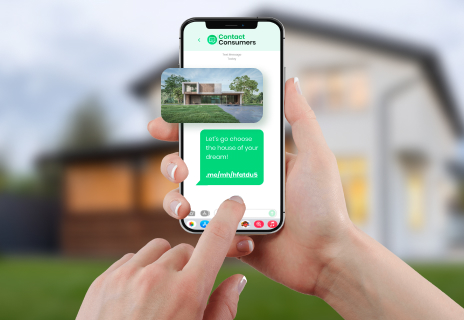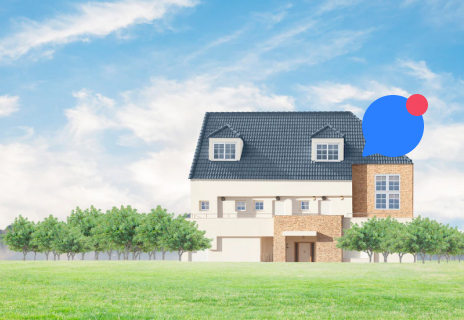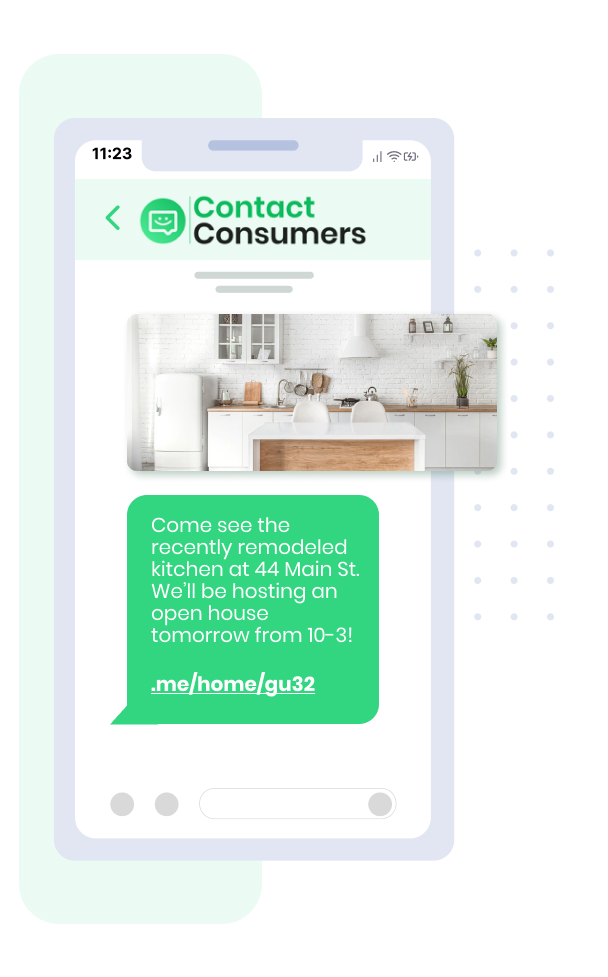 How Can Real Estate Professionals Use Text Message Marketing?
Contact Consumers text message is unlike a marketing email, which often falls into the promotional section of the user's inbox. Promotional emails compete with many other emails, and clients may fail to see them. However, once a client receives a text message, the customer remembers their interactions with the real estate agent and can decide whether or not to respond to it.
Texting is a great way for real estate professionals who want to:
Notify their customers of a new listing that fits their buying parameters
Set up a home viewing or appointment with clients
Announce an open house
Inform their clients of buying/selling decisions
Encourage their customers to provide information to prequalify for a loan
Text message marketing puts real estate professionals front and center with clients, instantly appearing on the face of a smartphone once sent.
Benefits of
Real Estate Text Messaging
Better
Customer Retention
Real estate professionals who maintain regular contact with their customers will likely keep them as clients. While client needs change over time, regularly reaching out via text improves communication channels.
When a customer decides they are ready to buy or sell a property, they are more likely to choose a realtor who has regularly made an effort to communicate with them than one who has not.
Text messages that target specific customers based on their current needs have a higher conversion rate than marketing efforts designed to reach a broader range of people. For example, real estate professionals can set up their text messaging blasts to include only clients searching for properties in a specific price range or with a certain number of bedrooms.
Customers on the receiving end of a text message that suits their preferences are more likely to react, resulting in stronger, more successful leads. A customer interested in the property can quickly respond to the text message to set up a viewing time.
Real estate professionals can use text messaging to notify clients of new properties, reschedule appointments, and let customers know if they will be late for a consultation or other purposes.
Clients remain happy because they can choose to respond on their own time.
If the text's information doesn't apply to them, they can simply ignore it and continue with their day.
Recent studies of text message marketing found that customers open 98% of the text messages they receive within three minutes of their delivery. That's tremendously more effective than email marketing, print advertising, and phone calls.
Text messages are brief and get the point they are trying to make to their customers quickly.
Real estate professionals who use text messaging for quick blasts to their customers can rest assured that most clients will read them, even if they don't immediately reply.
SMS Real Estate Marketing
- How Does it Work?
Contact Consumers offers two-way SMS and MMS services that real estate professionals can use in their marketing efforts.
Generate Leads
Let's examine a hypothetical case of a real estate professional seeking to notify clients of a newly-listed property in the $400,000 price range with four bedrooms. The single-family home is close to shopping centers and a central downtown area where many people are employed.
Using a targeted SMS, the realtor notifies clients seeking a single-family home that fits the parameters of the property. A link is attached so the clients can view pictures and additional information about the property online.
Thirty clients receive the message, and fifteen respond to the SMS within the next day with their own text message, asking to schedule an appointment to view the property.
The realtor responds to all fifteen messages with a text message blast, providing an online calendar that the clients can use to schedule their appointment to view the property.
Following each appointment, the realtor sends an individual follow-up text message, inquiring whether the client is interested in placing an offer on the property.
Twelve are not, but three decide to move forward in the buying process.
The real estate professional accomplished all these events using the effective text messaging marketing tool Contact Consumers provides to its customers.
Confirm Appointments
Sometimes, life happens, and a client or real estate professional must cancel an appointment. The solution provided by Contact Consumers allows all parties to notify one another if they need to move their meeting to another time.
The real estate agent sends appointment reminders to the client at a predetermined time, such as the day before the consultation. If the time no longer works for the client, the client can easily click a link to cancel their appointment and reschedule it for another date. There is no need to pick up the phone, and customers can complete the process in under a minute.
Offer Real-Time Reporting and Insights
Realtors need to know how effective their marketing campaigns are. If they're ineffective, fewer clients will respond to their efforts.
Contact Consumers offers robust reporting tools that any realtor can easily take advantage of.
Check-In with Clients Not Heard from Recently
Clients get caught up in other responsibilities, and looking for a new home is no longer a priority for them. In other cases, they may have located a property and purchased it through another realtor.
A text message sent to customers who have gone cold may be all that is needed to reinvigorate the working relationship. The realtor notifies them that they're still available if they need help. A cold customer can reply via text message to inform the realtor of their current situation, whatever it may be.
If the customer is no longer searching for a home, the realtor can remove them from their regular text messaging blasts.
Choose Contact Consumers for Your Real Estate Business
Real estate professionals must keep up with a wide variety of responsibilities to be successful in their business. They often work outside the traditional nine-to-five working hours and must meet with clients in the evenings and schedule weekend open houses and property viewings. Staying current with new listings is also a significant part of their role. New homes are listed daily, and realtors must pay attention to the market to stay ahead in their business. Real estate is one of the most competitive industry sectors to work in. It's crucial to take advantage of every solution available to ensure that your clients stay with you while they're looking for a new home or trying to sell their existing one. Contact Consumers is an efficient way to ensure real estate professionals are in constant contact with their clients.
However, don't just take our word for it — try it yourself!
Get more out of your marketing efforts and set up an account with us today.