See What You Can Do With Text Messaging
Political Text Messaging
Solutions to Optimize Your Campaign
In the modern political arena, speed and agility are critical to achieving success during runs for office and when appeasing constituents' desire for instant access to information.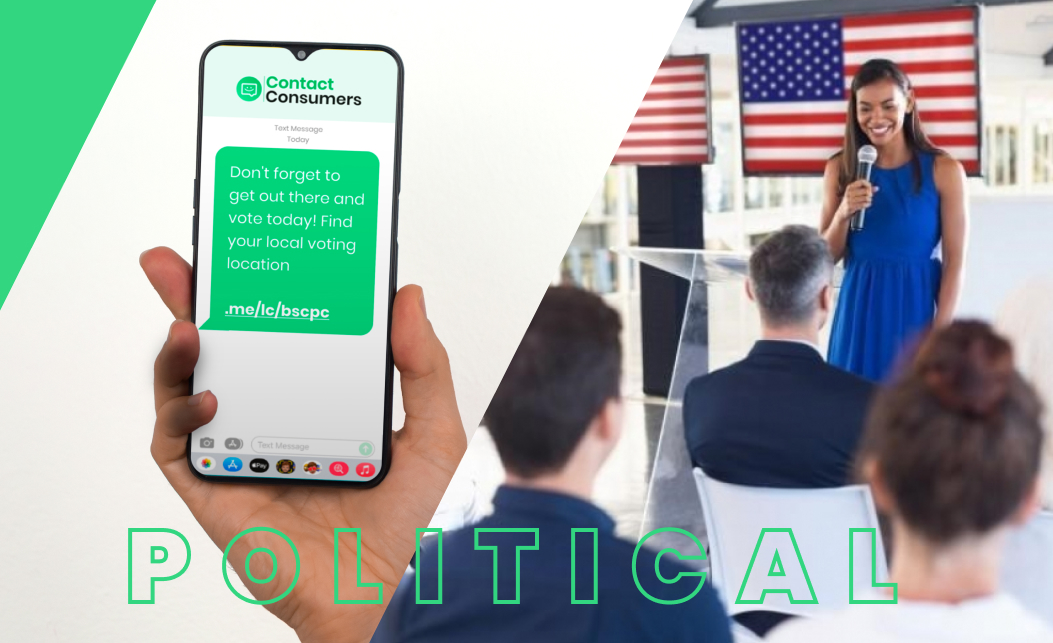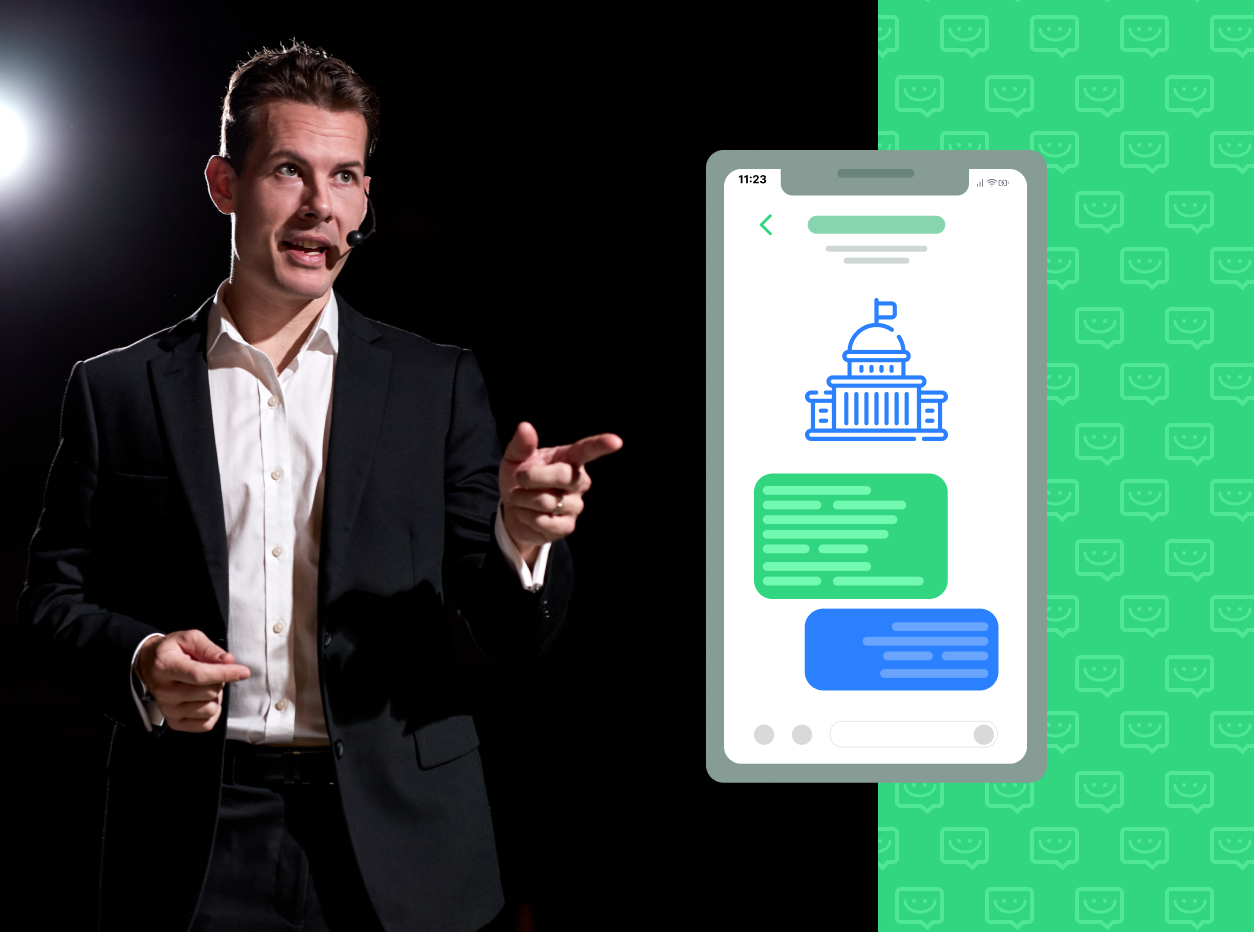 What Is a Political
Text Messaging Platform?
A political text messaging platform is a solution that streamlines the process of sending out SMS messages and emails to your target audience. You can automate the sending of messages to voters and to staff members, sponsors, and other relevant parties as well.
One of the best advantages of the political text messaging platform is that you can create "triggered campaigns." As the name suggests, these campaigns are triggered or activated when the target audience takes some sort of predefined action.
However, this is not the only manner in which trigger campaigns can be activated. You can also implement custom rules that will trigger campaigns, even if the user does not take a specified action. For example, you can design trigger campaigns that will activate at predetermined intervals after an interaction with a customer. These follow-up interactions are designed to keep your campaign top of mind among your target audience.
If you have ever tried managing SMS messaging campaigns without robust automation technology, you know just how tedious the entire process can be. Lists must be created for each campaign, and all messages must be composed manually. This process increases the chances that subscribers will be left out of the loop.
Additionally, staffers might inadvertently send messages containing typos or inaccurate information, which can negatively impact your relationship with voters.
Contact Consumers alleviates these pain points by providing a centralized SMS messaging interface. You can manage all messaging lists, create content, and distribute information from our user-friendly platform. This setup alleviates the burden on your team while also streamlining communication with voters.
Want to send out email messages in conjunction with SMS content? Text messaging solution allows you to send out duplicate messages via email and SMS to ensure that the information is received by your target audience.
You can also use SMS and email automation tools to run co-occurring campaigns. For instance, you can distribute brief updates via SMS and share more detailed progress reports using email.
Benefits

of the
Contact Consumers
One sign of a great political text messaging platform is that it is easy to use. If you and your staffers have a difficult time familiarizing yourself with a set of messaging tools, what good does it do you? The answer is not much.
That is why Contact Consumers ensured that our platform has a user-friendly, intuitive design. Within a few minutes, you will be setting up your first messaging campaign. In no time, you will be creating co-occurring email and SMS messaging campaigns so that you can stay in constant communication with voters and staffers.
Should you encounter any challenges, our dynamic support staff is ready and willing to assist. We can remotely troubleshoot any issues and help you get the most out of the technology suite.
Do you know why clients consistently turn to Contact Consumers' text messaging platform? Because it produces measurable results. But you won't have to just take our word for it.
When you begin using our solution, you will gain access to our real-time reporting tools. These tools outline every delivery and engagement that you achieve with the Contact Consumers platform. You can leverage this data to optimize your campaign messaging and mobilize your constituents.
If you find that a particular audience segment is under responding to your outreach attempts, you can craft tailored messaging that specifically addresses their concerns and pain points.
This approach will help you forge stronger bonds with your target audience. It can even allow you to improve voter turnout and increase your chances of winning the election.
Automation technology paves the way for optimized efficiency. Using it, you can send out automated SMS and email messages to individuals on your outreach lists. You can even set up custom triggers that send automated replies based on voters' responses.
This ultra-reliable system allows you to schedule these automated messages months in advance. You can set up event reminders and other messages before the height of election season. If event dates and times change as the campaign progresses, you can easily access the automated content and update your messaging.
The primary use case for automation is for triggered campaigns. To reiterate, these campaigns are activated based on custom rules that you can create within our platform. You can create triggers such as actions on the part of the user, the passing of deadlines, changes in events, or when a specified period of time has passed since your audience members have interacted with your content.
For example, you could set up a time-based trigger that sends out content to your mailing list 90 days, 60 days, and 30 days out from elections. Alternatively, you could set up a campaign that sends out emails or SMS messages at 14-day intervals after constituents sign up for your mailing list.
Trigger campaigns are one of the most effective ways to stay connected with your constituents and staff throughout an entire election cycle. They substantially alleviate the burden on your team, as you do not have to manually keep up with these deadlines during the height of election season or other significant political events.
Allows for
Dual Channel Messaging
Using separate platforms to manage email and SMS campaigns can be tedious and frustrating. Fortunately, our solution allows you to easily manage both types of messaging from the same platform. This simplicity will help you get the most out of our political text messaging and email services.
You can use dual-channel messaging in several different ways. One approach involves sending out identical information via text and email. Alternatively, you can use SMS and email as complementary communication channels to nurture and educate voters.
Contains
Dynamic Email Templates
Do you want to create 100% original email designs for your messaging? If so, our platform gives you the ability to do so. You can make each campaign truly unique so that it better resonates with your target audience.
If you are interested in more of a plug-and-play solution, Contact Consumers can assist with that as well. We have dozens of email templates that you can choose from when setting up your messaging campaign. From simple and professional to bright and vibrant, our template library has options to meet any need.
There are many different ways to incorporate Contact Consumers' political text messaging and email tools into your campaign strategy. Some of the most popular use cases for the technology that Contact Consumers is based on include the following:
Distributing Information to Staff
Communicating with campaign staff is always a challenge in the world of politics. However, it is particularly difficult when staff is scattered across multiple satellite offices throughout your political region.
You can set up automated emails to remind staff of upcoming fundraisers, events, and deadlines. This approach ensures that everyone is on the same page come election day.
Two-Way SMS and MMS
Did we mention that our platform can process replies as well? When staffers send replies like confirmation receipts, you will know about it.
Communicating with Constituents
Email-based communication is a great way of distributing information to constituents, party members, and undecided voters. However, not everyone checks their email at the same rate. Some individuals might not even check their inboxes daily. As a result, some constituents might miss out on time-sensitive information relating to key events.
So how does Contact Consumers help you solve this conundrum? The answer is simple — automated political text messaging tools.
Fundraising
Managing a political campaign is a costly endeavor. Getting your message out and communicating with voters requires adequate funding. Otherwise, you will not be able to extend your reach far enough to mobilize voters and achieve your political objectives.
You can notify party members of upcoming fundraising events, share your values to encourage people to donate, and distribute "thank you" messages after receiving monetary gifts.
Contact Consumers' services can certainly augment your efforts.
Reducing Campaigning Expenses
Speaking of campaign funding, the Contact Consumers platform can reduce your communication expenses. This approach will free up capital to pursue other campaigning efforts.
Our platform facilitates cost reduction in several ways. First, you can reduce your reliance on physical pamphlets, flyers, and handouts. This setup will cut costs and minimize the amount of waste that your campaign produces. Call that a win-win, especially if environmental sustainability is one of your key campaigning points.
Additionally, our automation tools allow you to maintain effective lines of communication without putting undue strain on your staff. Your team will get to spend less time performing redundant information-sharing tasks and more of it engaging in dynamic activities that help you earn votes.
Streamline Your Campaign's Messaging Capabilities
Are you ready to elevate your campaign's ability to communicate with staff and voters? Want to leverage the power of automated SMS and email messaging to stay connected with your target audience? Looking for a reliable way to share information, monitor responses, and analyze audience participation?
If you answered yes to any of the above questions, then it is time to take advantage of Contact Consumers' powerful platform. Our well-priced and easy-to-use solution is ideal for municipal, state, and federal political campaign management. It can be seamlessly scaled to a level that aligns with the needs of your campaign.
To learn more about this opportunity, simply contact our team.
We will help you choose the best suite of tools to meet the needs of your political campaign.