Swift, efficient, and valuable, text messages are uniquely poised to consistently outperform social media and email marketing endeavors, in large part because they're fast and easy to review, as well as the fact that they typically aren't subject to getting lost in consumers' inboxes and feeds.
With that being said, it's only natural for short message service (SMS) marketing to have gradually become one of the most effective ways to improve consumer engagement, boost customer loyalty, and increase sales.
Regardless of its growing popularity, however, the success of your SMS marketing efforts rests on whether you can capture your audience's attention and push them toward your desired action, whether that's returning to their abandoned carts to follow through on a purchase or signing up for an event. 
The key to composing texts that lead to successful conversions is following SMS marketing best practices, infusing your messages with your brand's own particular flair, and drawing inspiration from the particular text message template that aligns with your business and campaign. 
Below, you'll learn how to leverage those practices and discover the text messages template that may best help you achieve your objectives.
Why Use Text Messages for Your Business's Goals?
SMS marketing has the potential to benefit your brand because the form of communication inherently has a:
High Open Rate
Text messages enjoy a 98% open rate. By comparison, a "good" open rate for emails, according to marketing experts, hovers anywhere between 17 and 28%. As such, text messages stand a substantially higher chance of being reviewed by your audience.
High CTR
Text messages also have an impressive click-through rate (CTR) of 25%, whereas emails, on the other hand, typically average a CTR of 2.5%. You can thank the brevity of text messages for this particular statistic, a topic that we will discuss more shortly. 
High Customization
The intrinsic nature of texting and its manner of delivery allow you to personalize your messages. You could use SMS messages to do any of the following:
Inform consumers of a sale item they've previously expressed interest in.

Remind a customer of an item they left in their cart.

Offer customers a discount tailored to their interests and relationship with your business, such as a 25%-off code for loyalty members.
According to a recent Attentive Mobile Consumer Report, 91% of consumers claimed they would agree to text messages from brands, so when used competently, SMS marketing can perform double duty, nurturing customer satisfaction while satisfying your marketing aims.
What are SMS Marketing Best Practices?
Text messages may be exceedingly common, with more than half of people using the native messenger on their smartphones (which simply refers to the direct messaging app on one's device, as opposed to using external messaging services such as Facebook Messenger, WhatsApp, Instagram, or Skype), but the prevalence of text messaging doesn't mean that brands should treat the marketing medium as a super-casual form of communication. 
The most effective SMS marketing campaigns are pointed and strategic, corresponding with the most up-to-date best practices. As such, before using a text message template or fine-tuning your message, consider implementing these standards:
Consent
Consent isn't just an indicator of sound customer service: it's also a legal requirement. The Federal Communications Commission (FCC) restricts text marketing to only the individuals who have opted in for it. 
In other words, you must obtain the express permission of your subscribers before you can market to them via text, and you must ensure that your text messages contain essential disclaimers, such as the ability to unsubscribe. It's also worth mentioning that signing up as an email subscriber is not equivalent to consenting to SMS marketing. 
Concision
SMS messages are restricted to 160 characters, which may seem generous at first, but it's fewer characters than a Tweet is allotted these days, and Tweets are already characterized by their succinctness. The language you employ in your SMS campaigns must be punchy, exact, and attuned to "text-speak." 
Consistency
Consistency is progressively seen as one of the most vital components of a brand's identity, with 60% of millennials – the biggest sector of online shoppers – expecting brands to be consistent across all channels. 
If you have a professional, elegant image but pepper your text messages with "4" in place of "for" and "U" for "you," you will undoubtedly give your audience pause (and possibly cause them to wonder if your message is spam). Refer to your brand guidelines for the words that you've established as part of its image. 
Conversation
While you want to remain consistent – not just with SMS but across all of your marketing and communication channels – you should also pay mind to the conversational nature of your text messages. 
For many brands, doing so means implementing the infrastructure to conduct peer-to-peer texting, which can be used to accomplish the following:
Alert customers when they have left their cart without finalizing their purchase.

Tell nonprofit donors about an upcoming fundraising event.

Inform customers about a new sale exclusive to loyalty members.
Peer-to-peer texting is a terrific tool through which you can deepen customer engagement and bond with your audience.
Call to Action
Even the most concise and brilliant text messages template may not deliver the results you're after if your consumer base is unclear as to what their next step should be. Always include a straightforward (though compelling) call to action in your messages, and simplify the journey for your consumer through appropriate links – to sales pages, abandoned carts, sign-up forms, and more. 
Customization
To consumers, SMS marketing feels eminently more personal than an email or social media post. They have given you permission to contact them on the same channel as their friends, family members, and colleagues. Honor that trust by tailoring your text messages and personalizing them from a "holistic" perspective. 
In other words, remain mindful of your text frequency (no one appreciates receiving a deluge of messages, after all) and of the following characteristics of your consumers:
Geographic location 

Time zone

Online habits and preferences

Age

Income level

Interests
Marketing a men's ski jacket that's on sale at a brick-and-mortar store in Manhattan might not resonate with a female who lives in South Florida, but telling the same consumer about a swimsuit sale going on two blocks away from them in Miami may just get them to bite. 
Also, while AI has its place for SMS marketing purposes, ensure your messages have gone through review by human intelligence so that they make sense and are as personalized and relevant as possible.
Lastly, always make sure to identify yourself immediately and make it clear that you have an infrastructure in place for timely responses to your consumers' questions and concerns, such as a link to a FAQ page or two-way messaging.
Find the Text Message Template for Your SMS Campaign
One of the beauties of SMS marketing is the sheer range of possibilities it provides. Let's look at a few examples so that you can discover which text messages template will elevate your campaign.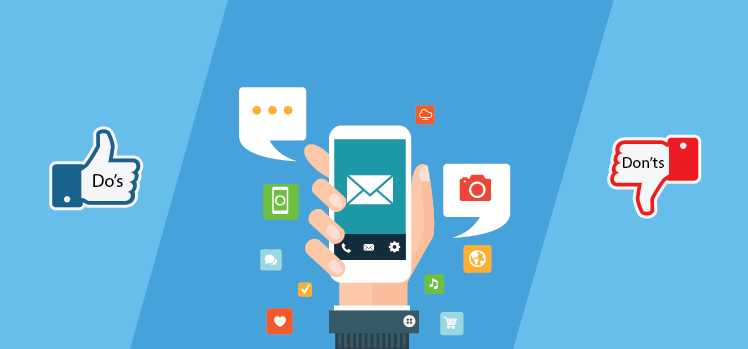 1. The Enticement Text 
Nearly every brand that employs SMS marketing uses a form of "the enticement text," and they may predominantly use them, even if they have a different name for their always-savvy marketing messages. 
Call it whatever you like, but the purpose of an enticement text is to alert consumers about the following:
Product launches, such as a new seasonal line.

Sales and promotions.

Exclusive offers.
The surf and fashion brand Volcom recently delivered an enticement text to announce a key wardrobe staple: leggings. Their text reads, "Volcom: Workout class? Netflix at home? Spring beach walks? Do it all in the lived-in loungewear collection featuring flared leggings: [Link]. STOP to opt-out."
That text is so effective because Volcom has effectively followed many of the best practices outlined above:
Identifying themselves from the get-go.

Speaking in the language of their target audience.

Appealing to their target audience's lifestyle and preferences.

Showcasing the versatility and comfort of their product.

Making it exceptionally easy to opt out of text messages.
Here's a text message template you can use in a similar vein:
[Brand name]: Spring is officially in the air. Savor the season with [product]. [Link.] Reply STOP to unsubscribe. 
A text messages template such as this can be easily tweaked to reflect your brand's unique identity and product or service, and the more you can play up your product or service without coming across as outrageously "sales-y," the more alluring your message will be.
2. The "Urgent" Text
A brand's text messages should never include even subtly threatening language to try to persuade a consumer into action, but adding a sense of urgency to your SMS marketing campaign can prompt a customer to move quickly. 
An urgent text messages template can be leveraged to:
Tell customers about a limited-time sale.

Remind customers of a product they have added to their cart but is selling out.

Inform customers about an event with limited capacity.
The language you use to give your texts urgency is crucial. "One time," "today only," and "limited time" are just three ways to lend your message immediacy. Placed into a message, they may look like this:
Hi, [Customer name], [brand name] here! Enjoy 20% off [link to product or service] today only for our friends and family with the code [code]. STOP to unsubscribe. 
With limited-time sales, it's also important to include the time zone in which the sale or promotion ends, such as 12 a.m. EST, which is especially critical for brands with global customer bases.
3. The "Text an Expert" Message
The modern consumer expects more than just personalized messages: They also want that sense of engagement we briefly touched upon earlier, and there's no better way to upsell your products or services than by supplying your customers with access to key information about their purchases.
If you're a makeup brand, for example, you can create a campaign that allows your consumers to ask a makeup expert about the best way to remove your makeup, how to contour, or which colors would work best with their complexion.
One example of a text message in this vein might read:
Hello there, [name]! We hope you're thrilled with your new [product name]. Have any questions? Announcing our new text-an-expert platform: [Link.] STOP to unsubscribe.
A text message template of this kind can be powerful in that it assures the customer that their business is valued and your company has people on hand to ensure their satisfaction throughout their entire experience is satisfying, which builds authority, fosters trust, and nourishes customer retention.
Land on the Ideal Text Messages Template with Contact Consumers
If you need another text message template for inspiration – or a team of experts to handle your SMS marketing needs – Contact Consumers may be the solution you have been searching for. 
Our simple-to-use SMS and email marketing platforms have been used by companies ranging from Lyft to Liberty Mutual because of their speed, effectiveness, and value. Reach out to us today to enjoy all of the benefits that arrive with one-on-one messaging.