Achieving success on Black Friday is not challenging – it is attainable through careful planning and preparation. Getting a head start isn't just a good idea – it's a must.
While we may not have a precise formula at Contact Consumers, we're here to help you prepare for Black Friday triumph. Our expertise and guidance can be your path to a profitable holiday season. Let's begin:
Having ample lead time serves a dual purpose: it empowers you to refine your offers while facilitating the creation of engaging email sequences, and cultivating a sense of anticipation among your subscribers:
Imagine you're a clothing retailer gearing up for Black Friday. By starting your preparations well in advance, you have the time to not only perfect your exclusive Black Friday deals but also craft a series of teaser emails. In the weeks leading up to the big event, you send out emails hinting at the fantastic discounts and limited-time offers that await your subscribers.
When refining your offers, consider what your customers are most eager to see discounted on Black Friday.
This strategic lead time allows you to build anticipation among your audience, piquing their curiosity and excitement. As a result, when Black Friday arrives, your subscribers are eager to open their inboxes and take advantage of the incredible deals they've been anticipating. This anticipation and engagement translate into higher open rates, click-through rates, and ultimately, more sales.
Prioritize Deliverability
While planning and executing your Black Friday strategy is essential, you must not overlook the importance of email deliverability. Neglecting this aspect can tarnish your sender reputation, resulting in lower email open rates and overall effectiveness. Taking proactive steps to improve deliverability, such as list hygiene and warm-up sequences, is a crucial part of your pre-Black Friday preparations.
Leverage Smart Personalization
Everything you see in this guide is designed to help you. 
Segmenting your email audience is another invaluable tactic. Personalizing your email campaigns to cater to different subscriber segments can make a remarkable difference in engagement and conversions. Leveraging advanced email personalization features helps you tailor your messages even further, based on individual profiles and preferences: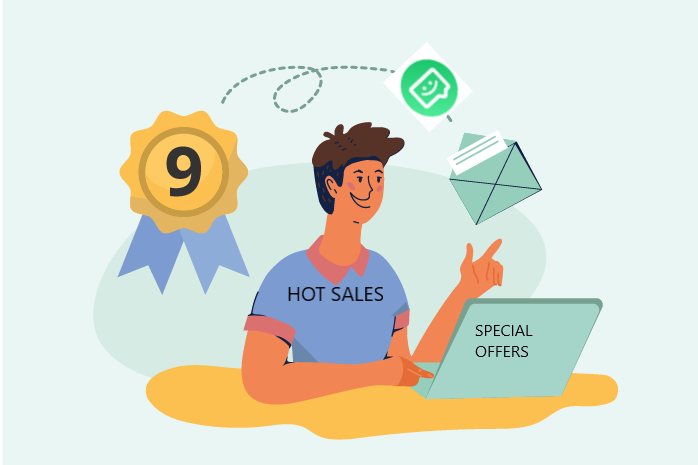 Let's say you run an online electronics store, and you've segmented your email list based on your customers' purchase history and interests. One of your segments consists of tech enthusiasts who frequently buy the latest gadgets, while another segment includes budget-conscious shoppers looking for deals on refurbished or discounted items.
Smart email personalization features can tailor flawless email campaigns for every segment:
For your tech-savvy segment, you send emails showcasing the newest arrivals and cutting-edge technology, knowing this is what they're most interested in:
Subject: Your VIP Pass to the Future of Tech
"Hello %%Customer's Name%%,
%%Your Store Name%% values your tech-savvy spirit. Enjoy a sneak peek into tech's future:
Discover What's New: Explore the latest gadgets, from smartphones to smart home tech.
Tech Insights: Dive into expert reviews and insider tips.
Exclusive Access: Be first in line for upcoming tech launches and promotions.
Join us in the tech adventure. Click below to explore!
[Explore Now]
Stay connected with %%Your Store Name%% for all things tech!
Best, %%Your Name%% – %%Your Store Name%%
[To Unsubscribe]"
Meanwhile, for your budget-conscious segment, you create emails highlighting special offers, clearance items, and budget-friendly product recommendations:
Subject: Unbeatable Savings on Tech Essentials for Savvy Shoppers
"Hello %%Customer's Name%%,
At %%Your Store Name%%, we're all about great deals without sacrificing quality. Explore budget-friendly tech essentials:
Clearance Corner: Unbeatable discounts on overstocked and previous-gen tech.
Refurbished Collection: Like-new tech at budget-friendly prices.
Budget Tips: Expert advice for maximizing your tech investments.
Start saving today with the link below. Your wallet will thank you!
[Shop Now]
Stay tuned for more money-saving deals and tech insights.
Best, %%Your Name%% – %%Your Store Name%%
[Unsubscribe]"
Create a Dedicated Landing Page
Creating a dedicated landing page for your Black Friday promotion is a must, particularly if you plan to tease your subscribers in advance. This page can serve as the hub for all information related to your offer, building excitement and encouraging subscribers to stay tuned for more updates. By keeping your emails concise and directing subscribers to your landing page, you can enhance deliverability and track user engagement effectively.
Visual elements play a vital role in capturing your audience's attention. Regardless of your industry, investing in well-designed emails and landing pages is essential for conveying the excitement of your Black Friday offer. You can choose from professional email templates or opt for custom designs to leave a lasting impression on your subscribers.
Don't limit yourself to one day
When formulating your Black Friday strategy, don't restrict your thinking to a single day. Consider extending your efforts to Cyber Monday and beyond. Offering similar deals or revisiting your promotions in the months following Black Friday can capitalize on consumer interest and drive sustained sales growth.
To maximize your Black Friday success, don't forget to implement a retargeting strategy for users who don't complete their purchase. This abandoned cart approach is not limited to e-commerce and can be adapted to various businesses. By retargeting, you can recapture the interest and boost your sales.
The next step is to determine your retargeting strategy. You can opt to retarget them during your Cyber Monday promotion or craft a unique "second chance" campaign directed at those who came close to making a purchase.
Optimize Timing and Frequency
Timing and frequency are critical factors in email marketing success. Depending on your industry and audience, the best times to send your emails may vary. By optimizing your timing and frequency, you can enhance your email engagement, and ultimately, your conversion rates.
Imagine a local bakery that sends out email promotions. They notice that sending their 'freshly baked' email in the morning just before people start thinking about breakfast results in more clicks and orders. By getting the timing right, they see an increase in customer engagement and more orders for their delicious pastries.
This guide is all about giving you direction. 
Getting the frequency right isn't something that happens overnight. It requires experimentation and learning over time. The open rate, click rate, and unsubscribe rate will be your indicators of progress.
Keep in mind, everything is interconnected in this context. What constitutes the "wrong frequency" varies for different subscriber types. That's why it's essential to explore email segmentation, personalization, and customer care to understand these nuances better.
We're interested in learning about your specific needs and any questions you may have regarding email marketing, including how often to send emails, to assist you leveraging our experience and the unique functionality of the sending platform.
Lastly, consider seeking a strategic partner like Contact Consumers with a dedicated and professional, experienced team to fine-tune your email marketing strategy. While general advice can be valuable, tailored guidance can make a significant difference for your specific business needs. A one-on-one consultation can help you navigate the complexities of email marketing and ensure that your strategies are aligned with your unique objectives.
If you are reading this guide post-Black Friday, keep in mind that its principles are applicable to other special events too.