Whether you are in the process of launching a startup or plan to do so soon, you need a robust email marketing strategy to start your business off on the right foot. 
Be that as it may, developing an effective email campaign can be easier said than done. Launching a startup is undoubtedly overwhelming, and through the hustle and bustle of starting a business, you don't want your email marketing to slip through the cracks.
Thankfully, there are many ways to develop an effective email marketing strategy that is sure to engage prospects and turn them into loyal customers. Below, we'll break down the process of creating exceptional email campaigns for your startup so you can spend less time worrying about your business and more time watching it thrive.
What Does an Email Strategy Entail?
Right from the get-go, you need to establish clear strategies and tactics, but you may not understand what it is that differentiates one from the other. At its core, designing your marketing strategies means seeing beyond the individual tactics and focusing on the bigger picture.
An email marketing strategy isn't a collection of tactics you throw haphazardly at the wall until something sticks; there's a lot of thought that should go into creating one.
Your strategy should include smart, well-crafted plans to reach your email marketing objectives. In your email marketing plan, make sure to spell out how you'll achieve your goals and measure your success. 
Tactics are still vital, of course, as they're the methods you'll use to achieve your business goals, but you should have a purpose behind your email strategy alongside its clear and organized objectives.
For example, including a promotion in your emails is a tactic; in other words, a part of an overall email campaign strategy that you intend to drive sales and convert curious prospects into loyal customers. 
Marketing With Email: Becoming an Expert
Having finally launched your startup, now is the time to spread the word. You want to stay one step ahead of the competition, so consider putting plenty of brainpower into email marketing campaigns. They are a surefire way to reach new customers, but only if you use the right strategies. 
With that said, here are some steps you can take to ensure success with your emails:
There are some questions you must ask yourself before creating your email marketing strategy:
What are the strengths of my startup?

What are its weaknesses?

What trends, resources, or current situations can benefit the campaign?

What trends, resources, or current situations could negatively impact it?
Other considerations may include the following:
Political issues or developments that could impact your marketing with emails

The cost of labor and resources (and economic conditions in general)

Social impacts, from pop culture to the education levels of your audience

Technology and the evolving formats of email

Any legal limitations

Environmental context and ethics
Determine the issues important to your audience and create a strategy that gives them peace of mind about supporting your company.
Have Clear Objectives and Goals
The difference between objectives and goals is that the latter is the outcome you aim to achieve, while the former is a smaller milestone that helps you get there. Goals can be broad, but your objectives should be precise.
For example, while your goal may be to increase sales, your objective could be to increase the open rate of your marketing emails by a certain percentage. Your objectives should be specific, measurable, realistic, and time-bound, meaning they have a clear-cut start and end date.
When your objectives are clear and organized, you can measure your campaign's performance and adjust your marketing with email efforts as you go along if necessary. Additionally, when you and your team have a shared goal to work toward, you can expect better results.
Remember the SMART Framework
If you're having trouble jumping into strategy, keep the SMART framework in mind.  If your campaign checks all of the SMART boxes, its chances of success are high: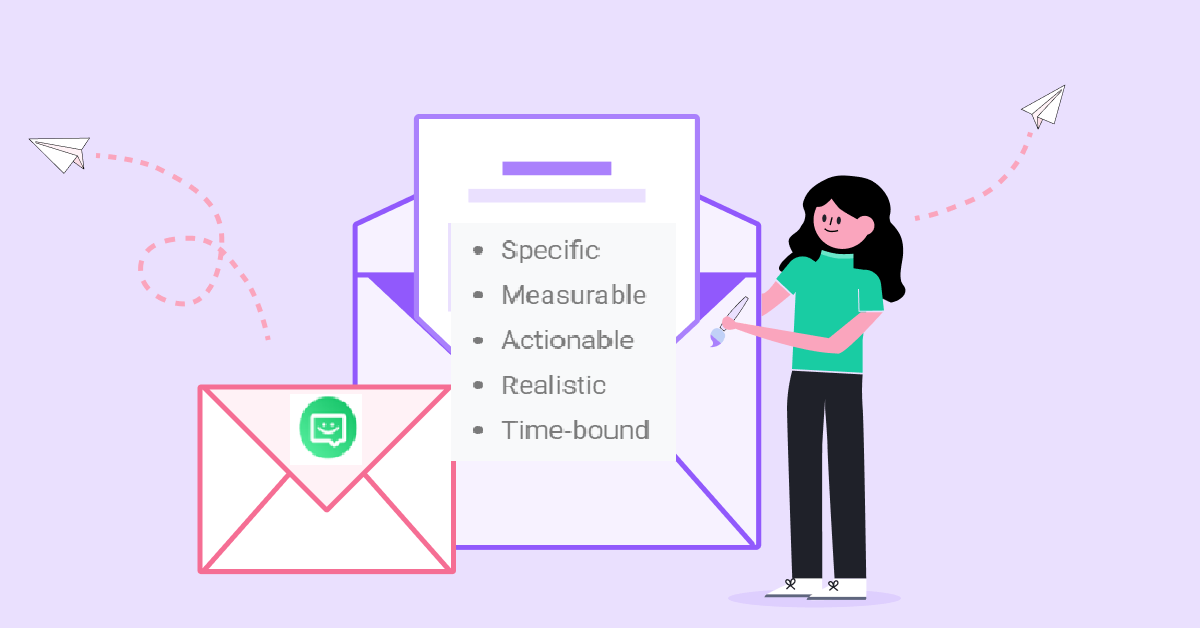 Send Emails With High-Quality Images
Sending emails with quality content, images, and even videos can entice prospects to purchase from you. After all, the more information they have about your products or services, the easier it'll be for them to make a decision.
Professional and colorful images can draw prospects in before they even read your content, whereas blurry, bleak, or a lack of photos can turn prospects off. Investing in professional photography and attractive graphics shows off your brand and engages future customers from the second they open your emails.
A clear call-to-action (CTA) can be the final push to encourage a prospect to purchase from your startup, but instead of adding CTAs to each product listed in your email, stick to one strong CTA at the bottom of the page, complete with a link connecting customers to your website. Doing so will eliminate any confusion on the reader's end by telling them exactly what to do next.
Get to Know Your Audience
As a new business, understanding your (potential) audience is vital to effective marketing. Get to know your customer base in the following ways:
Review Any Available Data and Analytics
Review any data you acquire about your audience, including all relevant analyses your team may have conducted. It makes for an excellent jumping-off point to learn about your audience and their needs.
If you want more audience-related information, consider creating a survey and sending it out. The more you learn about your audience, the better you'll be able to market your brand to them.
Create Buyer Personas
If you haven't created buyer personas, now is a great time to do so. A buyer persona is a detailed description of a person who represents your target audience. 
If, for example, you have a couponing app that gives users daily deals, your buyer persona may look like the following:
Demographics
Name:

Rebecca

Age:

35

Gender:

Woman

Location:

A populous city

Education:

Bachelor's degree

Job Title:

Work-from-home marketing analyst

Income:

$60,000 – $100,000

Family Life:

Married with two kids
Struggles Your App Addresses
Needs:

Ways to save money on groceries and other everyday essentials

Motivations:

Building up savings for her children

Pain Points:

Needing to save money on groceries and knowing coupons are out there but lacking the time to hunt for them

Persona's Journey:

Rebecca wants to find coupons that work without spending too much time looking for them. She's researching online for coupons accepted at her favorite stores. Your company should establish an online presence that Rebecca can easily find and be able to answer her basic questions to convince her to download your app.
Establishing a buyer persona gives you a glimpse into your target audience and their unique needs. It provides valuable insights that can help drive your email marketing campaigns.
Check Your Competitors
It's always a good idea to analyze the competition, especially as a new startup on the scene. Subscribe to their email lists and see how they're doing. Ask yourself: What are they doing well? How are they targeting the audience you share? How successful do their campaigns seem to be working for them?
By tracking your competition's marketing efforts, you can gain inspiration as to how to reach your audience effectively while saving time in the process. You can also learn what isn't working for your contemporaries to avoid making similar mistakes.
Monitor Feedback and Engagement
When you monitor your audience's actions over time, you can learn a lot about them, namely, their likes and dislikes. Monitor your audience through their feedback. Send them surveys and forms and encourage comments and engagements on your blog, social media profiles, and other marketing channels. 
Over time, you'll gain robust knowledge of their positive and negative experiences with your brand, knowledge that allows you to resolve significant issues quickly and maintain what works well with your customer base.
There's no such thing as a perfect email marketing strategy, unfortunately, and as a startup getting its toes wet in your industry, your business will most likely experience some trial and error until you find what works best. Still, you can use that to your advantage!
Don't be afraid to get creative with your content. If you have a new idea you think your audience will like, give it a shot. You never know; it could be a huge success, and even if it's not, you'll learn a valuable lesson that can inform your future marketing decisions.
As you try various strategies and analyze their effectiveness in real-time, you may need to adapt what you're doing on the fly. If something isn't working, you need to change gears quickly to ensure a successful campaign. With that being said, while you should have a well-defined strategy, you should also leave some room to change things up if necessary. 
Nevertheless, be careful not to be too abstract. You don't want to confuse your team or your customers. Lay your strategy out clearly and keep your team informed every step of the way. It can be challenging to be flexible yet not abstract, so be transparent with your team and do your best to learn from each email you send out. 
Marketing automation can be a great asset to your email campaigns. After all, a successful campaign consists of audience segmentation, measurement, and analysis, but as a human, you can only do so much. By automating your emails, you free up some of your valuable time to work on other pressing tasks.
Partner With a Professional
As a startup business owner, you likely have what seems like an infinite number of tasks to complete each day. If you need help developing a robust email strategy, turn to an expert marketing team that specializes in email. It can't hurt to get advice from an industry professional, and they may be able to run your campaigns and report results directly to you in real time.
Jumpstart Your Email Marketing Strategy With Contact Consumers
Launching a startup is a huge endeavor with many I's to dot and T's to cross. Regardless, you want to do everything you can to build a customer base that will remain loyal to your brand for many years to come. Email marketing is an essential part of a fine-tuned marketing strategy. Keep context in mind, establish clear objectives and goals, get to know your audience personally, and don't be afraid to get creative. 
If you want help from an email expert, turn to the friendly and knowledgeable team at Contact Consumers. Our primary focus is executing strong email and SMS campaigns on your startup's behalf. For more information on how we can engage prospects, boost your sales, and retain customers, contact us today.