As a business owner or marketing professional, your goal is to drive sales and build your customer base. One of the best ways to do that is through regular engagement with your clients via email and text. However, building a robust, complementary SMS and email marketing strategy isn't always a clear-cut process. 
You'll need to understand how each channel works, then decide how to use both for the best results. Ideally, your clients will subscribe to your email and text lists so that you can capitalize on your segmentation efforts.
Let's delve into the best ways to combine email and SMS marketing to keep your customers returning to your organization.
SMS and Email Marketing: A Quick Background
You probably receive dozens of promotional emails each day. You might receive sales advertisements for your favorite retail store, a daily rundown of healthy recipes, or tips on how to keep your house weatherproof for the winter. 
Email marketing has several goals: engaging customers, inspiring brand loyalty, and selling products or services. 
Text messaging is different. Text messages usually don't contain inspiring graphics and are short — 160 characters. There's not much room for long-winded notes or calls to action. Instead, businesses send customers SMS messages when they need to reach them immediately or grab their attention. 
SMS messages certainly attract their recipients. According to Forbes, SMS messages have a 98% open rate, and 95% of people read texts within the first three minutes of receiving them. In comparison, the average open rate for an email is 20%, which can be even lower depending on the industry.
While the high engagement rates of text may send you running to set up your next SMS campaign, it's critical to remember that both SMS and email marketing have their place. One cannot replace the other. Oftentimes, combining both methods is the critical success factor for increasing revenues and boosting customer engagement.
When to Use SMS Marketing
SMS messages are typically short. Most carriers limit SMS messages to 160 characters. While particular messages can exceed character restrictions, marketers usually try to stick with universal rules to avoid blocked or undelivered messages. 
Since there's not a lot of space for fluff in an SMS message, senders have to get right to the point. The most successful SMS marketers take a holistic look at their marketing strategy and decide which platform works best for their various advertising efforts.
Some of the most typical ways organizations use SMS marketing include the following:
1. Advertising a Flash Sale
Retailers know the power of a good flash sale. A special promotion can significantly increase revenues if you have a big enough subscriber base. 
Flash sales are also great for eliminating a glut of extra inventory for a single product. Sometimes retailers purchase products that don't sell as well as anticipated. Offering a special can clear your stock and give you more room for new products.
Granting people a unique code for a storewide discount can attract hundreds of shoppers. Storewide sales are excellent for clearing out end-of-season stock or remaining competitive with other retailers.
2. Scheduling and Confirming Appointments
If you regularly meet with clients, SMS is a great way to schedule and confirm your appointments. Since most people see texts almost immediately, they can quickly schedule their meeting with you via text. You can automate the confirmation message, which should include any pertinent appointment details.
On the day before your appointment, it's best to send a confirmation message. Confirmations help ensure your clients don't forget about their appointment or fail to show up. After all, missed appointments equal lost time and revenues, two things no business owner wants.
3. New Product or Service Launches
Introducing a new product or service is a great way to use SMS. Of course, you won't have a lot of space to talk about your product, but you can provide a link to your website that offers more insight.
Texting your customers gets your product right in front of them. If they've purchased from your brand before, they'll likely appreciate your message and may be one of your first buyers. It also ensures you have a space for notifying people of your new product — otherwise, you may struggle to attract customers to buy it.
At the heart of retaining your clients is excellent customer service. Customers want to feel appreciated by their favorite brands. They want to think that you are grateful for their patronage. If there's no seller-buyer relationship, your clients will likely take their business elsewhere.
One way to improve your customer service is through SMS. You can offer brief surveys that the customer can answer after a purchase. Getting feedback from your customers makes you a better seller. You'll understand what you're doing wrong and how you can improve.
You can also use your SMS as a customer service platform. The customer texts you with their problem, and you or your customer service team addresses it.
5. Notifications and Alerts
Depending on the type of organization you have and its industry, notifications can be beneficial to customers. A message lets the customer know of a significant event or an announcement from your company.
For instance, if your business is closed on a non-typical day, you can inform your customers in advance so they don't accidentally show up and find no one there. Alerts are also helpful for advising customers of their order status or delivery time.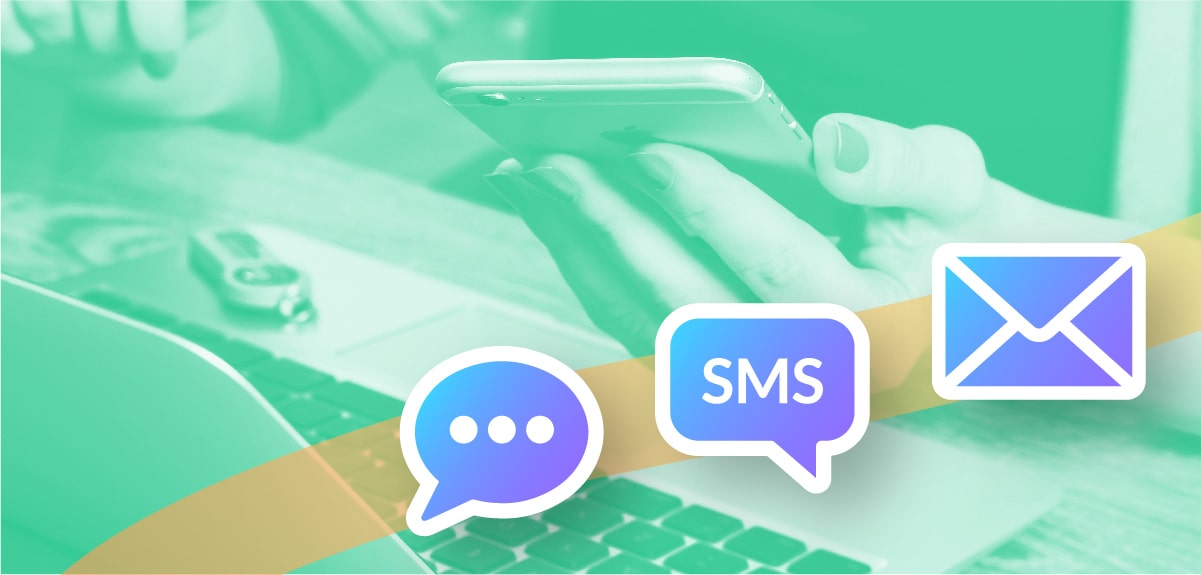 When to Use Email Marketing
When deciding between email and SMS marketing, it's essential to keep your goals in mind. Sending an email is best for communications that don't require an immediate response. They're great for inspiring brand loyalty, keeping customers informed, and providing relevant information that your clients find helpful.
A few of the best ways to use email include the following:
1. New Blog Posts or Video Tutorials
People like to consume information, especially on topics they're interested in. If you regularly produce exciting content, you'll want to ensure your posts and videos get in front of your client base. After all, your clients probably aren't regularly checking your website daily. Notifying them of your new content can drive them to view it.
For instance, consider a website devoted to health and fitness. The clients of the website likely have different goals; some may be new to healthy living, while others may be long-term fitness fanatics. Your website includes content for both types of customers, and you regularly publish new recipes, inspiration for workouts, and health-related industry news.
Sending a weekly rundown of your new content to your subscribers can alert them to your posts, and they can read or view the ones they're most interested in.
2. Future or Current Promotions
While SMS is superb for flash sales, email is best for promoting sales that last for a more extended period. You can notify customers of end-of-season discounts on clothing or holiday supplies through email.
If you use email to promote your sales, it's best to include lots of visuals. People are attracted to pictures, and seeing what you have on offer can inspire them to visit your website and peruse your products.
3. New Product or Service Launches
Email and text are good ways to notify customers of new products and services. While text messages offer limited space to explain your product, email lets you go more in-depth about its features.
Whether you offer products or services, use lots of visuals. If you have a product video for your customers to stream, that can also be helpful. Keep your written content to a minimum, and make sure to break it into small paragraphs and shorter sentences so you don't lose the attention of your subscribers. 
4. Notify Customers of Upcoming Events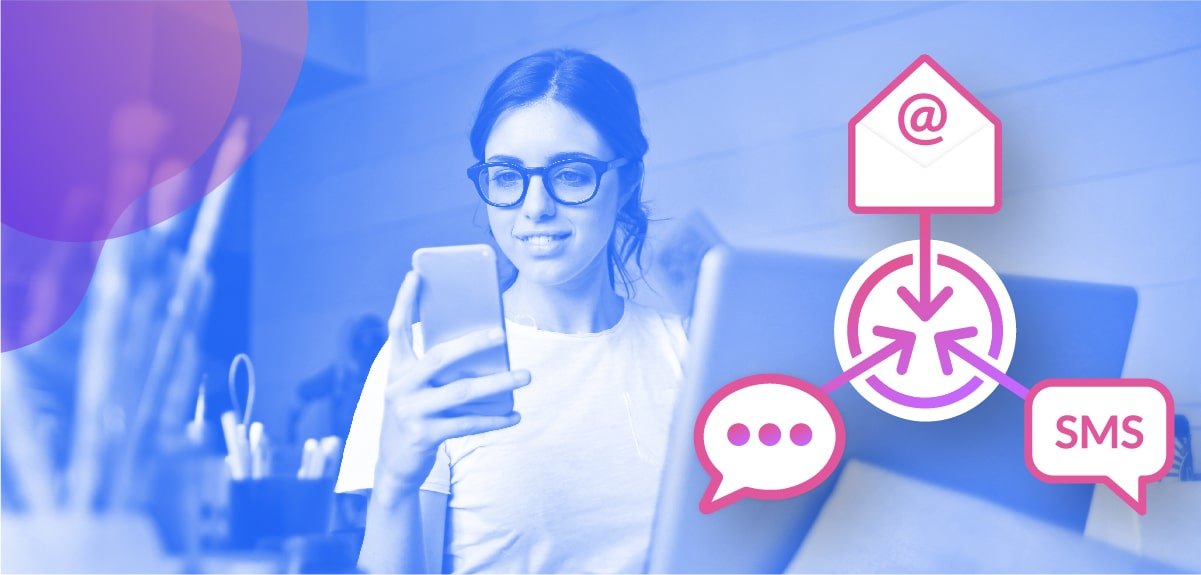 Email is a great way to notify customers of upcoming events. Event promoters often use email to reach out to prior attendees, allowing them to purchase tickets and make plans to attend a concert or conference.
Realtors can notify subscribers of upcoming open houses, and organizations that provide services can send out invitations for forthcoming webinars or in-person conferences. 
Reaching out to customers when you have an upcoming event is a great way to remain relevant and informative to your clients.
5. Generate Customer Reviews
Organizations often rely on word of mouth and reviews to build clientele. The more positive reviews a company has, the more likely it is to attract new customers, especially in the service industry. 
As you attract more customers, you'll want to invite them to post reviews on popular sites like Google or Yelp. Their reviews will help your organization to establish credibility and build its reputation, which is very helpful in today's competitive environment.
Combining Your SMS and Text Efforts Is Rewarding
Once you understand the various uses of email and text, you can build a cohesive marketing strategy that grows brand loyalty and retains customers. 
Personalization of your marketing efforts is critical. People are more likely to interact with content that appeals to them. As you grow your business, you'll want to segment your clients according to various factors appropriate to your organization. 
For example, if your organization provides ready-to-cook meals, you should target your customer base by the type of foods they prefer. Perhaps some of your customers want fast meals they can cook for a family in less than 30 minutes, while others prefer keto-friendly dinners.
You'll also want to ensure your email and SMS marketing efforts aren't duplicates of each other. If your customers realize you're sending the same communications via both channels, they'll probably unsubscribe. Keep your brand authentic and relevant by generating different content through each platform.
Finally, pay close attention to your metrics. If you notice a drop-off of interest in your email or text campaigns, your message may not apply to their needs. It's also possible that you may be contacting them too often. No customer wants to feel overburdened by sales messages.
A Powerful SMS and Email Marketing Strategy Builds Your Brand
Staying relevant and present with your customers through email and text is a delicate balance. You'll want to ensure that you contact them enough to build your reputation and cement your brand, but you don't want to provide information that doesn't appeal to them. You must also make sure you use both platforms appropriately; some marketing efforts are more effective through one channel than the other.
Contact Consumers offers an all-in-one marketing platform for your SMS and email needs. Our platform is easy to use and provides real-time metrics so you can review the results of your marketing efforts. Visit our website to learn more about how Contact Consumers can help you retain customers and inspire brand loyalty.