SMS works. It's a simple, effective way to reach an audience in a way that almost ensures you will make a connection. Text message marketing is also well received. That isn't always the case with other forms of outbound marketing.
Unfortunately, many companies aren't using SMS marketing at all. This is locking them out of opportunities to reach engaged prospects. That's a shame because text message marketing has a great ROI.
Should your company add SMS to its outreach strategy? You'll probably say yes when you see our expert insights on why text message marketing is beneficial to brands, as well as discover some SMS tips you can start using right away.
What Is Text Message Marketing?
Text marketing is using SMS and MMS messages to reach out to customers and prospects at every stage of the customer journey. This includes after purchases, making SMS marketing useful for both customer acquisition and retention. SMS and MMS can be used to send messages to a single person or an entire group.
The Benefits of SMS Marketing
Before we take a deep dive into SMS tricks, let's go over just why SMS marketing works so well. These benefits are exactly why both customers and brands are receptive to text outreach.
Text Messages Are Simple and Convenient
Most people own a mobile device, and they tend to keep it accessible at all times. This removes any real barriers to receiving or responding to text messages. There's no need to open an app or log in to another device. A text message will also arrive whether the recipient has an internet connection or not.
Thanks to this convenient access and portability, SMS is ideal for sending timely messages to people on the go. For example, you could send an SMS message with a coupon code to one of your customers. Later, they can show that message to a cashier in your store to redeem it, even if they aren't connected to WiFi.
SMS Creates Immediate Engagement Opportunities
SMS is a two-way communication channel that allows for instantaneous interaction. You can send and receive messages from your SMS subscribers. This can lead to more engagement. 
Additionally, SMS and MMS allow you and your customers to do more than exchange messages. You can also engage customers with contests, polls, and surveys. There are also SMS keywords and codes that prospects can use to receive special offers, participate in marketing campaigns, and engage with your business in other ways.
Because customers can respond to your SMS messages and initiate their own, text marketing is also an excellent data collection tool. The responses you receive from customers in your polls and surveys, for example, provide you with helpful information on customer preferences and behaviors. 
It's Simple and Unintrusive
SMS messages are easy to manage. The recipient can choose to respond right away, delete the notification, or simply read it later. Unlike phone calls, SMS messages don't disrupt important or quiet moments. This makes text marketing one of the least intrusive forms of outreach.
SMS Reaches an Engaged Audience with Relevant Information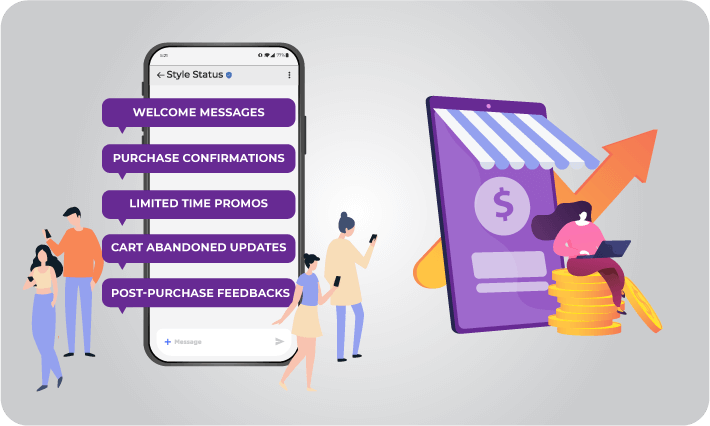 Because SMS is opt-in only, you have a strong understanding of your SMS audience, and you already know they are interested in engaging with your brand and receptive to your offers. You also have access to both demographic and behavioral data. 
All of this means you don't just have a convenient way to reach a highly targeted audience, but you also have the information you need to deliver highly relevant messages. 
For example, you could send shopping cart reminders to customers with abandoned carts or retarget people who have opened your marketing emails without clicking through.
Benefits Customers Beyond Text Marketing
You can use SMS messaging to engage customers beyond standard marketing tactics. Actions such as customer support, success, and onboarding are all important to building relationships with your audience. 
These activities may not lead to conversions right away, but they work to build trust and authority with your prospects. They also make it more likely that your current customers will buy your products again or recommend your business.
You can use SMS to do the following and more:
Send appointment reminders

Answer brief support questions

Share important tips and onboarding information
SMS is a support and engagement tool that can create truly impressive customer experiences. Additionally, customers have wide-ranging preferences when it comes to communication. By adding SMS to your support and marketing strategies, you give your target audience one more channel to use.
It Has a Fast Turnaround Time
The moment you hit send on an SMS message, you know that it will reach your intended recipients in an instant. That doesn't always happen with email or telephone marketing. 
In addition to being able to broadcast messages instantly, SMS messages are easy to create. There are no designers involved and no need to wait for content creators to finish writing. There are no landing pages to design or creatives to be bundled in.
Instead, you simply focus on getting the marketing message right and hit send.
SMS Tips to Get Your Strategy Off to a Great Start
Now you know why both brands and customers are so receptive to SMS marketing. How do you start using it as part of your own omnichannel marketing strategy? These creative SMS tricks are both inspirational and actionable.
Use Reminders to Keep Customers on the Right Path
Do you rely on appointments to deliver services, schedule sales calls, or visit clients? If so, you should seriously consider integrating SMS with your appointment system. 
With this integration, text messages can encourage prospective customers to set appointments. They may also use SMS to change or cancel appointments. After appointments are set, you can use texts to confirm appointments and send reminders.
Missed appointments can be costly and inconvenient for everybody involved. When you prevent missed appointments with text messages, both you and your customers benefit. 
Of course, you can expand on this concept as well. SMS reminders can be used to update customers about upcoming events. 
Remember that your text marketing can be used to communicate with individual subscribers or to broadcast messages to larger groups of people. This is useful when you are targeting customers who belong to specific marketing segments.
Follow Up in Support of Other Channels
SMS marketing isn't just a standalone method of reaching customers on their mobile devices; it can also be incorporated into an omnichannel marketing strategy. This includes using it as a way to support your other channels. 
Email marketing is a great example of this. If you send out an email with a special offer, you can follow it up with a text message that reminds the recipient to use the offer before it expires. 
SMS also integrates well with eCommerce. For example, you could arrange to send a quick thank-you to customers after they have purchased a product online or follow up if they have visited a product page without answering your CTA.
Since SMS marketing isn't as intrusive as emails or other forms of communication, it is ideal for following up with other outbound campaign actions.
Keep Customers in the Loop and Improve Experience
When customers order your products online, you can use that opportunity to opt them into your SMS list. Simply ask them if they would like to receive text messages updating them on the status of their order. If they agree, you can send them updates with the following information:
Order and payment confirmation

Out for delivery notifications

Status tracking

Arrival notices
In addition to providing them with information about that particular order, you can also deliver useful messages that relate to the product they ordered. This might include links to helpful videos or user guides.
Share Relevant Information
While you can't deliver the same kind of in-depth content that you can with email or blog posts, you can still use SMS to engage your audience with helpful content. You will probably get the most engagement if you target recipients with information that is most relevant to them at the moment, such as the following:
Advanced user tips for long-term customers

Troubleshooting techniques for newer customers

Links to demo videos for low funnel prospects
Of course, like any other form of content marketing, your messages shouldn't all be promotional. Identify other information that is relevant to your audience based on their preferences and behavior. 
For example, if you own an agency that specializes in theme park travel, you could simply send out tips for family-friendly vacations or amusement park trips on a budget. This gives you an additional opportunity to connect with people at various stages in the sales journey.
Amplify the Power of SMS Marketing
Now you know several SMS tricks to help you build powerful messaging campaigns. What's next? Like any other marketing channel, your text campaigns will work best when they are supported with the right tools, insights, and expertise. This is exactly what Contact Consumers provides. 
Our platform provides you with SMS campaign management, reporting, automation, optimization, and more. Talk to us about maximizing the effectiveness of your outreach efforts.