SMS marketing is a proven method for staying in regular contact with customers. Research shows that almost 98% of clients read their text messages. In comparison, emails have a much lower open rate. Depending on the organization's industry, customers open emails between 4% and 20% of the time. 
Once you have a client who has decided to opt into your SMS text messages, you must use every opportunity to build brand loyalty and discourage customer churn. Studies regularly find that more sales occur with existing customers. It's much harder to attract new clients than it is to maximize revenues with current clientele.
Deploying post-purchase marketing presents an excellent opportunity for organizations to build their relations with customers. There are a variety of ways to do so. Let's examine post-purchase marketing and how it can benefit your company.
What Is Post-Purchase Text Marketing?
Post-purchase text marketing is a blanket term that encompasses all the SMS activities an organization uses to build a rapport with its clients. Once the customer has made a purchase with a company and chosen to receive text messages from the business, the organization can use the opportunity to build a closer relationship with its clients.
Typical types of post-purchase texts include order confirmations, shipping updates, sales promotions, and informative content designed to pique customer interest.
Of course, post-purchase texts will vary depending on the type of organization and customer needs. For example, eCommerce stores will likely use flash sales, customer service, and order confirmations in their SMS marketing strategies. However, a church seeking to connect with its congregation may use text marketing differently.
What Are Some of the Most Common Types of Post-SMS Marketing Methods?
Post-purchase texts vary depending on the organization's relationship with the customer. However, there are some typical ways that organizations choose to handle their SMS efforts. Here are a few:
It's highly unusual in this day and age to receive no confirmation after purchasing a product. In fact, a lack of order confirmation can lead customers to wonder if the company received their order or if it was lost in the shuffle. 
Most organizations use simple e-mails to provide their customers with order confirmations. However, text messages are a more practical option that won't leave customers rummaging through their email inboxes, searching for the details of their orders. 
Research shows that customers appreciate text message updates on their orders. They want to know that the company is processing their purchase and expect real-time updates on shipment status.
Text messaging for follow-up surveys is a great way to learn more about your clients' shopping experiences. You can also obtain critical information helpful for improving your company's operations. 
Contact Consumers can easily automate follow-up surveys. Organizations can create a quick survey that applies to anyone who has recently purchased a product or service. Once the customer receives the SMS, they can choose to click on a link and provide their feedback. 
Companies receive feedback in real-time. Savvy businesses take action on helpful advice from their customers to improve their organizational efforts. You can encourage more client feedback by offering a one-time discount customers can use on future purchases in exchange for answering your company's questionnaire.
Most people love a good sale, especially for products or services they're interested in. Anytime you think your organization could use a little revenue boost, offer a flash sale targeted to meet the specific needs of prior customers. 
People are motivated by a fear of missing out, believing that a good opportunity could slip through their fingers if they don't take action. Knowledgeable marketers recognize the customer's need to take advantage of favorable circumstances they don't want to miss out on.
Successful flash sales may offer a steep discount on a specific product or a storewide promotion for all products. For example, if your company has excess inventory on a recently upgraded product like a cell phone, a flash sale can help you eliminate stock and enhance revenues.
Similarly, a sales promotion allows customers to purchase desired items while benefiting from a discount. Ideally, your flash sales notifications will be available only to customers opting into your text messaging alerts.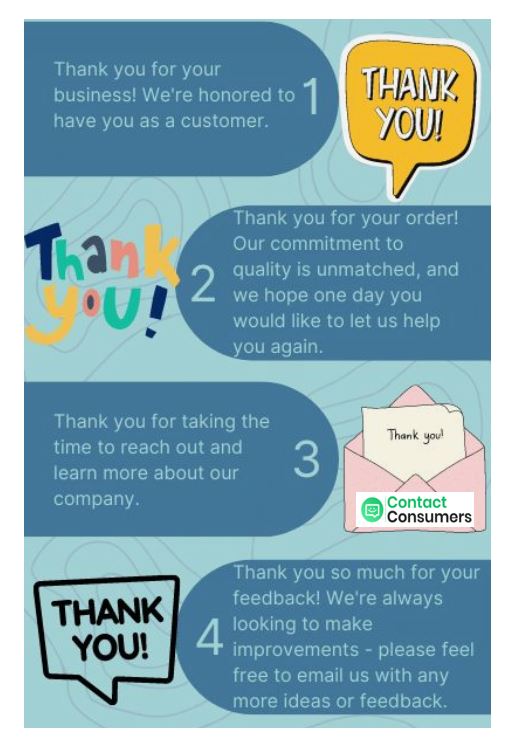 Genuine thank you messages are becoming exceedingly rare in today's society. Text marketing provides an optimal way for organizations to connect with their customers and truly thank them for their business.
A thank you message should be as personal as possible. Incorporate the client's name and the product or service they have purchased. You can use customized, automated templates with Contact Consumers to give all customers a tailored thank you letter. 
Many companies include a discount code in their thank you message that customers can use for future purchases.
Anniversary/Birthday Messages
Who doesn't love a message on their birthday? Birthday and anniversary messages are excellent ways to stay in contact with clients in a personalized manner. Companies that choose to send birthday or anniversary messages typically include a discount code for future sales or a free product. 
For example, Starbucks is well-known for its birthday incentives. The company provides customers with a free drink of their choice that is obtainable during their birthday month. If your company has a physical setting, you can invite customers to visit for a free small gift. Otherwise, offer them a private deal on their favorite products.
Most relationships are built on trust and loyalty. Your relationship with your customers is no different. Clients who believe they can trust a business to meet their needs are likely to stick with the company and stand by its products and services. 
You can inspire customer loyalty by developing a loyalty program through text messaging. Track your customer's orders and provide them with rewards whenever they meet a certain level. 
For example, if you operate an eCommerce cosmetics store, you can offer free delivery every time a customer generates revenue over a specific amount. For example, customers who purchase $100 or more in products receive free delivery whenever they use the code provided through your SMS marketing texts.
Similarly, customers who exceed a certain number of purchase dollars can receive a free small gift or opportunity for a sales code for a future purchase.
Not everything involving post-purchase texts must incorporate sales, future discounts, or free gifts. You can also use relevant informational content to stimulate the interest of your clients. Informative content will vary depending on the market sector that your company operates in.
For example, a financial advisor may send links to relevant articles that relate to the customer's investment portfolio or budgeting interests. A fitness training company can send information on new exercise techniques or the benefits of low-impact, high-intensity interval training. 
Informational content should be catered to the customer's interests as much as possible. 
For example, if you know your client loves historical fiction novels, you can send them a list of the top 10 historical fiction stories of the year. Other clients who read many business books may prefer lists of non-fiction titles related to management or team building.
Cross-Selling Opportunities
Once you have enough information about your client to determine their buying preferences, you can use the data to recommend products or services they like. Post-purchase texts catered to your customers are opportunities to increase revenue and inspire future purchases.
For example, a cosmetic company that notes their client is interested in anti-aging skin products can recommend other products that offer anti-aging benefits. An event promoter can send out a list of upcoming concerts that fit their client's interests. 
There are thousands of opportunities for cross-selling. Take a look at your company's products or services and your client's purchasing habits to find ways to promote other things they may be interested in.
However you choose to use post-purchase texts, ensure they add value for the customer. Text marketing is a highly personal tool — once the client provides their phone number to you, they expect you'll communicate with them in ways that aren't overly spammy. 
Thus, ensuring that all text messages you send relate to your customer's needs is essential. Don't overplay your hand with SMS marketing. Be careful to respect business and customer boundaries, and don't bombard your clients with daily texts unless there is a specific reason.
Any time you are about to send out a text message blast to your customers, ask yourself these questions:
Is this message important? Why?

If I were a customer, would I want to receive this message?

Am I sending this message at a convenient time for my customers?

What's the purpose of this message?

Does this message relate to my customer's needs or buying habits?

Is this message better suited for an email?
After answering the questions, send the message if you deem it timely, essential to your customers, and relatable. If you cannot reconcile your answers to the questions above with the message, you may consider rewording the text, canceling it, or sending it via email instead.
Text messages are a great way to ensure that your clients remain happy with their products or services. Sending out a nurturing text can prove helpful. For example, you could use a text messaging platform to provide instructions on how to use the product or links to relevant blogs about the product.
Nurture program texts excite clients about their new products or services and provide important details about their purchases.
Contact Consumers for Post Purchase Texts
It's an exciting time to be in marketing, and Contact Consumers is here to help. Of the many marketing channels available, we've found SMS marketing to be the most effective. Choose Contact Consumers for your text marketing needs, and realize the benefits of post-purchase texts for customer retention and increased revenues.