If you're new to text message marketing — or an expert looking for ways to improve your SMS marketing campaigns — we've got you covered. While text messaging has been around for decades, it's only recently become a significant player in marketing channels. 
Studies show that over 98% of people who receive text messages read and respond to them within 30 minutes. In comparison, promotional emails have an average open rate between 4% and 20%.
The high open rates and the ability to reach out directly to customers make text message marketing appealing. However, before embarking on your next SMS campaign, planning your strategy is essential. You want to ensure that you incorporate the right tools and messaging that bring value to your customers.
Let's get started. Here are 12 ways to improve your SMS marketing campaigns:
1. Define Your Intentions
Before sending out any text messages to your clients, you'll want to determine your intentions. There are many ways to use text messaging, but not all of them fit every business. 
For example, an eCommerce store might use text messaging for order confirmations, shipment status updates, and announcing flash sales. In contrast, a medical office may use it to schedule and confirm upcoming appointments.
No matter how you use text messaging, it's crucial to stick with your strategy and avoid deviating too far. Every message you send to your clients should have a purpose and provide some type of benefit.
2. Use an SMS Marketing Platform
If you're trying to manage your text message customer base on your own, you're missing out on the numerous advantages that an SMS marketing platform provides. With a platform, you can easily manage your subscribers, design compelling text messaging promotions, and monitor the results of your campaigns.
Contact Consumers offers an all-in-one email and SMS messaging system that allows you to design your campaigns efficiently, segment your customer base, and interact with clients via mass texts and more personalized, one-on-one messages. 
We also offer powerful automation tools helpful for messages triggered by specific events, like abandoned shopping carts or new customer orders.
3. Ensure You Have Consent from Your Customers
There are strong regulations in place for SMS marketing. You'll want to ensure that you have the consent of every customer to text them. 
Obtaining consent isn't arduous. If you already have a list of clients who receive your emails, simply let your subscribers know that you are adding text messaging for better communication. To further entice them to subscribe, offer a small discount for signing up.
If you have a website or physical storefront, ask every new customer to sign up for your text messaging services when checking out. If they provide their phone number and give their written consent to receive text messages from you, you're compliant.
4. Follow the Best Practices for Text Messaging
Aside from obtaining consent, you'll need to follow other codes of conduct when starting a text messaging campaign. You don't want your company to appear spammy, so ensure you don't overuse text messaging. Your client base doesn't need to hear from you daily, and certainly not multiple times throughout the day.
It's essential to send your messages at an appropriate time. Your customers likely won't appreciate texts sent in the middle of the night since these messages may wake them up. Most companies choose to send their messages during regular business hours. 
In addition, make sure you clearly identify your company as the sender. If your clients don't know who is sending them messages, they may block you or unsubscribe from your list.
5. Segment Your Marketing Lists
Not everything you offer will apply to all of your customers. It's best to segment your client base according to demographics and buying habits. That way, you can tailor the content of your message to deliver more value. Segmenting also prevents you from bothering customers who are unlikely to be interested in your message.
For example, if you are a real estate agent, you could segment your subscribers based on their home buying intent and their criteria for their next home. 
You could send one text message blast of new listings of homes under $300K to one set of subscribers and another text message for home listings between $300K and $500K to the second list of subscribers.
6. Make Sure Each Message Has an Opt-Out
Even if you adhere to best text messaging practices and don't over-text your subscribers, some will still want to stop receiving text messages from your company. That's part of marketing — you can't please everyone. Ensure that each message you send provides a clear-cut way for customers to opt out of your subscriber list.
Usually, companies provide an opt-out message directly after their content. The opt-out message should contain a code that they can choose to respond to your message with. If they opt out via the code, your SMS marketing platform will automatically remove them from your subscriber list.
7. Keep Your Content Short and Sweet
Most text messages are limited to 160 characters. However, smartphones can receive much longer SMS texts. Regardless, there is rarely any need for a promotional text that takes more than a few seconds to read. If your text messages stretch past a paragraph or two, you risk losing your audience's attention.
Streamline your texts to get right to the point. There's no need for lots of fluff. For instance, if you're sending news of a flash one-day sale to your subscribers, a message such as the following works perfectly fine:
"Hey there! It's City Electronics, and we have a one-day flash sale of 10% off all our flat-screen TVs. Click here to shop!"
Your message should provide a link that connects subscribers directly to a web page that lists all of the flat screen TVs offered by your store.
8. Establish a Workflow for Your Emails and Text Messages
Sometimes, you'll want to send automated text messages to your subscribers. You can combine your text messaging with emails for the best results. 
Consider an aesthetician offering facials and beauty treatments. To encourage more bookings, she sends an email to all her subscribers offering $25 off their next $100 purchase of her services. The promotion is available for all of August. Of her 1,000 subscribers, 75 decide to sign up for the deal. 
The aesthetician provides customers with a link to her calendar where they can schedule their appointments. Every time a customer books an appointment, they receive an automated confirmation email. The day before the customer's service, the aesthetician's marketing platform sends out an automatic text message reminder.
After the aesthetician completes an appointment with her client, she sends a thank you message with a promotional code for a future discounted service.
In this example, the aesthetician has created a successful promotional campaign that combines email and text marketing channels to communicate with her clients.
9. Use Text Messaging for Reminders
Many people are guilty of forgetting an appointment occasionally. After all, most people juggle multiple responsibilities each day. Text messaging effectively reminds your clients of an upcoming meeting and provides ways to reschedule if the scheduled time no longer works for them.
When sending an appointment reminder text message, make sure to include the following details:
Your company's name

The purpose of the appointment

The time of the proposed meeting

Location details
Appointment reminders should be kept short and to the point. Including a way to reschedule the appointment is helpful to ensure customer retention and prevent no-shows that upset your daily schedule.
10. Keep Your Texts Professional
It's vital that you keep your texts as professional as possible. Avoid being overly casual or using lots of emojis. For some customers, an overly relaxed tone is a turn-off. Instead, align your text messages with your company's overall brand voice.
Specific market sectors are more formal than others. For instance, a financial advisory service should use a professional tone to establish credibility and authority, while a retail store may be a bit more casual.
11. Track Your Campaign Performance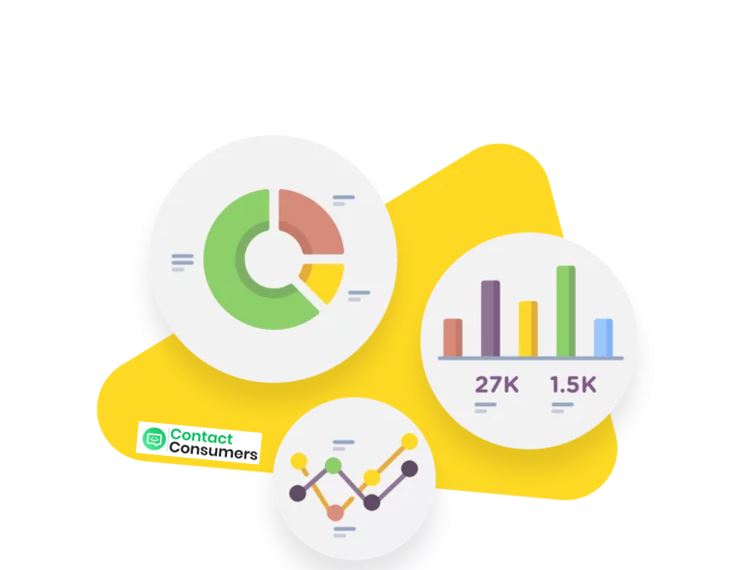 Whether you are using email, text message marketing, or a combination of both, you'll want to monitor the results of each campaign. If no one reads your emails or only a few people take action on your texts, you may need to change your promotional strategies.
SMS marketing platforms offer robust reporting tools that are helpful for business owners and marketing teams. You can examine open rates, track conversion activity, and do much more to ensure your campaigns are effective and benefit your customers.
12. Set Appropriate Times for Your Campaigns
While all businesses should ensure they send text messages during business hours, organizations sometimes find that customers are more responsive at certain times of the day. You can test out your campaigns at different times to determine when your customers will be most likely to respond.
Contact Consumers: An All-in-One Email and SMS Marketing Platform
Contact Consumers offers business owners and marketers an all-in-one platform to manage their SMS and email campaigns. With our powerful tools, you can segment your subscriber base, design your own campaigns, and improve your advertising results. Learn more by
visiting our website today
.