More than ever, the customer experience has become the focal point of any advertising strategy. Customers seek to engage with companies that don't simply display their ads through multiple channels. Instead, they prefer that their favorite brands take note of client preferences and incorporate them whenever users interact with the company.
Such a marketing tactic is known as omni-channel marketing. A company that adopts the omnichannel customer strategy seeks to build a database of its customer's buying habits and preferences. The company remains available across multiple platforms, including its app, website, email, and text messaging. 
Let's take a deep dive into omni-channel marketing to understand why it works and how your organization can best implement it.
What Is the Omni-Channel Strategy?
Omni-channel marketing incorporates all activities that occur with a buyer online and offline. Companies that use omni-marketing constantly monitor all their customer interactions, no matter where they happen.
For example, suppose that a customer searches a company website while logged into their personal account. The business will monitor their search and store the details related to their inquiry in a database. 
Later, if the customer chooses to interact with the brand by clicking on a promotional ad via social media, the organization also saves this interaction.
The more information the company retains about each customer's buying habits and preferences, the better it can reach customers and target promotions designed to encourage potential customers to purchase products.
The Omni-Channel Marketing Strategy: A Real-World Example
Amazon, the retailer that blew open the doors of eCommerce and made online sales what they are today, employs an omnichannel marketing strategy. 
When a customer purchases a product from Amazon, they must create a user account. Amazon uses the details obtained from the account to track the client's product searches and buying history. The company also stores customer purchase details, making future product purchases a streamlined process handled in one click.
Amazon has furthered its presence through various products and apps, like Amazon Alexa, Kindle, and Prime. 
Amazon Alexa is a voice assistant that monitors smart electronics, finds the information you need, and conveniently orders products. With Alexa, customers don't need to go online to purchase an item; instead, the device conveniently handles it for them as long as the user stores their credit card details and delivery information with Amazon.
Kindle is another channel that Amazon uses to connect with its book-loving customers. Customers who purchase a Kindle or download the Kindle app receive regular, tailored recommendations for other books they may like. 
Avid readers can also buy Kindle Unlimited, a subscription-based service that allows customers to read as many books as they want through the platform for a monthly fee.
Finally, Amazon Prime is the mother of customer loyalty programs. With Prime, clients receive free two-day shipping and the ability to stream millions of television shows, movies, and songs. They can also receive discounts when ordering products from companies like Whole Foods. 
Individuals who regularly need products benefit from subscription shopping, a setup where the company automatically sends a refill of certain items like diapers or other consumer staples at specified intervals. 
Amazon has successfully combined several products and services in multiple channels that automatically track consumer buying habits and use the data for further product recommendations and promotions. Few other companies have managed to do so in such an effective manner.
How to Design an Omni-Channel Strategy Step by Step
Every company dreams of acquiring enough information about its customers to reach them at any time and in any place. Organizations that invest in the technological resources necessary to track customer habits benefit from greater customer loyalty and enhanced revenue. 
Let's walk through the steps needed to achieve an effective omnichannel customer strategy that gets results.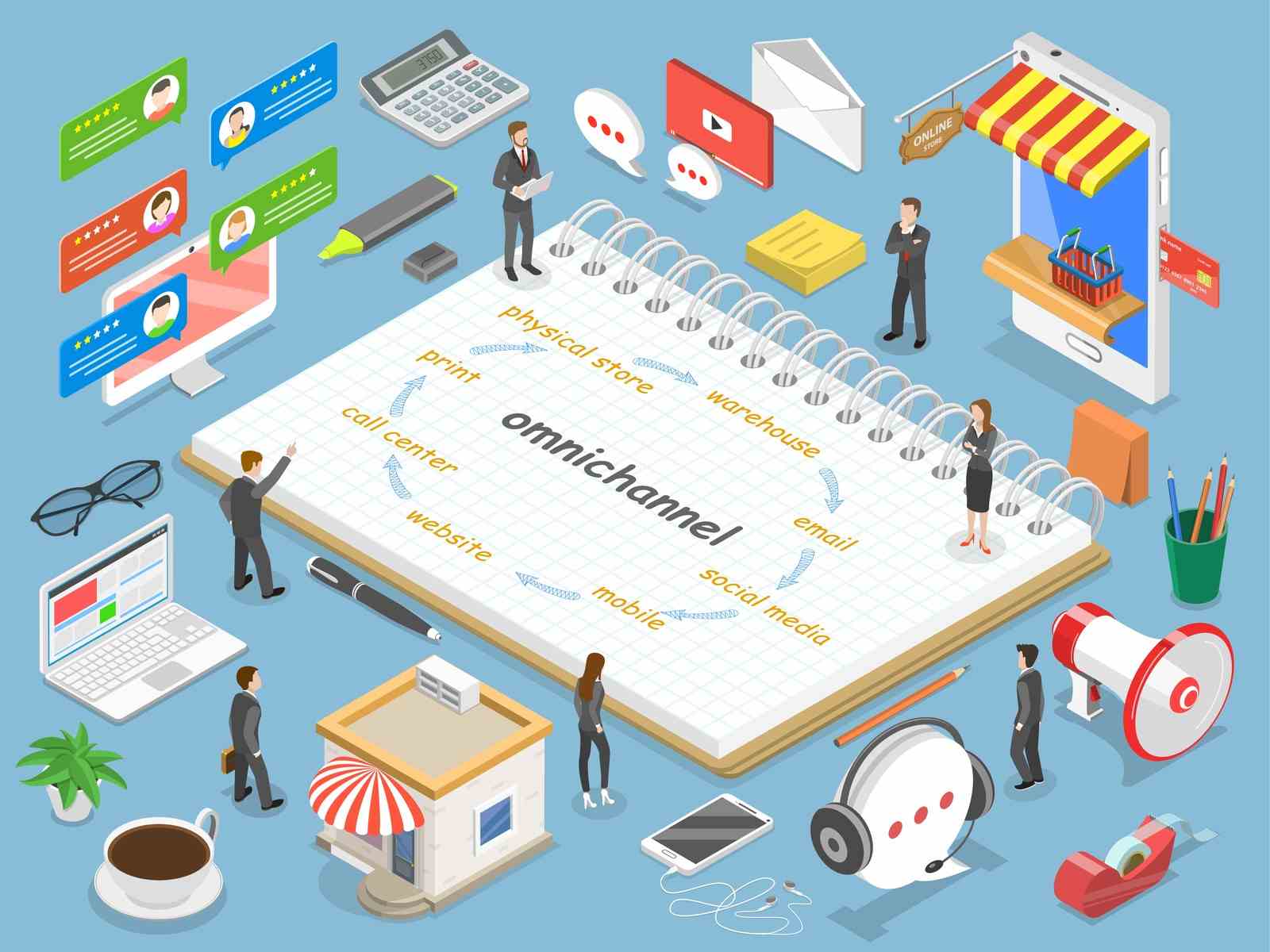 Find Out Who Your Customers Are
To develop an effective marketing strategy, you need to know what group of people will most likely be interested in your products. 
New startups often begin this process by brainstorming who their target customers are. More established companies have the benefit of already knowing which clients are most likely to be interested in their products and can target their marketing efforts to reach those people.
Figuring out who your customers are includes:
Establishing their demographics, such as marital status, age range, and income

Determining client location

Figuring out how customers spend their time online

Identifying the products and services they are most likely to use or need

Recognizing the promotional strategies that encourage them to convert
Once a marketer has determined the information above, they can use it to develop promotional strategies that are most likely to reach their audience
Examine Your Existing Marketing Presence
Next, you'll want to look at all of your marketing channels to ensure your brand message is consistent. For example, your company's logo should remain the same across your website, social media accounts, and print advertising. Your company's contact information should be clearly identified on all platforms.
You should also determine which channels provide you with the most customer engagement. If your website is a hotbed of activity, but your TikTok account is not, it's time to drop your TikTok account. There's no point in spreading yourself too thin and risking reputational damage to maintain poorly-performing marketing channels.
Prioritize Marketing Efforts with Your Strongest Channels
Some companies find that they can communicate best with their clients through certain mediums. For example, an organization may find that it has high email open rates, or its text message marketing activities generate strong conversions. Once you know where your strengths lie, maximize them.
Companies that receive a solid response to email marketing promotions should focus on designing templates that grab their customers' attention. Make the most of your emails with a combination of advertisements and content intended to intrigue clients and inform them on topics related to your services.
For example, a fitness company that combines online workout streaming services with product offers could use email promotions that cover relevant topics about weight loss or strength training alongside discounts for fitness products it sells.
Personalize as Much as Possible
Customers are more likely to respond to advertising efforts incorporating their buying habits, personal preferences, and needs. 
For instance, an email offering discounted pet products is unlikely to resonate with — or be opened by — someone who doesn't own a pet. Similarly, someone uninterested in gaming will be unlikely to click on an ad for a virtual role-playing game.
Marketers should tailor their efforts to people most likely to be interested in the company's products or services. To do so, they can save the data from previous purchases and searches and use the details from customer surveys to reach clients effectively.
Companies that don't capitalize on the knowledge they have of their customers spend too much money on their marketing efforts without seeing much of a return. Targeted marketing is much more efficient and allows for better conversion rates.
Use the Right Marketing Tools
There are thousands of marketing products out there, and they all offer different means to reach customers. Ideally, you should have a marketing tool that integrates with all of your marketing channels.
Organizations that effectively use email and text message marketing can benefit from Contact Consumers' all-in-one platform that efficiently manages promotional messaging. With Contact Consumers, marketing strategists can quickly review the results of their promotional strategies and tweak their approach to enhance results.
No marketing campaign should ever end without an analysis of its results. Organizations should compare the results between campaigns to determine their effectiveness. Poorly performing campaigns often occur for several different reasons:
Incorrect target market demographics

Sales promotion isn't attractive to buyers

Messaging delivered at the wrong time

Marketing copy is misleading

Other companies have implemented more attractive strategies
With appropriate analysis of results, marketing analysts can tweak their campaigns to achieve a better outcome.
Develop a Loyalty Program
Loyalty programs are one of the best ways to retain customers over time. Organizations can build a loyalty program that encourages customers to return and purchase future products or services from them. 
Frequently, organizations encourage repeat buying through discounts offered with their loyalty program. For example, a restaurant may provide customers with a free meal after ten visits, or a retail store may offer a discount after a client spends a set amount of money with them.
Loyalty programs are an excellent way to gather more information about buying habits. Organizations can incorporate loyalty cards that are usable online or in physical stores.
Major companies, such as Starbucks, American Airlines, and Sephora, reward customers for their purchases by giving them points to use toward future free gifts, products, or services.
For instance, Starbucks provides its loyal customers with free coffee on their birthday and automatic refills for brewed teas and coffee. 
American Airlines offers dedicated members miles redeemable for future discounted or free tickets. Sephora provides customers with a discount once they obtain a certain number of points, as well as access to occasional promotional events. 
The Takeaway: Maximizing the Value of Omni-Channel
Adopting an omni-channel strategy isn't easy, but the payoff is well worth the effort. Studies show that companies that use omni-channel marketing see revenues increase by 9.5% each year, while companies that stick with multi-channel marketing efforts grow their revenues by 3.4%. 
Customer retention is much stronger with omni-marketing. In fact, customers with a great omnichannel customer strategy retain up to 89% of their customers, while their peers keep only 33%.
Clearly, omni-channel marketing poses significant benefits to companies that take the initiative and develop a customer-centric marketing game plan. 
Contact Consumers assists organizations in their omni-channel marketing strategies. We offer a fully customizable, centralized text messaging and email marketing platform to meet your organization's needs. Learn more about Contact Consumers, and experience how we can help you retain more customers to enhance your revenues.