For many small businesses, building strong relationships with customers is the key to success. While you can use email marketing to build those relationships, sometimes you need a more direct channel to connect with your customers. That's where SMS marketing comes in.
SMS marketing is an effective way for small businesses to reach their customers and build stronger one-on-one relationships. Because SMS messages are sent directly to a customer's phone, you know that your message will be read in no time. 
Even better yet: 98% of text messages are read within three minutes — making it one of the most effective channels for reaching your customers and getting them engaged with your brand.
SMS marketing is also great for targeting new customers and building your business from the ground up. Because it's so affordable, you can develop outbound campaigns on a budget, helping you attract new followers and grow your business.
The average person spends over 10 hours a day on their smartphone. No matter what your customers are doing, they will always be checking their phones for new messages, emails, and alerts. 
As a business owner, you need to be thinking about how you can use this to your advantage by building connections with your customers through text messaging.
The Contact Consumers Consumer Retention Platform enables companies to provide personalized service and keep potential clients interested in what they have to offer — through email, text, phone calls, or even a combination of all three. 
This approach can be a great way for businesses to build a positive reputation among consumers who are looking for better customer service or personalized experiences.
Here's why ContactConsumers.com is such a great way to connect with consumers:
There are tons of ways you can use SMS marketing to improve the customer experience, but the most important thing is that the messages have value. Too many businesses send promotional offers that customers don't care about or information that doesn't relate to them at all. 
Instead of sending one-size-fits-all texts, you should focus on providing useful information that will help your customers make better purchasing decisions or learn more about your business.
With the Contact Consumers Consumer Retention Platform, your business can keep up with that shift by sending personalized bulk SMS messages directly to your consumers' mobile phones. Our text messaging platform gives you a tool to build one-on-one customer connections at scale.
It's Personal and Immediate
Texting is about as close as we can get to the way people communicated before phones were even invented — it's just two people talking directly through a line that connects them both. 
This directness has benefits beyond the message itself; a well-placed text can help keep your business top-of-mind with customers, which means they're more likely to think of you first when they need your product or service.
SMS marketing also allows you to tailor your communications based on each customer's preferences and needs. This tailoring can be as simple as sending an alert when their preferred product is back in stock or even just asking how the product works for them after a certain period of time has passed. 
You can even introduce automated messaging through SMS bots for a more seamless experience for both you and your customers.
The Contact Consumers Consumer Retention Platform makes it easy to send bulk SMS messages to your entire database. Just import contacts from your CRM or POS and use our simple interface to create and schedule text campaigns across all of those numbers at once.

Increases Customer Loyalty
When you offer a service to your customers, you're giving them something they can use to make their lives easier. But with so many options and opportunities out there, it's not enough to just provide that service — you need to help them see why it's the right choice. That's where Contact Consumers comes in.
Many retail businesses use ContactConsumers.com as part of their loyalty programs by sending out coupon codes or special offers in order to reward customer loyalty and encourage repeat visits. Restaurants can use text alerts to notify customers about happy hour specials or special menu items.
SMS is a powerful tool for connecting with consumers. Unlike email, the open rate for SMS is always almost 100%. 
With the Contact Consumers Consumer Retention Platform, you can remind consumers to make a payment, offer promotions that are relevant to them, and build relationships. Use SMS to engage in conversations with your consumers and keep them loyal to your brand.
Welcome Your Customers in Style
It's no secret that consumers today are inundated with communications from the brands they interact with, whether it's email, text messages, or good old-fashioned phone calls. 
As a result, companies are having to work harder and harder to differentiate themselves from their competitors. One way to do so is by building strong one-on-one customer connections. This type of personalization will help your business stand out in the eyes of your customers and encourage them to stick around for the long term.
When customers sign up for your SMS list, greet them warmly with a welcome message. Make sure they know they're in good hands and reassure them they'll receive only the best content from you. You can even offer an exclusive discount code to show your appreciation.
The best way to establish these relationships is through SMS marketing. Customers not only prefer this form of communication for urgent notifications, but they also favor receiving messages about upcoming sales and offers. In fact, 80% of consumers say they would like to receive promotional messages from businesses via SMS.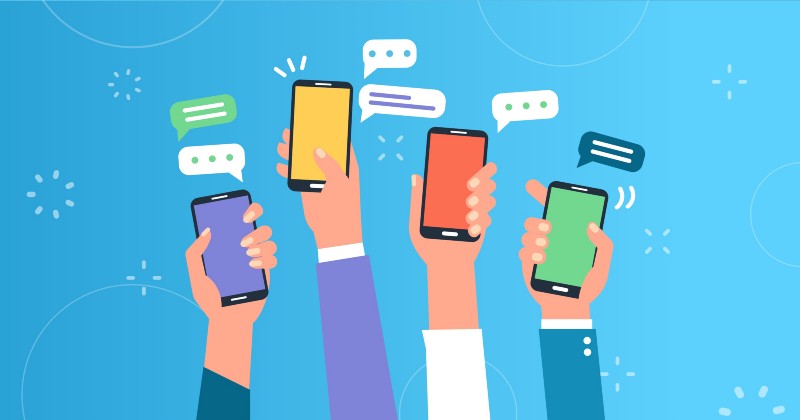 You can use SMS marketing to let customers know about flash sales or upcoming events, like holiday specials or pop-up shops. The medium is also great for sending last-minute reminders about promotions or telling them you've restocked their favorite product.
Use specific keywords that trigger automatic responses when your customers send in a message. 
For example, if someone texts "newsletter" to your phone number, you can automatically send over a link for them to sign up for your newsletter. This automation saves them the trouble of having to go hunt for this information themselves, making their lives easier and saving you time.
Reach Customers Where They Are
SMS is an especially useful marketing tool because everyone has a phone on hand at all times — ContactConsumers.com gives you the opportunity to reach customers immediately, wherever they may be. Having direct access to their inboxes means you can send time-sensitive offers that, in turn, generate instant revenue.
When you choose Contact Consumers, we'll work with you to help you reach your goals of increasing customer retention rates. Our friendly team of experts will help you determine which components of our service are best suited for your needs and will put together a strategic plan for how best to use those components.
How a Consumer Retention Platform Can Help You
Consumer retention is no longer just about getting consumers to continue paying for a product or service. It's about building lasting relationships with your customers. The Contact Consumers Consumer Retention Platform gives you the tools to build a relationship with your customers that doesn't end once they subscribe.
Contact Consumers is a platform that helps you stay in touch with your customers. With the right technology, you can deliver the right message at the right time and turn your customers into repeat buyers. 
To help you do this, we've created a tool that automatically sends emails to your customers based on their interactions with your company — whether they've purchased something new, checked out an item for sale, or reached a milestone like their first month with you. 
With this kind of information at your fingertips, it's easy to identify who could use a little extra attention from you and send them targeted messages that will make them feel appreciated. 
Our platform also allows you to monitor and analyze all of these interactions so that you always have an up-to-date understanding of how well your customer retention strategy is working. We'll even give you suggestions for new tactics based on what other companies like yours are doing.
Identify Your Target Audience
With our Contact Consumers Consumer Retention Platform, you can reach out to your customers and collect valuable feedback in several different ways. 
Our survey tools let you ask targeted questions that help you identify areas where you can improve your products or services, as well as get feedback on areas where you are doing well. You can also use our platform to send tailored offers and discounts to consumers who might be interested in buying more from you. 
In addition, we offer customizable marketing emails that help keep your brand fresh in the minds of consumers and encourage them to keep choosing your business over competitors.
We want to help you build a more profitable business and stay in touch with the people who make it possible. 
Our platform allows you to set up automated email campaigns and text messages, send out direct mail and create online newsletters — our services are designed to help you increase revenue by building meaningful relationships with your customers.