An estimated 90% of marketers leverage their emails to bolster consumer engagement and fuel conversions, and cold emails have been part of their strategy since the dawn of email marketing.
The trick to successful cold emails is dodging the stale practices that once gave them a bad rap and using a B2B cold email template that will resonate with your target audience.
Read on for our top tips on crafting cold emails that will have a high impact, how to create winning B2B cold email subject lines, and the benefits that arrive from drawing inspiration from B2B cold email examples.
What Are B2B Cold Emails?
Simply put, B2B cold emails are unsolicited messages sent to other businesses with whom yours has had no prior contact. These are sent for a number of reasons that will, naturally, be unique to the nature of your business and your objectives, such as:
Building a professional relationship.
Recruiting a social media influencer.
Informing a business about your brand's products or services.
Asking for a link.
Offering a guest post.
Enlisting you for a service.
Collecting recommendations to give to your consumers.
Requesting a favor, such as appearing on your live stream or podcast.
As an example, suppose that you're a content writing agency that specializes in SEO for private clients. A client who wants to expand into video content for a course they're developing. You might reach out to a video artist and marketer over LinkedIn to establish a relationship and use them as recommendations. If all goes well, the person you develop a relationship with will begin referring you to their clients for content writing services. 
In other words, B2B cold emails can function as a contemporary, and sometimes remote, form of networking, a practice that's essential to growth and success.
What Are the Benefits of B2B Cold Emails?
In addition to cultivating a solid relationship with another professional who is affiliated with your brand's products and services – even if only marginally – B2B cold emails may also do the following for you:
Expand your brand's reach and awareness.

Generate business for your company.

Strengthen your authority.
These benefits are just the start, and they'll change depending on your business and your aims with B2B cold emails.
B2B cold emails are also convenient and cost-effective, potentially giving you the human connection you need to grow your business without cutting into your bottom line.
Regardless of whether you're new to the practice or refining your past strategies, bear in mind that cold emailing can be remarkably more effective than cold calling.
According to a study conducted by Baylor University, cold calling has a success rate of a mere 0.03%, while cold emails enjoy an open rate of 44%. 
How Should You Craft B2B Cold Emails?
B2B cold emails must make an immediate impact. Convince your recipient to take your desired action, whether that be signing up for a seminar for your business or agreeing to a Zoom meeting to discuss how you might work together. 
To that end, your cold emails need to be pointed and persuasive. Balanced in that sweet spot between warm and direct.
Practicing the tips we've provided here may help your emails shift from cold to exactly what your prospects want.
Validate Your Credentials
Remember, B2B cold emails are exchanges between strangers. So just as you wouldn't strike up a conversation with someone at a dinner party without introducing yourself, you'd be wise to follow the same rules of convention (and grace) in your emails. 
With that in mind, introduce yourself with care in your first paragraph. Identify your role in your organization. Provide a few stand-out facts about what you and your brand have achieved. Do so not in an egotistical manner but instead in an understated fashion that nonetheless gets the point across that you are a professional. 
Identify Why You're Reaching Out Specifically to Them
People like to feel special. Identifying why your recipient is uniquely qualified for your request, product, or service may prompt them to respond in kind. Research backs this concept up, too: according to the Harvard Business Review, people are more inclined to help when they feel singled out for the proposition.

You accomplish that by doing your due diligence. Don't reach out to potential prospects blindly. Find and leverage potential connections that will be a win-win for both parties. That includes examining your recipient's demographics:
Position/role in their company

Years of experience 

Past accomplishments

Geographic location 

Interests
Distinguishing why they alone can help you from the onset, may propel them to read with a closer eye, and reply in a timely (and perhaps positive) manner.
Establish a Connection 
People naturally seek to find a commonality with strangers, and such a concept applies to B2B cold emails. The connections that serve as foundations for cold emails may include:
Being a mutual friend or acquaintance

An upcoming professional event you're both attending 

The university you attended

A shared professional or non-professional interest
Our advice is not to overwork these associations. If they feel contrived to you, your recipient will pick up on it. And that isn't the first impression you want to make with someone who could be valuable to your business's growth. Of course, if you can find a natural connection, capitalize on it with class, and your email may not seem cold at all.
Tap into a Pain Point
Your business may offer a product or service that solves an issue for your recipient's business or client base. Underscore the value you'll be bringing to the table, and answer the age-old question: "What's in it for me?" 
Clarify Your Proposal 
A vague "It would be great to tell you about our new service sometime!" isn't nearly as effective as a straightforward "I would be thrilled to meet with you to discuss the benefits of our new service. I'm open on Friday from 9 a.m. to 2 p.m. PST. If that doesn't work with your schedule, please tell me what will, and I'll make sure to make it happen."
Express Your Gratitude and Practice Brevity
Cold emails that reek of entitlement or ingratitude are bound to go right into your recipient's trash or spam folder. The same goes for overly long, or even indulgent, emails. Brevity is your best friend here, as a way to implicitly honor your recipient's time, and thank them sincerely for their time. Data published by APA PsycNet reveals that demonstrating your gratitude may double your response rate.
Read Your B2B Cold Emails Out Loud
In the current era of ChatGPT, the last thing a thought leader, podcast host, CEO, or other professional wants is to receive an email that seems like it was crafted by AI. By reading your email out loud, you'll be able to assess its naturalness and fluidity, and pick up on any spelling, grammar, or punctuation errors that online services perhaps didn't catch.
Use an Eye-Catching and Informative Subject Line
B2B cold email subject lines are the very first impression you'll make with your audience. A solid 47% of your open rate hinges on the quality of your subject line. 
To craft B2B cold email subject lines that will compel your recipient to open your message, you may want to ensure your subject line sports the following qualities:
Contains seven words or less

Has been personalized 

Mirrors the content of your message without rendering your email repetitive 

Sparks interest through high-impact words 

Aligns with your overall voice, tone, and language
If you're unsure whether your B2B cold email subject lines are working to your benefit, perform an A/B test to evaluate what lands.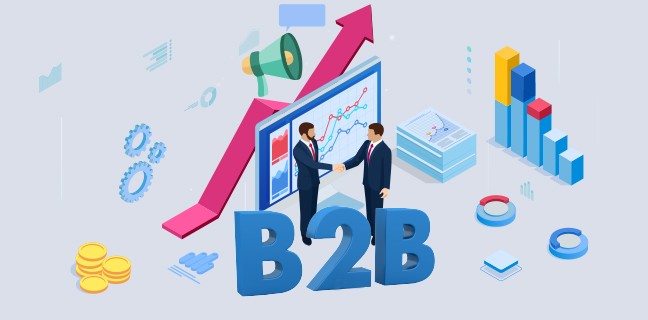 Consider the following email example if you're looking for a B2B cold email template that can be modified to meet your brand and campaign's objectives:
Hi [NAME]:
My name is [NAME], and I'm the Founder of Organic Botanics, a line of FDA-approved supplements for women ages 50+ who want to restore the wellness and calm of their nervous systems by balancing their hormonal health. Our top-selling product, Soothe, was recently named one of the best new supplements by Organic Authority.
I'm reaching out today because I had the pleasure of hearing you speak at the 2023 Symposium on Women's Health in West Palm Beach, Florida. I was impressed by your knowledge and the fresh ideas you shared with the audience. Few thought leaders in the field of menopause have as much specialized knowledge on the relief Black Cohosh can offer women as you do.
I would be delighted to explore the idea of partnering with you for the launch of our latest product, REJUVENATE. I'm available on Thursday from 12 p.m. to 2 p.m. EST. If that doesn't work for you, please let me know what will, and I will gladly set something up.
Thank you so much for your attention – I know how valuable your time is – and many thanks for sharing in our mission to educate others.
Sincerely,
[NAME]
The above email template checks off many of the best practices we established:
It immediately identifies the sender, shows off their top credentials, establishes a personal connection, explains why the recipient was explicitly chosen, and thanks them in a way that feels natural and genuine. It's also brief, specific, detailed, direct, and (most importantly) warm while also including a hyper-specific way for the recipient to either decline or accept the invitation.
This is just one example of what's available to you. Proper research, the correct tone, and pinpointing a shared passion can go an incredibly long way to getting your cold emails read and responded to in a timely, favorable fashion.
Maximize Your B2B Cold Emails Campaign with Contact Consumers
Cold emailing may seem impersonal. When it's executed well, it can be anything but that. As one of the most valuable ways to connect with other businesses , the practice stands to reward you with a host of benefits.
You can always take the time to research and explore the B2B connections that will be mutually beneficial to you and your business. Dedicate time and creativity to crafting the pitch-perfect message that will make a positive impression on your audience.
On the other hand, though, you can pass the reins to the experts at Contact Consumers to manage your  email and SMS marketing needs. Explore our services today and relish the rewards of working with a team with decades of experience.