You can think of your small business's website as a digital storefront for your customers. Just as with any retail location, you need a hook that draws people in and encourages them to look around. Physical stores typically use their windows to display the goods they sell, but your digital storefront will require another tactic — search engine optimization (SEO) — to attract clients. A rock-solid SEO strategy makes up the heart and soul of a small business website.
In general, SEO practices encompass a variety of tactics meant to increase a website's ranking among search engine results, such as the use of relevant keywords and precise coverage of topics that the reader is searching for. A proper SEO strategy will also consider your website's technical factors, like your linking strategies and page load speeds.
However, an effective SEO strategy will only get you so far. You'll need to incorporate other channels, such as social media accounts, email marketing lists, and marketing text messages, to reap the full benefits of your small business website. When you connect all your channels in a natural, cohesive manner, you'll see higher customer retention and more organic traffic flowing into your website.
Incorporating SEO into Your Website to Attract Customers
There are two primary forms of SEO: on-page and off-page SEO. The former includes keyword optimization, thorough content coverage, link usage, and page load speed, while the latter consists of backlinks from other websites to your small business website, social media metrics, and the quality of your domain.
The section below will focus solely on-page SEO, as it's 100% in your control. You can monitor certain aspects of off-page SEO, like your usage of social media accounts and backlinks, but others will ultimately fall outside your purview.
Create a Content Strategy
You'll need a robust content strategy to increase the amount of customer traffic to your website. Your approach should cover topics relevant to your customers and your business. You don't want your content to stray too far from the purpose of your organization, or you'll risk confusing the search engines and your customers.
You can brainstorm topics relevant to your customer base and create articles or other content, like videos, white papers, or courses, to discuss them. Creating content for your chosen topics is the hardest part of the process, given that it will require a good chunk of your time, especially in the early days of your website.
Still, you can probably think of dozens of topics that are relevant to your business. For instance, if you're a financial advisor, you might create content about saving for retirement, buying a house, or managing credit card debt. All three topics apply to both you and potential customers.
Regardless of the topics you choose, you'll want to ensure you use keywords that are consistent with each of them. They should appear naturally throughout each page you create to ensure that your content flows smoothly.
Create Effective Landing Pages
Your small business website should include a series of landing pages for your services or product groups. These showcase the features and benefits of every product or service you sell, and they encourage your visitors to make a purchase. As such, you must carefully use keywords in your landing pages to improve your chances of ranking highly in search engines.
In addition, if your business services a local community, your landing pages should reflect your location and cater to the residents of that area. For instance, if you offer accounting services in Omaha, Nebraska, you could create a series of landing pages for your bookkeeping services in Omaha, along with nearby towns like Bellevue and Papillion.
Think of your landing pages as the sales pitches you make to consumers who aren't familiar with your organization. Persuasion is crucial, so your pages need to highlight what you offer and how that differs from your competitors. A powerful landing page that speaks to your visitors' needs can be the difference between attracting a new client and losing out on them.
Ensure Your Small Business Website is Navigation-Friendly
People who come across your website are obviously not going to be as familiar with it as you are. They won't immediately know where to find your contact information or how to sift through your blog to find what they want right away. Make the time they spend on your website productive by making it seamless to navigate.
Most websites have a navigation bar along the top that includes various categories, like services, products, a blog, an "about" page, and contact details. Your site's navigation bar should be clearly visible and easy to work with, no matter the device your visitor uses to visit your site. 
Best practices for small business websites include a navigation bar at the bottom of your webpage. Instead of hovering over categories to find a specific page, the bar will consist of a series of links that visitors can click on.
Encourage Visitors to Opt-in to Your Email Marketing List
Many websites incorporate pop-ups that encourage new visitors to sign up and join their email list. While pop-ups can certainly annoy visitors, those that are genuinely interested in your small business won't mind receiving an email from you from time to time. Having a customer join your email list is a major win, as you can then use their contact information to draw them further into your sales funnel.
Aside from pop-ups, you should include other ways for customers to join your email list. A simple link at the bottom of every page you establish can encourage new visitors to join, and if a customer decides to make a purchase or take some other action through your website, like scheduling a call, you should include an opt-in prompt for your email marketing list at the end of that process.
Invite Customers to Sign Up for Marketing Text Messages
You can also use your small business's website to spur customers to sign up for marketing text messages. Like with emails, you can incorporate a pop-up that appears when customers visit your site that allows for text message sign-ups directly on your website. 
Some visitors may be more willing to provide you with their phone number if they know it will give them additional value, like access to special discounts or deals. New visitors, however, may be wary of providing their phone numbers, especially if they've just come across your page and are in the early stages of your sales funnel. 
If they decide to take further action with you, like scheduling a consultation or ordering a product, you can then request their phone number and ask for approval to send them marketing messages.
Connect Your Other Communication Channels with Your Website
Your website is the primary footprint of your business (in an online sense, at least), but you can use other channels to reach more customers, like social media, email, and text messages.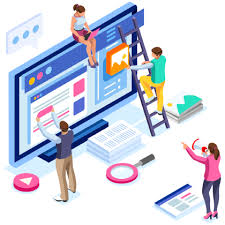 Social Media Accounts
You should have at least one social media account to communicate with your audience. The type of business you run and the audience you target will often dictate the social media platform you should designate as your digital home.
For instance, a professional service organization will probably benefit from a presence on LinkedIn, as companies that use the site typically share content and network with other organizations or entities that need their business serviced. On the other hand, a product-based company with a youthful consumer base will likely benefit from opening up a TikTok account.
Whichever social media platform you choose, connecting it to your website is essential. Regularly share content from your website through your social media profile to build up your traffic streams.
Email Marketing for Small Businesses is Imperative
As you collect more subscribers to your email list through your website and other channels, you'll want to communicate regularly with them to keep your business on their minds. Most organizations email customers at least once per week, sometimes more frequently.
You can use your email list to promote your products and services or to share relevant content with your subscribers. Each email you send should contain links to your website to encourage more traffic flow. 
For instance, if you send an email containing a 25% off discount for one of your products, you'll want to include a link that sends readers directly to the product landing page. That way, they can quickly purchase the product if they're interested in it.
SMS Marketing 
While email remains king for staying in contact with customers at a low cost, SMS marketing for small businesses is gaining steam. Over 98% of consumers read the text messages they receive, which means (if you use text messages to communicate with your customers) nearly all of them will read what you send. Those who see value in your SMS messages are more likely to continue reading them and take action, improving revenue and retention rates.
A Robust Website Will Naturally Attract More Customers
Clients who see a comprehensive website full of helpful material and content are more likely to see your company in a positive light. Use on-page SEO to attract new visitors and tailor your content to meet their needs. You should also use other channels, including SMS and email marketing for small businesses, to encourage further engagement.
When you're ready to take your SMS and email marketing to the next level, try out Contact Consumers, and learn why companies like Lyft and Experian choose us as their email and text messaging platform.