If you run an online business, it's likely that you're already pretty familiar with the ins and outs of digital marketing, even if you're not directly handling your marketing strategy. In any case, digital marketing is vital to attracting and retaining customers: without it, you'd likely have trouble staying afloat.
However, digital marketing isn't a singular activity. It encompasses a multitude of tactics. Content and email marketing, paid media, search marketing, social media, and e-commerce marketing – that all require underlying techniques to make themselves successful. 
A paid media strategy, for instance, could include Google, Facebook, and Instagram ads, or ads that play via video streaming. A marketer focusing on paid media would need to recognize the various advertising options available and the ways through which they can optimize them.
With that being said, though, startups and small businesses don't often need a specialist for any particular facet of digital marketing. What they need is a T-shaped marketer. 
What is a T-Shaped Marketer?
To envision the purpose of a T-shaped marketer, think of the various divisions in digital marketing. Then think of the sub-categories under one specific division. The divisions of digital marketing represent the top portion of a capital "T," while the subcategories of a particular division form its stem.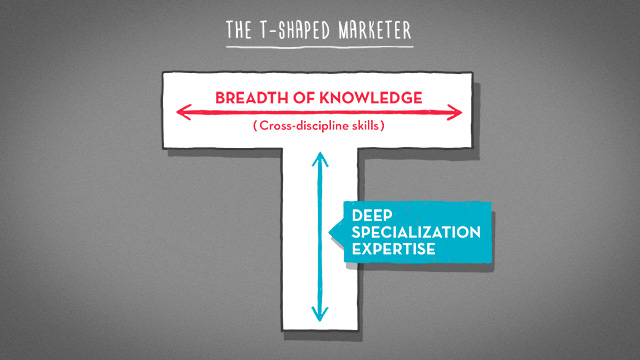 A T-shaped marketer, as you might be able to guess, is a generalist that understands how all the various aspects of digital marketing link together but also has specialized knowledge in a specific category, like content marketing. Their knowledge of content marketing then expands to include SEO, keyword optimization, blogs and articles, and content development, among other tasks. 
Startups and small businesses can benefit from a T-shaped marketer's general knowledge and specific expertise that aligns with the needs of their business.
The Facets of Digital Marketing Strategies
Understanding various digital marketing strategies can help you determine what to look for when hiring a T-shaped marketer for your organization.
Content Marketing
Content marketing is an inbound marketing strategy that aims to attract customers based on the expertise and authority you assert in your particular market sector. Virtually all companies develop a content marketing strategy in some form, though some organizations. In particular, will rely on theirs as their primary means of obtaining new customers. When developing your content marketing strategy, you'll incorporate blogs, articles, whitepapers, podcasts, videos, and other media to provide information and guidance to a target audience. 
Effective content marketing strategies involve a comprehensive approach that covers important topics relevant to the needs of their customer base. As such, people who discover the content will recognize the company as an authority in their field and turn to them when they require their products or services.
For instance, a dermatology office might develop a content marketing strategy that includes articles on caring for the skin and details regarding common skin conditions like acne or hyperpigmentation. Customers who come across these blogs will see the office as an authority and schedule an appointment if they need help clearing up skin issues.
Email Marketing
An email marketing strategy uses emails to promote a company's products or services or improve general customer engagement. It gets started when a customer agrees to receive emails from a company, generally through their website after making an initial purchase or by signing up for emails at their physical storefront.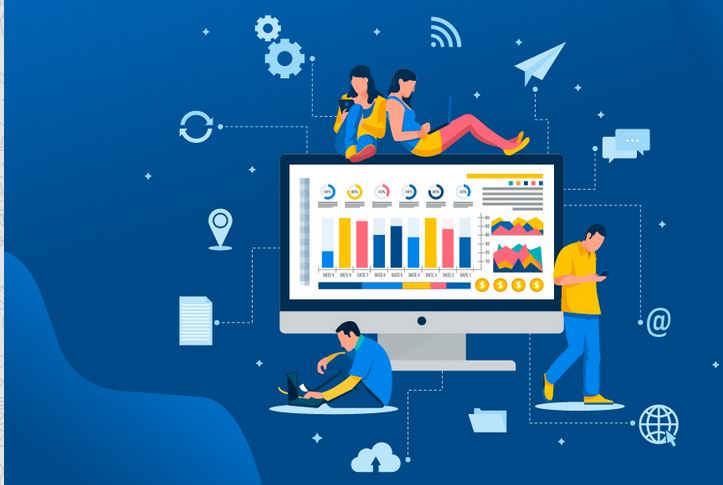 Email marketing is critical for customer retention, as most companies can't afford to rely solely on paid media to attract a continuous new stream of clients. Instead, they must build a loyal following of customers who will reliably return to them whenever they need their products or services.
A T-shaped marketer focusing on email marketing will, therefore, have a robust understanding of the typical sales funnel and feel comfortable crafting regular email copy that resonates with the organization's client base.
Paid Media
Paid media consists of social media ads on platforms such as Facebook and Instagram and advertisements through search engines such as Google and Bing. Though it helps all companies attract new customers, paid media is imperative for startups and small businesses that need to build up their revenue fast. 
Oftentimes, a paid media strategy will lead to quick sales, whereas other marketing strategies may take longer to come to fruition. So T-marketers who master the use of paid ads can be beneficial to companies in their early growth stages.
Search Marketing
Search marketing involves using search engine optimization (SEO) techniques to increase the rankings of a website for certain keywords and terms. Though it is essential to all businesses, it's absolutely critical for companies that rely on content marketing as a primary source for customers.
The search marketing works hand-in-hand with content marketing. Sites full of written and recorded content tend to rank higher among search results than companies with only a few pages to their name. A search marketer will formulate a strategy emphasizing high-value and long-tail keywords to improve search rankings.
Aside from keywords, a T-marketer with specialized knowledge in search marketing will try to strengthen the organization's domain rating with quality backlinks. A variety of backlinks from reputable sources signals to search engines that a website is valuable to readers, and they'll reward the site with higher rankings as a result.
Social Media
Companies use their social media accounts to improve engagement among their audience and reach new customers. The objectives of social media marketing can vary. One company may use it to enhance brand awareness and build a stronger reputation, while another may rely on social media for sales and conversions.
Aside from regularly posting to an organization's social media accounts, marketers must pay attention to customer comments and reply to them to encourage further engagement. They may also use social listening tools that notify them when there's a new mention of their brand.
Some companies choose to partner with influencers to promote their products and services. An influencer partnership can help a brand connect with people who mirror their target audience immediately, allowing them to increase followers and potentially increase revenue.
No matter how they intend to use their social media presence, organizations with unique products and audiences that primarily consist of a younger demographic serve to benefit from a T-marketer with expertise in social media marketing.
E-commerce Marketing
The world of e-commerce is highly competitive, especially as there are so many big-name players in the business — Amazon alone is almost synonymous with e-commerce. 
Unfortunately, smaller companies aiming to get their products into consumers' hands will likely struggle to compete against such major players. That's why hiring a T-marketer that specializes in e-commerce marketing is crucial to organizations that sell products or services online. E-commerce marketers will pay close attention to their competitors to ensure they price products competitively and use the proper channels to reach customers, including SMS and email.
Bringing It All Together: How to Choose a T-Shaped Marketer for Your Organization
Organizations that are still in their early growth stages are likely to benefit from the inclusion of a T-shaped marketer. Most startups and small businesses can't afford to hire a fully-staffed marketing team dedicated to specific aspects of digital marketing, nor do they need one. Instead, a generalist with knowledge of all digital marketing topics and specialization in a few is the best option for them.
When looking for the right person for the role, you'll want to consider the type of company you have and where you're likely to see the most benefits from a digital marketing strategy. 
An e-commerce company that sells its own products, for instance, will benefit from a T-marketer with extensive experience in e-commerce marketing. They could devise specific strategies for attracting new customers into their sales funnel, such as email and SMS marketing, which are particularly important to e-commerce companies because they help build stronger customer relationships. Oftentimes, the main reason a customer doesn't simply buy a product from Amazon is the relationship they have with the company itself. 
A T-marketer can also create strategies designed to strengthen customer relationships, such as introducing a customer loyalty program or regularly hosting flash sales. Emails and SMS messages can inform clients of the company's new offerings, opportunities to earn points, or special discounts. 
Other strategies that an e-commerce marketing strategist might try include partnership marketing or running paid ads, which both fall under different categories of the digital marketing realm.
T-Shaped Marketers Bring More Value to Small Businesses
When you're looking for a marketing resource that can create a holistic marketing strategy for your organization, put your faith in a T-shaped marketer. A T-shaped marketer will understand digital marketing from end to end while also specializing in a few key methods to benefit your organization. You can't go wrong with a T-shaped marketer who knows the techniques necessary to take your company to the next level. 
If you're looking for an all-in-one SMS and email platform that's easy to manage, try out Contact Consumers. Discover why brands like Liberty Mutual trust us for their SMS and email marketing needs.