If you've recently begun SMS marketing for your business, you're likely ready to get started with your campaigns and attract more sales. However, before you start texting everyone on your customer list, it's best to sit back and decide how you're going to deploy your campaigns. Like any other form of marketing, you need a game plan.
Let's discuss the basics of SMS for eCommerce, potential marketing strategies, and a few case examples of exemplary text marketing practices.
SMS marketing is a valuable marketing channel that allows companies to reach out to their customers directly on their smartphones. Organizations can communicate with their clients through text blasts, where numerous clients receive the same message, or in a one-on-one format, where a conversation occurs between one client and the business.
Text marketing is relatively new. Fewer than 50% of U.S. companies use SMS to communicate with their customers. However, companies that use text marketing see a sixfold to eightfold increase in customer engagement rates over emails. In fact, the click-through rate (CTR) of text messages is 19%. Emails have a 2% CTR. 
In addition, over 90% of recipients read SMS messages, compared to only 20% of email subscribers. That simple statistic alone guarantees that you'll capture the attention of your intended audience whenever you send a message.
Ways to Use SMS for eCommerce Marketing
1. Flash Sales and Promotions
Flash sales and promotions are a great way to boost sales and build your customer base. In fact, one of the best ways to attract customers to your SMS marketing campaigns is through flash sales. If customers believe they'll gain access to private, unadvertised sales by signing up for SMS updates with the company, they may be motivated to do so. 
Flash sales can help you eliminate slow-moving inventory, attract more customers, and build loyalty with your client base. Once you have a well-developed understanding of your customers' preferences and buying habits, you can tailor your marketing efforts to various target segments.
For example, if your eCommerce store offers clothing for toddlers and children up to age 12, you can send specific flash sales promotions to parents of each age group. You could offer a 15% discount on toddler coats for one week, and the following week, you might send a flash sale for 20% off back-to-school finds for older children.
With targeted promotions, you consistently have a sale, but it isn't attractive to every client on your subscription list. You constantly rotate your products or services to meet the preferences of different clients without bombarding everyone's SMS inbox at once.
2. Abandoned Cart Reminders
Abandoned shopping carts are the bane of any eCommerce store. When a customer stops their sale midway through the purchase process, store owners wonder why they left. Was there a problem with the client's payment method? Did they find a better deal at another eCommerce store? Were they simply interrupted by external factors?
While you won't discover the reason behind every abandoned cart, you can try to resolve the situation by sending an SMS reminder concerning the sale. Abandoned cart reminders are one-on-one text messages between the business and its client. 
Text messaging marketing platforms like Contact Consumers create automated abandoned cart messages that can be sent to clients who are signed up for SMS notifications with a company.
It's considered best practice to send abandoned cart messages 24 to 48 hours after a customer stops the purchase process. Too soon, and you risk annoying the customer, but too late, and they may have forgotten their visit to your website altogether. Including a unique discount code can be enough to entice a customer to return to your website and finish their shopping experience.
3. Provide Customer Service
Increasingly, customers expect to be able to reach out to organizations and connect with customer service instantly. They don't want to dial 1-800 numbers and wait on hold for lengthy periods before talking to someone. Instead, they want instant access to customer service representatives and quick responses.
Text messaging is a great way to connect customers to the help they need without requiring them to sit on the phone. Customers can contact your eCommerce company whenever they have an inquiry and receive the assistance they need.
However, smaller organizations may not have the workforce to have someone available at all times. If that's the case, the customer can communicate their question through text, and you can prepare an automated reply letting them know when they can expect an answer.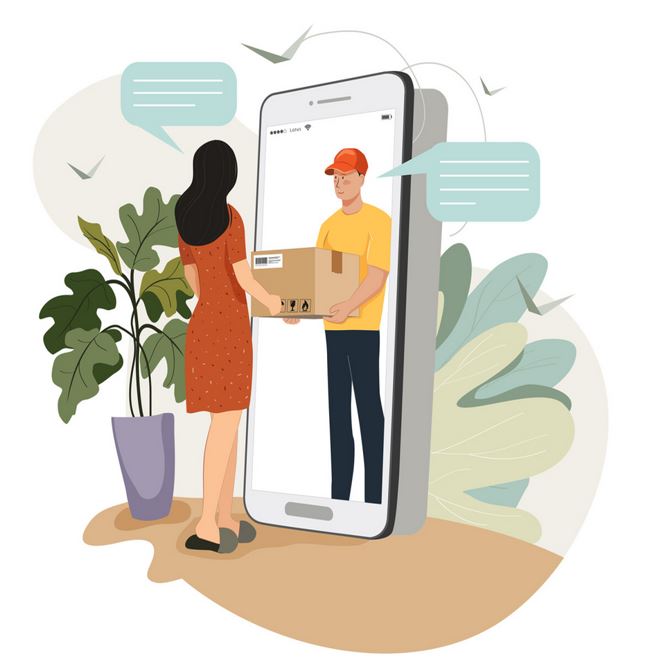 4. Order Confirmation and Shipping Updates
Two of the most common customer concerns are whether the company has received their online order and when they can expect it to be delivered. While automated emails are helpful for communicating order confirmations and shipment updates, so are text messages.
Text messages have a much higher open rate than emails, so they are more likely to be read by clients. Thus, you can set up real-time, automated text messaging for each step in the delivery process, alleviating any concerns your clients may have concerning their shipments.
Sometimes, you may want to disburse informational content to your consumers. Informative content includes relevant details about your company or its products that your customers should know. When delivering content to your subscribers, it's important to distinguish what type of content is essential and what content is better left to promotional emails.
SMS for eCommerce messages that deliver important informational content include:
Notifications of important product updates

Blogs or articles that benefit specific customers

Cancellations of events or other in-person happenings

Targeted messages that your customers have specifically asked for 
For example, if a product you sell on your eCommerce website has been declared defective, you'll want to notify all clients who ordered it of potential issues immediately. 
In some circumstances, clients may want regular text messaging updates frequently. For instance, a customer seeking to buy a home may request their realtor notify them whenever a new house that meets their buying preferences becomes available. While they may receive multiple text messages from their realtor daily, the frequency ensures they don't miss out on a potential opportunity.
Finally, some companies use text messages to notify their clientele of new blogs or articles related to their eCommerce store. If you decide to use text messaging for promotional blogs, do so sparingly and only for blogs likely to interest your targeted audience.
Text Marketing: 4 Stand-Out eCommerce Use Cases
Now that you have a few ideas for using SMS marketing for your eCommerce business, let's consider a few companies that use text messaging to their advantage.
Hydrant: Making It Easy to Reorder
Hydrant is an eCommerce website that offers rehydration packets to its customers. When customers place an order through the site, clients receive an option to get text message reminders whenever they may be ready for replenishment of their packets. 
The specialized text messages provide a link to Hydrant's website, which stores their credit card details and delivery information. The company also preloads the client's shopping cart with the number of packets they previously purchased. 
Thus, customers don't need to go through multiple screens to make future purchases with Hydrant. Instead, Hydrant streamlines the checkout process for them. 
Personal Needs with Quizzes: NaturAll Club
NaturAll Club is an eCommerce website that sells natural hair care products to its clients. However, the website seeks to cater to its customer's needs by offering a quiz designed to recommend the best products suitable for their hair concerns. Once the client fills out the quiz, they're asked to provide their phone number to receive their results.
Once the customer agrees to receive text alerts from NaturAll Club, the company sends them their personalized quiz results. Results include product recommendations designed to address their hair care concerns.
One-On-One Chats: Equal Parts
Equal Parts tries to build brand loyalty and credibility with its "Text-A-Chef" program. Subscribers can start instant, one-on-one conversations with the company's customer service representatives. Any time a customer has a question concerning cooking or is seeking a new recipe, they can start an instant discussion through their phone.
For instance, customers can easily reach out to Equal Parts and request help making a new dish or finding a recipe that incorporates ingredients they have on hand. The team at Equal Parts has a group of individuals ready to assist customers with their inquiries at any time.
GOOD COUNSEL: Tailored Product Recommendations
Some people don't have a lot of time available for clothing shopping. Other people may not enjoy it, or they feel that finding the proper clothing that fits their body and personal taste is challenging. Enter: GOOD COUNSEL, an eCommerce website that provides personalized recommendations for clients' clothing needs.
When new customers sign up with GOOD COUNSEL, they're asked to provide basic information about their clothing sizes and how they carry their weight. Once they approve text messaging alerts, an advisor contacts them immediately to learn more about their clothing taste. 
Once the conversation begins, the stylist recommends specific products that are a good fit for them. The customer can purchase the products through the provided links. 
GOOD COUNSEL also mixes up its text marketing efforts with flash sales and promotions designed to encourage brand loyalty and provide value to its customers.
Contact Consumers, an Easy Solution for SMS for eCommerce Marketing
Contact Consumers offers a full-service SMS marketing platform to meet your organization's marketing needs. Customers who sign up with Contact Consumers access robust reporting tools and pre-defined templates they can use to build their text marketing campaigns. Learn more about Contact Consumers, and experience the benefits of our all-in-one email and SMS for eCommerce platform.