The number of customers who choose to engage with brands via mobile devices continues to increase, and in response, brands are investing in technologies that make these interactions both safe and productive. 
One example of this is A2P 10DLC, a messaging technology that allows companies to deliver quality customer experiences over the phone. 
Take a look at these use cases to understand how you can serve your customers better.
The best way to understand A2P 10DLC is to break it into its two components. First, A2P stands for Application to Person, an SMS system businesses use where messages are sent via an app owned by a company directly to the consumer. These messages are only sent to customers who have previously consented to receive such communications.
10DLC stands for ten-digit longcode, and refers to the ten-digit sender number that is used in A2P messaging. 10DLC allows businesses to use standard, local, ten-digit phone numbers to send promotional and transactional messages using A2P systems.
A2P 10DLC Messaging Features
It's important for businesses to understand the features of messages sent using A2P 10DLC, as this will help ensure that campaigns using this message protocol are effective and compliant.
Character Limits
For SMS messages, there is a character limit of 160 characters. It is important to stay within this limitation, as many carriers will truncate longer messages instead of splitting them into multiple messages.
MMS Messages
MMS (Multimedia Messaging Service) messaging allows brands to send images, GIFs, videos, and other audio-visual content to recipients; however, carriers may place throughput limits on these messages due to limited capacity. 
Brands that want to send a significant number of MMS messages may be better off using shortcodes.
A2P Message Limitations
There is a daily upper limit of 6000 messages that can be sent. However, carriers often permit an even lower number than that. Additionally, each campaign may have a limited number of phone numbers that you can include in the first place.
Subscribing and Unsubscribing
These messages may only be sent to subscribed users, and brands must provide customers with an easy-to-follow process for opting out of messaging. Other conditions are at play as well. For instance, customers can't be contacted outside of their daytime hours.
Forbidden Topics
There are topics and activities that are outright forbidden when sending 10DLC messages. These include the following:
Get-rich-quick schemes

Illegal substances

Debt collection

Third-party lead generation

Gambling

SHAFT (Sex, Hate, Alcohol, Firearms, Tobacco)
Review your marketing strategies carefully to ensure your compliance.
The Benefits of A2P 10DLC
Thanks to A2P 10DLC, brands can now send messages to customers using familiar, local numbers. It's even possible for companies to register their business phone numbers as 10DLC numbers with carriers, increasing the chances of proper delivery of their messages.
Additionally, customers are more receptive to messages they receive from 10DLC numbers. These are often local numbers instead of shortcodes or toll-free numbers, and are less likely to be dismissed as spam. 10DLC numbers must also be registered and are guaranteed to be compliant.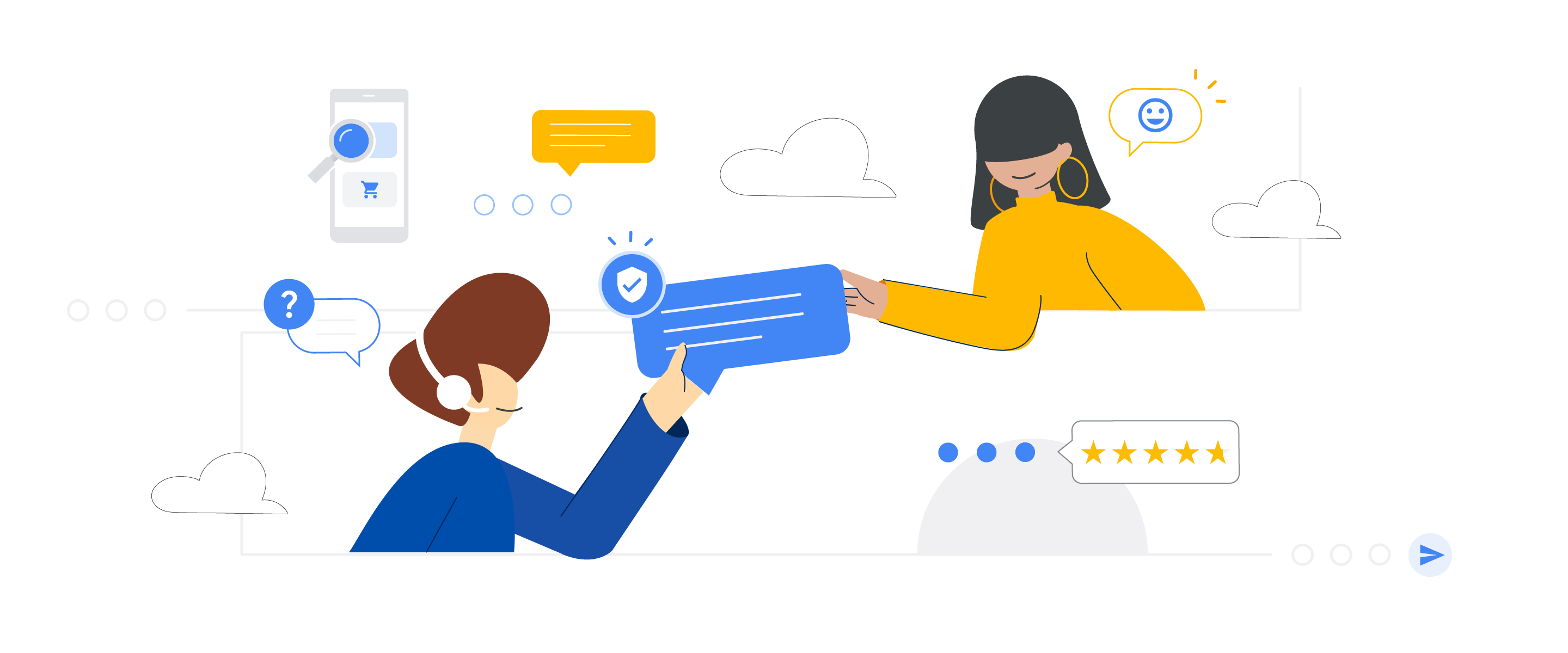 Customer Service Use Cases for A2P 10DLC
When businesses register their ten-digit long codes, they can't simply state that they will be using them to send business texts. They must also state how they will be using the messaging service, adding a layer of transparency and also forcing brands to consider how they will engage with their customers via SMS. It's a great opportunity to identify various ways of using this technology to deliver customer service. 
Consider some of these campaign use cases:
Account Notifications
A2P is an excellent tool for sending customers information about status changes to their accounts or other account-related items. These messages ensure that customers know if they need to address issues relating to their accounts right away.
These notifications also promote account security, informing customers of changes that may have been made without their consent.
Delivery Notifications
A2P can be used to send customers delivery status notifications when they order packages at each stage of delivery from the point the item leaves the warehouse.
University Message Systems
Customer service extends beyond retail. A2P SMS messages can be used to send messages to students and university staff. Schools can inform message recipients about safety issues, closures, campus events, etc.

Public Service Announcements
PSAs are informational messages regarding any variety of topics that are broadcast to a large pool of recipients. They must be delivered with the purpose of providing information and creating awareness.
Two-Factor Authentication
These are verification SMS messages that are sent to add an additional layer of security when users log into a website or other service.
Customer Care
A broad messaging category, customer care refers to any use of SMS messaging to offer support and assistance to customers. Customer care messages are often interactive, whereas many other forms of SMS messages are broadcast only.
Fraud Alerts
Customers are more concerned about fraud than ever. Whether they shop online using digital wallets or pay by card in person, there is always a risk that their personal or financial info will be compromised. 
Prevention is the best way of dealing with fraud, but when that isn't possible, customers need to be informed right away when there has been a breach. Fraud alert messages can be sent when there is suspected unauthorized activity.
Marketing
These are any promotional, sales, or related messages sent with the purpose of converting customers.
Polling and Voting
Polling and voting can refer to non-political messaging in this case. These are surveys, customer polls, and other opinion-gathering instruments that are delivered via SMS.
Security Alerts
These are messages that inform customers of system outages, compromised data, or other issues relating to security. These are not the same as account security messages.
Mixed-Use Messages
This use case scenario is used to register messages that will be used for multiple purposes. For example, sending delivery notifications and customer support messaging. This use case tends to have the highest cost-per-delivery rate.
Special Messages
This messaging category is reserved for messages sent by political campaigns or 501c(3) non-profit organizations. These communications must comply with additional rules and regulations, including intense vetting steps and a specific registry for political campaigns, to ensure that only legitimate organizations can register to send these messages.
Follow us as we will continue to write stories covering more use cases: