While Google initially debuted Google's Business Messages in 2017, the company recently added a desktop feature to the product, making it an even more useful way to interact with customers who haven't visited your website.
As a Google partner and your source of must-have customer engagement tools, we're excited to introduce this feature and tell you how you can integrate it into your communications strategy.
What Is Google's Business Messages?
Google's Business Messages (GBM) is a messaging channel that customers can use to reach businesses they find online. Google's Business Messages is available at several different customer touchpoints, including:
Advertisements

Google Maps

Google Search Results

Website Widgets

Featured Snippets

Local 3-Pack results
Additionally, GBM can be integrated with Sitelinks, the extra links appearing underneath the descriptions in search results. Place sheets also show up when a customer searches for your brand or specific location.
Google's Business Messages is displayed as a button on both Android and iOS devices. You'll find it next to the buttons you tap to call or get directions.
What Happens When a User Taps or Clicks?
When a user taps on business messages, they enter a conversational channel with your brand. You can send compelling, personalized, rich messages to make the most of this channel and keep engagement levels high.
What Are Rich Messages?
Rich messages contain features beyond text and basic images. For example, they may use:
Prompted replies to help resolve issues quickly

Card and carousel displays to showcase products

Personalized information, including FAQ and hours of operation

Photo verification capabilities

Buttons that can facilitate communication and escalation
‍Once the messaging session has concluded, the brand using GBM can offer the user a customer satisfaction survey. 
Imagine adding a new channel for collecting helpful insights from your customers about their experiences in real-time. Your company can act on that information immediately, and you can earn higher ranks and brand visibility when the reviews are positive.
When the interaction between your brand and the customer ends, Google's Business Messages stores the exchange for 30 days. If the customer returns, the conversation picks up right where it left off.
What Are the Benefits of Using Google's Business Messages?
When you implement GBM, you create a new communication channel with your customers, letting them engage with you where, when, and how they prefer. You no longer have to wait for customers to visit your website to connect with them.
Brands Can Use GBM to Further Use Google's Mobile Reach
More than 90% of mobile search queries are executed using Google, and when the average individual performs three to four searches every day, that adds up to 70,000 searches per second. Furthermore, three-quarters of shoppers have used some Google features in the past seven days, such as search or Maps. Thanks to this dominance that Google has in the market, GBM is a powerful customer outreach tool.
Messaging May Outdo Other Support Options
More than half of mobile device users have used the tap-to-call feature in Google search to contact a business. That's an exciting statistic in itself, but when you consider that nearly 80% of people prefer conversational interactions like messaging, it's easy to see the potential of GBM.
Ultimately, Google's Business Messages is an additional channel through which you can engage customers. It's scalable for any size business and reflects how most people like to interact with brands.
GBM Is Available Through Several Entry Points
Since Google's Business Messages is available in search, you can create contact points with your customers virtually anywhere. Simply determine where your target audience has the highest intent and find ways to implement the GBM feature.
Convenient, Low-Pressure Asynchronous Messaging
Thanks to GBM, you can engage customers in asynchronous exchanges. These low-pressure conversations can boost customer engagement, increase brand loyalty, and drive prospects through the sales funnel. Best of all, you can reach customers at strategic points in the customer journey.
Get More Out of SEO
Chances are that you invest significant effort into landing at the top of Google search results. There are major benefits to doing so, but there's also a cost to making it happen.
Without GBM, the only way to achieve a return on your investment is to have a significant click-thru rate. You can rank highly, thanks to a solid keyword strategy and a plethora of backlinks from authority sites, but if people don't actually click through to visit your site, your high ranking won't do you much good.
At least, that used to be the case. Now, you have an additional opportunity to increase your search engine optimization ROI, by encouraging potential customers to take action without ever visiting your site. In fact, GBM offers a chance to interact dynamically, something that doesn't happen with a simple website visit.
Offer 24/7 Support
Customers can use Google's Business Messages to connect with your brand around the clock, no matter where they live. You'll be there to respond to them just like you would with a chatbot. The difference is that this option is less expensive for you and less complicated for your prospects.
Convert Search Results into a Shopping Channel
When a customer taps or clicks on Google's Business Messages, you can use that open conversational channel to promote and sell your products. Customers no longer have to visit your website or online store to see your products, get recommendations, or make purchases.
Lower Operational Costs
Telephone support is costly and quickly becoming a support channel many consumers would rather not use. With Google's Business Messages, you can offer an instant conversational support channel at a much lower cost.
Getting Started with Google's Business Messages
There are two ways to get started with GBM: the desktop option or the mobile app.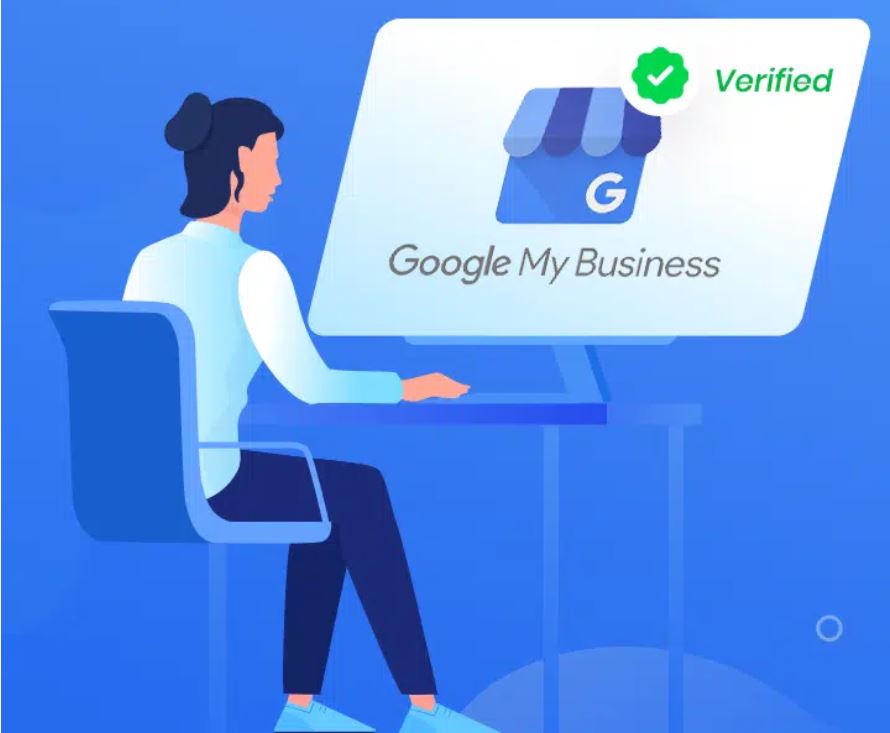 Using Google My Business on Desktop
Follow these steps to use your Google Business Profile to set up business messages.
1. Log into Your Profile
Click the "Sign-in" button at the top right corner of your Google Business Profile Page and enter your Google account information to log in.
2. Select "Messages"
Next, go to the menu screen on the left-hand side of the page and click "messages."
3. Toggle Messaging On
Look for a blue button in the top left corner of your screen that reads "Turn on Messaging" and click it. You've officially turned on messaging. Congrats!
Now, prospective customers can message your business directly from search results, Google maps, and other entry points.
4. Customize Your Messages
GBM provides an access point for engaging with your customers, but you control which messages they receive.
For example, you can create a simple greeting for all customers who click the messaging button. You can also set up a chatbot to respond to questions when you aren't available to engage yourself.
Don't forget to turn on notifications. If you don't respond in a reasonable timeframe, Google will deactivate the messaging session. Fail to respond continually and the messaging feature will no longer appear in your business listing.
Setting up Google's Business Messages Using Mobile
You can also set up Google's Business Messages on your Android or iOS mobile devices. Here's how.
1. Download the Google My Business App
Search for the Google My Business app on the App Store. If you have an Android device, you can now use the Google Maps App to manage your Google Business Profile.
2. Turn on Messaging
If you have an iOS device, go into the app, tap on "Customers," then tap "Messages." Click the option to turn on messages. Once you've done this, the message button will appear in your business listing.
If you're using an Android, start by going into the Google Maps app, then navigate to "Updates," "Messages," "Business," and lastly, "Settings." This is where you'll find the button to turn messages on and off. Once you hit it, you'll receive an email that your messages have been turned on.
3. Create a Welcome Message
You have the option of editing your welcome message. This is a great opportunity to create a custom greeting your customers will see when they initiate a chat with you.
Keep in mind also that you have access to the same functions on mobile that you do on the desktop version, meaning you can read and respond to messages, toggle on notifications, and perform many other actions from wherever you happen to be.
Google's Business Messages Best Practices
Here are some best practices to remember once you start using GBM.
Respond Quickly
Set a maximum window of 24 hours for responding to the messages you receive. Otherwise, you risk losing this feature. Your responsiveness level will also be displayed on your GMB profile, meaning you risk reputation damage if you're slow to reply.
This may seem like a harsh response, but Google wants people to connect this product with a positive user experience.
Deal with Spam Messages
Google allows you to report messages as spam. Use this feature instead of ignoring spam messages so Google won't assume they're valid messages you're simply choosing not to open.
Be Relevant and Brief
Write responses that are short and on-topic. It's great if you can nudge a conversation toward a sale, but if you're too pushy, customers may be turned off, which could be reflected in your C-Sat (customer satisfaction) ratings.
Use Photos
Take advantage of the ability to share images through GBM. Doing so is a great way to showcase products, make recommendations, and provide thorough answers to your customers' questions.
Integrate GBM into Your Conversational Marketing Strategy
Conversational marketing is a powerful tool for customer acquisition and retention. It allows brands to engage customers using a method they prefer that doesn't feel intrusive. Adding it to your email and SMS marketing efforts will give your clients multiple engagement channels through which to reach out to your company.
Create Powerful Messaging Campaigns with Contact Consumers
Interested in using GBM or other messaging platforms to reach your audience? We can help with that. Contact Consumers offers expert services to assist you with campaign strategy and management. Contact us today to learn more about your options.