In the realm of text communications, SMS messaging reigns supreme. First originated in the 1980s, SMS remains the leading way to connect with others through text-based messages.
However, an alternative technology, RCS messaging, contains many attractive features for businesses and consumers alike. While certain phones, including newer Android models, can receive RCS messages, others (namely iPhones) can't.
What's the difference between SMS texting and RCS messaging? What are the advantages of SMS texting, and why are there problems with RCS messaging?
We'll lay out everything you need to know about the two messaging standards and why SMS remains the go-to model for companies who rely on text messaging in their advertising strategies.
SMS Messaging: The Basics
Let's start by summarizing the capabilities of SMS messaging. 
SMS stands for "Short Messaging Service." Using SMS messages, individuals and businesses can send communications of 160 characters or less. If the message exceeds that length or incorporates multimedia, such as pictures or video, it's considered an MMS or "Multimedia Messaging Service."
Just about every cellular device on the market today is capable of receiving SMS and MMS messages. Due to the tiny size of an SMS message — which can be as small as 140 bytes — it's possible to receive an SMS even when your internet speeds are painfully slow.
If you ever find yourself stranded on the permafrost of Greenland, you'll have more chances of sending and receiving an SMS message than any other type of telecommunication.
RCS Messaging: The Essentials
Rich Communication Services, or RCS for short, is the modern equivalent of the SMS message.
With RCS, it's possible to send long-form messages, share audio and video recordings, participate in group chats, and more. Users who choose RCS also gain access to stickers and emojis they can use to convey emotions that aren't always evident in text alone.
RCS is more secure than a traditional SMS message. It also allows users to share their location data and comes with a higher level of encryption, which may be attractive to users concerned about data privacy.
Due to its advanced features, RCS requires a strong data connection or stable Wi-Fi signal to send or receive messages. Thus, in certain locations that still lag in telecommunication connectivity, such as parts of Africa, RCS messaging is a tougher sell.
RCS messaging allows communication via a single messaging app rather than jumping between several different apps. 
While RCS has obvious benefits that are difficult to find outside messaging applications like WhatsApp, Facebook Messenger, and Viber, it also comes with some significant disadvantages. 
We'll get to those in a moment. First, let's look at the benefits.
The Advantages of SMS Texting
RCS messaging has many obvious benefits. So why are we clinging to outdated technology from the 1980s? The answer lies in the unique advantages of SMS texting, which are numerous.
It's the Global Standard
Every telecommunication provider on the planet accepts SMS messages. In a world of over eight billion people, anyone with a cellular phone can send or receive SMS messages. 
The simple reach of SMS messages makes them the gold standard for marketers. After all, no company wants to spend money on a text messaging campaign where messages are undeliverable due to technical issues.
While cellular phones aren't widely available in poorer parts of the world, the GSMA predicts that more than six billion people will send and receive SMS text messages by 2025. That's nearly 75% of the global population, all ready to communicate via text. 
It's Incredibly Fast
Remember when the fastest way to communicate was through a phone call? Those days are long gone. Today, sending a text message is quicker, and the brief, direct nature of the message gets the point across to the recipient without the need for fluff. 
Unlike emails, people typically read texts within three minutes of receipt. That's because most individuals have their cellular phones with them nearly all the time, whether at home, in the office, or out running errands. 
Once the person reads a text, they can decide to continue the interaction or ignore the communication. In most cases, people send some form of response within 90 seconds of receiving a text.
SMS Messages Are Personal
Today, it's possible to personalize text messages, even as a business. Companies that use specialized platforms for SMS marketing (such as the dynamic Contact Consumers platform) can automate texts that include personalization elements in their content.
When companies send SMS messages, they intend for a client to receive them. The more personalization features the business uses, the more likely the individual will feel "selected" for the message.
People prefer to receive SMS messages over email promotions. According to a MarketingProfs survey, nearly 75% of consumers like it when brands send them an SMS. Similarly, a Harris Poll found that over 60% of consumers believe SMS texting is a favorable marketing channel.
It's Inexpensive
Sending an SMS text message is one of the lowest-cost marketing methods available. It's much cheaper than paying for online ads or social media content or asking an influencer to promote your merchandise.
Connecting with thousands of customers at once is possible for a fraction of what you'd pay for a pay-per-click advertisement or even a television commercial.
SMS messages have the added benefit of results.
Since people who opt-in to receive your SMS messages give their consent for you to contact them, they're more likely to read the messages you send. And unlike email, there's less chance that SMS messages will end up in a Spam folder, provided you conform with SMS best practices.
Simple Communications
While other marketing channels require lots of strategy and planning, SMS messages are much more simplistic. Most people can compose a 160-character SMS text in a matter of seconds.
You can also automate your SMS messages at specific times, such as when a customer first signs up for your communications or after purchasing something from you.
In contrast, other marketing methods can take hours, days, or even weeks to plan. Marketers might spend several days drafting and creating a video that might not generate the same response a simple SMS message would. 
Reliability
There's no doubt that sending SMS messages is one of the most reliable ways to reach your clients. As long as their current number is still in use, you haven't engaged in any spammy messaging tactics, and the recipient doesn't block you, your message has close to a 100% chance of being delivered.
Other communication methods aren't so trustworthy.
For example, an email can quickly end up in the promotional section of a recipient's inbox. They may never see your communication unless they regularly check their promotions folder. And traditional mail is reliable but slow, meaning if your customer moves, you may not find out for months. 
Other communication methods aren't so direct. For instance, you might have a social media account, but you likely post content for all of your followers rather than just a few. Furthermore, social media algorithms are constantly changing, so even if customers follow you, they may not see your post in their feed. 
Fully Trackable and Measurable
If you work with a platform to measure your customer's engagement with your SMS text messages, you'll quickly learn which types of messages generate interest and which don't. You'll discover the times your clients are most likely to open their texts and how many take action on the SMS messages they receive from you.
Other marketing channels, including email, can provide you with similar analytics. However, they aren't always so clear.
You might create a video for TikTok with thousands of views, but how does that impact your business? Do people decide to purchase your products after viewing the video, or do they see it as entertainment and move on to the next clip in their feed? 
Unfortunately, social media isn't a completely reliable source for advertising. It's great for brand awareness and loyalty, but a great post may not generate much sales revenue, regardless of how creative it is.
Problems with RCS Messaging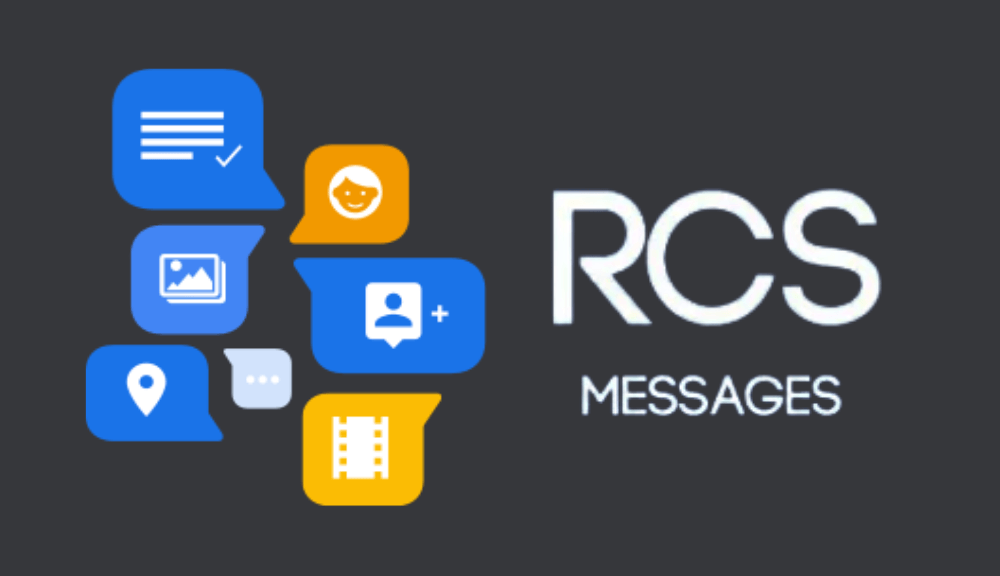 Now that we've covered the benefits of SMS, let's explore why marketers are so reluctant to leave SMS for next-generation RCS messaging. What are some of the problems with RCS messaging, and how likely is it that companies will abandon SMS for RCS in the future?
While RCS offers many advantages, we don't see it overtaking SMS for a long time, if ever. There are simply too many drawbacks that detract from the service. Here are a few of the most notable.
Apple Isn't on Board
Perhaps the biggest downside of RCS is Apple's refusal to incorporate it into their phones.
They have no reason to — their iMessage platform contains all the features RCS offers more simplistically than other providers. iMessage also provides end-to-end encryption, making it secure. 
Individuals don't need a cellular connection with iMessage; a simple Wi-Fi connection will do the trick. They can also receive messages from users who don't have an iPhone. They'll recognize that the sender isn't using an iPhone since the message will appear in green, not the standard blue of other iPhone messages.
Currently, iMessage isn't available on other phones, including Android. That's by design. 
Apple knows its iMessaging platform is one of the top features of its phones. If they make it available to Android users, what's to stop someone from buying a cheaper smartphone and simply installing iMessage?
While we can't argue with Apple's logic, it greatly hinders the adoption of RCS. Since 40% of smartphone users own an iPhone, adopting RCS would result in marketers losing a huge share of their subscriber base. 
Not All Androids Are Equal
Just because someone owns an Android phone doesn't mean they can receive RCS messages. Only some Android phones include the RCS messaging feature. Carriers can also limit the ability of a consumer to receive RCS messages through increased fees. 
You'll need to check your settings to see if you can receive RCS messages on your Android phone. If you decide to accept RCS messaging, check with your carrier first. You'll want to confirm that they don't charge additional costs for sending or receiving RCS messages.
Adopting RCS Messaging Is Expensive
Another big reason marketers haven't jumped on the RCS messaging bandwagon is its cost.
To do so, they must find a platform that supports the use of RCS messages, and these are few and far between. It's possible to create an API that adapts to SMS messaging platforms, but the results from its implementation are likely to be far below the traditional SMS text marketing campaign. 
Consequently, few marketers are willing to upend the tried-and-true SMS message.
SMS Texting Is Here to Stay
Don't expect SMS texting to go away anytime soon.
RCS messaging is too expensive and lacks the easy availability of SMS texting. If Apple adopts RCS messaging in the future, that may change. But for now, there seems to be little reason for them to do so.
Ready to superpower your SMS text messages to the next level? Check out Contact Consumer's SMS and email solutions. Our platform allows you to manage your subscriber list and create effective marketing campaigns through a sleek, easy-to-use interface.