Email marketing is a complex intersection of strategic copywriting, attractive and responsive design, and the leveraging of data-driven business intelligence. But despite its complex nature, marketing teams and small business owners often launch email marketing initiatives without any plans to hire a professional email marketer, only finding out later that they need dedicated help. 
Knowing when to hire email marketing experts will help you successfully execute your marketing campaigns and achieve better business outcomes.
When to Hire an Email Marketing Consultant or Specialist
When is it time to hire email marketing experts? You may not need to look too far for the answer. Evaluate the performance of your campaigns and your team; if you see any of these red flags, it may be time to hire a professional email marketer.
Human Resources Gaps Are Causing You to Miss Opportunities
Expert email marketers understand advanced techniques and technologies that power successful email campaigns. If your team doesn't have a firm grasp of these concepts and tactics, you'll miss out on important opportunities. Without the right expertise, you may not have the resources to manage integrations, use analytics to improve your campaigns, or manage complex workflows.
Your Marketing Team Is Stretched Too Thin
If your marketing team doesn't have expert knowledge in email marketing, chances are they're one tight deadline away from burnout. It may not seem like too much to ask of a marketing team to execute successful email campaigns, but if they don't have the proper training, you risk getting ineffective results from a team that's not confident in their work.
You can relieve this pressure by hiring email marketers. Otherwise, you could end up struggling with retention issues in addition to the gaps in your marketing strategy.
The Team Is Struggling to Meet Minimum Benchmarks
Is your existing team able to stay on top of processes that ensure that your brand sends out basic promotional and transactional emails? If your marketing staff is in the weeds just trying to cover the basics, it's another sign that you need to hire experts that know email marketing inside and out.
How Would You Evaluate Your Team if  They Were an Agency?
It's easy to make excuses for your in-house team, especially if you want to see the best in people. However, it's important to objectively evaluate your teams to ensure consistent performance.
If you hired an agency of email marketing consultants, you would track their hours, measure goals and KPIs, and ensure that your results match your investment.
Of course, in-house teams and agencies aren't the same, but you can still benefit from this approach. Remember that your goal shouldn't necessarily be to uncover poor performance. In fact, you may find that you're assigning more work to your current team than they have hours to cover it.
Get an Objective View from an Email Marketing Consultant
It can be difficult to make a business case for hiring an email marketer, especially if you already have a marketing team. If you're on a tight budget, for example, you might be willing to overlook glaring holes in your marketing strategy in an effort to save some money.
Even then, making a complete and objective assessment from within an organization is often difficult. So even if you don't hire email marketing experts to take over your campaigns, consider having them come in for a consultation. They may be able to identify inefficient processes, gaps in resources, and missed opportunities. You can then use their insights to decide whether your organization would benefit if you were to hire email marketing experts.
How to Hire Email Marketing Experts
If you've weighed your options and decided to hire experts to make your email marketing more effective, there's still one more decision: Should you hire staff, a freelancer, or an agency?
The answer to this question varies greatly, depending on your infrastructure, budget, and overall marketing strategy. As a result, the best choice for your brand will largely depend on internal factors. However, for each option, there are a few pros and cons that you should consider that can influence your decision.
Hiring Full-Time Team Members: Benefits and Drawbacks
Your first inclination may be to make a direct hire. While this can be a great fit for some brands, other organizations may find that this only introduces unnecessary overhead. Review these benefits and drawbacks of hiring an in-house professional to decide whether expanding your full-time team will lead to your desired outcomes. 
Benefit: They Are More Available
If you anticipate needing to make changes to your email marketing strategy on the fly, there's nothing like the peace of mind of knowing that you'll have someone ready to jump into action at any point during the business day. It's much easier to add a full-time employee to the on-call rotation or ensure they're available to get an important marketing project done, which means that your marketing strategy will be more agile and fluid.
Benefit: They Integrate with Your Brand over Time
Because full-time employees spend all their time working on your company's content, they will adopt your messaging at a speed and proficiency that is hard to match with an outside consultant. They'll soon gain a full understanding of your strategy, organizational values, and vision, and they'll be able to use this insider knowledge to better inform their email marketing strategies.
Drawback: Potentially Long Hiring Processes
Even in the most employer-friendly job markets, the recruiting and hiring process can take weeks. These weeks can stretch into months if you're hiring from a small talent pool or require applicants to meet specific requirements. And with every week you spend sifting through applications to find the perfect fit, that's lost potential for your email marketing campaigns.
Drawback: They're Expensive
One of the biggest downsides to hiring a full-time employee to handle your email marketing is that it's expensive. From onboarding to insurance to salary, you'll be paying a premium for an in-house marketing expert, possibly creating unnecessary overhead. 
Is a full-time marketing expert worth the investment? If you anticipate needing email marketing expertise at the drop of a hat, perhaps. But what if you only need an expert to launch an initial strategy, occasionally maintain campaigns, or analyze the success of your marketing efforts? You might end up paying a full-time salary to someone who won't have very much to do.
Hiring Freelancers: Benefits and Drawbacks
Freelancers are another popular option when you need to hire a marketing expert. They're quick and easy to hire, and you only need to pay them on an ad hoc basis. But consider these benefits and drawbacks before you make the call.
Benefit: They Are Ideal for Short-Term Needs
Freelancers may be the perfect solution if you only need email marketing expertise on a one-and-done basis. Rather than hiring a full-time worker to cover a short-term need, you can hire a freelancer to help out for a few days, get your campaign up and running, and then return to business as usual. This can be a good alternative to staffing increases or a great way to deal with tasks that may not be part of your regular workflows.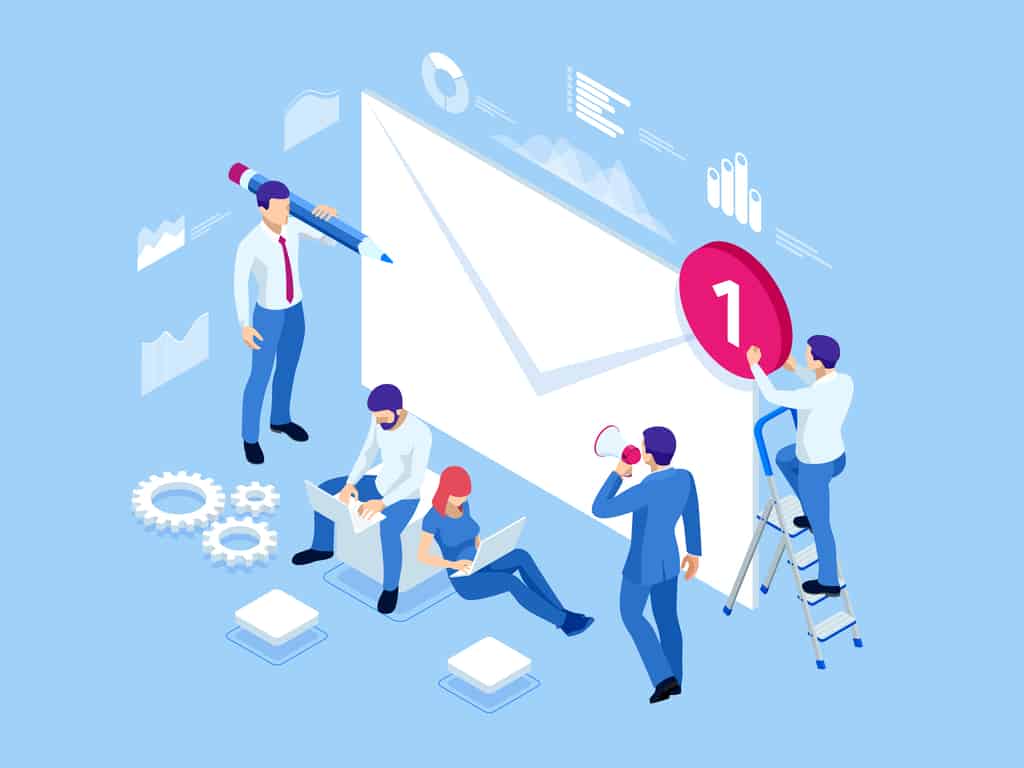 Benefit: Freelancers Bring a New Point of View
Freelancers typically have a breadth of experience that only comes with working with various businesses and industries. This experience means that they'll usually bring unique insights and ideas that can be very useful to you and your brand.
Drawback: They Are Not a Permanent Solution
Freelancers often work contract-by-contract because they don't want to tie themselves down to a single company. Many enjoy the flexibility to regularly pursue new, interesting, and lucrative projects. They'll often have their next job lined up before they even start working on yours.
Hiring Agencies: Benefits and Drawbacks
An email marketing agency will come fully equipped with a team of experts and a wealth of resources, allowing them to tackle large projects more rapidly and efficiently than a direct hire or a freelancer could. They're also your best option if you want a turnkey solution that covers your needs from inception to execution to analytics. But first, consider these benefits and drawbacks before deciding to hire an agency.
Benefit: They're a Fast Solution for Any Marketing Need
A freelancer may be quick and easy to hire, but chances are, you won't need to hire just one expert. When creating any email marketing campaign, you'll need the help of various experts: copywriters, graphic designers, data analysts, and more.
An agency will have all these resources and more, which means that no matter how complex your marketing needs are, they'll be ready to deliver.
Benefit: Agencies Bring Unmatched Expertise and Insights
Like freelancers, agencies also work with various clients in various industries. As a result, they stay on top of current marketing trends and will know which techniques work best in different scenarios. A reputable agency is worth its weight in gold as a trusted source of information and insights that will be a boon to any brand.
Drawback: You May Not Always Be Their Top Priority
An agency will typically work with multiple clients simultaneously, and as a result, they may not be available 24/7 like you might expect. However, the work a talented agency accomplishes when they're on the job will keep your campaigns running smoothly, even when they're designing someone else's marketing strategy.
Drawback: Agencies May Lack Depth of Industry Experience
Although an agency will work in various industries, it may not specialize in any one sector. And in some industries, you may need specialized knowledge to engage in effective email outreach. For example, in healthcare, some regulations may impact claims you can make or information you can include in your emails. An agency that does not specialize in healthcare may not be aware of these restrictions unless you tell them.
Give Your Experts the Resources They Need
No matter your choice, you'll invest a decent amount of time and money when you hire email marketing experts. Once you've brought them on board, the best way of getting a return on that investment is to set them up for success. 
Contact Consumers offers a premier email marketing platform that helps your team double down on their expertise. Contact us for additional information or a free quote.