If you have a cell phone, chances are that at some point, you've received a text message from a number that's only five or six digits long. It may have seemed odd the first time it happened since most phone numbers have 10 numbers.
But these numbers are different for a reason. They have a specific purpose, and they're known by a different name: short codes.
Today, businesses worldwide leverage the power of short codes to message their customers. These numbers come with many attractive benefits that allow brands to communicate on a massive scale very quickly.
If you've considered using short codes but are unsure where to start, or if you're just learning about them for the first time, here's everything you need to know about them, their benefits, and their drawbacks.
What Are SMS Short Codes?
Short codes are five- to six-digit phone numbers distributed by the Common Short Code Administration (CSCA) that businesses and other organizations can use to communicate with customers in unique ways. 
These numbers are ideal for mass texting a large number of customers simultaneously, reinforcing brand recognition with memorable vanity numbers, and for when you want to ensure your message doesn't get caught in a spam filter.
There are two categories of short codes: shared and dedicated. Shared short codes are numbers that can be utilized by multiple businesses simultaneously. However, US mobile carriers eliminated the ability to obtain short codes in 2021, following vocal concerns over spam and phishing. There are exceptions to this overarching ban, but they are rare, and it's not easy to qualify for an exemption.
On the other hand, a single entity owns a dedicated short code and does not share it with anyone. As a result, people may remember a business's short code and gradually associate it with that brand over time.
Within the category of dedicated short codes, there are two types that your business can use.
The Different Types of SMS Short Codes
You've likely encountered two kinds of short codes before — some numbers seem random, but some have a noticeable pattern.
Vanity Short Code
If you want a short code that is easy to remember or maybe even spells out a word, you'll want to register a vanity short code. For example, a maid service might choose a short code that spells the word "CLEAN" (25326). Another business might request 55555, though these numbers are very hard to come by.
Random Short Code
Conversely, businesses can choose to register for a random short code. You might wonder why you would settle for a random code when you could get a customized number, but the answer is simple: they're far more expensive.
The Benefits of Short Code Texting
Short codes carry many unique features that make them popular among brands worldwide. If you're not sure why you would want to leverage short code texting over using a traditional 10-digit number, here are a few benefits to leveraging this technology:
Faster Outgoing Messaging
Short codes differ from traditional "long code" numbers in that they can simultaneously send up to 100 messages. You might think that ordinary SMS can accomplish this as well, but in reality, even though you can hit Send on a message with 100 recipients, your throughput will be limited to one message every second. This increased messaging rate is even higher than possible with toll-free numbers.
This power makes short codes ideal for rapid, mass communication, allowing you to reach a staggering number of customers much faster than traditional texting ever could.
Brand Reputation
There's a certain authenticity that comes with the use of a short code number. Something about it feels official, even though it's not too difficult to get approved for a short code.
Most people know that popular brands commonly use SMS short codes, including Walmart, Papa John's, World Market, Office Depot, and Target. Campaign managers have even used short codes to reach voters in presidential campaigns. Because of this widespread adoption by trusted brands and institutions, people associate them with authenticity and professionalism.
Brand Recognition and Recall
Obviously, a 5- to 6-digit number is easier to remember than a 10-digit one. However, it becomes even easier when you take advantage of the power of a vanity shortcode with a noticeable pattern. Thanks to the memorable nature of short codes, SMS messages will pop up with a short, unique number that people will see, remember, and associate with your business. This improves open and response rates, resulting in more conversions for your brand.
Rapid Customer Interaction
Short codes are not just handy for rapidly mass texting your customers. They're also useful for getting quick interactions. Of course, brands primarily use short codes for one-way communication, and the kind of interaction you can get in return is very limited. But what communication you can receive is often used in conjunction with an autoresponder that will perform different functions depending on what a user types.
For example, a fast food restaurant might encourage people to text "SHAKE" to 12345 to receive special offers and updates via text.
Bypassing the Spam Filter
One of the greatest enemies of any marketer is the spam filter. However, because you must go through an approval process before getting short codes, SMS spam filters give more leniency to brands using this technology. As a result, getting caught in a spam filter is much more difficult when you message from a short code.
The Downsides to Short Code Texting
Despite the clear benefits of short codes, there are still some drawbacks that you must consider before registering for one.
Long Setup Time
You won't be able to register for a short code and start sending messages tomorrow. Because of the approval process, you'll need to wait before taking advantage of this new number — typically two to three weeks.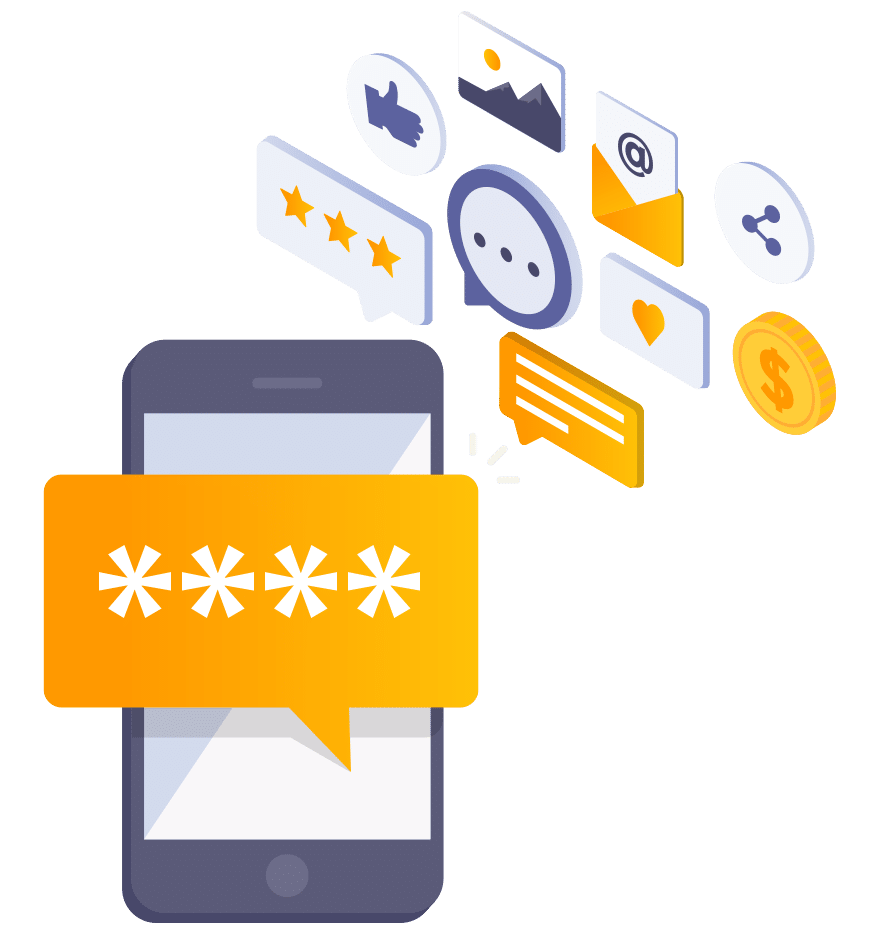 Less Customer Interaction
While you can use limited two-way interaction when using a short code, it is indeed very limited. For example, the format does not work well for conversations or personalized customer service.
Instead, you'll only want your customers to reply one word at a time, triggering an automated response that opts them in to further communication, opts them out, or executes another action.
They're Expensive
This downside is why more businesses don't use short code technology. They're expensive enough for many smaller businesses to immediately dismiss the idea of using them. Besides the one-time setup cost of $1,500, a random short code will cost $500 a month, while a personalized vanity short code will cost $1,000 a month.
Legislation Restricting Short Code Texting
Every business must comply with all regulations set by the Telephone Consumer Protection Act, whether or not they use a short code. This legislation states that anyone who receives mass marketing texts via SMS or MMS must opt in. Anyone who has not opted in and still receives these messages may take action by filing a complaint. Because of this, you should always include an opt-in confirmation when using short codes.
When to Use Short Code Texting
Brands use short codes daily for various marketing purposes. Here are just a few that you can use to build your brand and engage with your audience:
Sending Information on Sales and Special Offers
Because you can quickly send many messages simultaneously when using a short code, it's a great use case for informing your audience about a time-sensitive sale or special offer. When customers know they only have a short time to act, they're far more likely to take action, thanks to the fear of missing out.
Broadcasting News and Updates
Short codes are not just good for notifying customers about sales and special offers; they're ideal for broadcasting messages of any kind to large groups of people. For example, a college campus can use short codes to inform staff and students about weather-related closings. You can also use them to let customers know if your online store goes down for maintenance.
Polls and Surveys
The interaction you get back from your audience may be limited when using short codes, but it's perfect for polls and surveys.
Getting this kind of feedback in any other format can be like pulling teeth, as you likely know if you've ever run a campaign to get online reviews. But when it's as simple as offering a choice between multiple short keywords, your audience can quickly engage in a poll by entering one word and pressing Send. This ability to gain a wealth of business intelligence at the touch of a button cannot be overstated.
Soliciting Donors or Volunteers
Non-profit organizations can bolster their giving campaigns by leveraging the speed and high delivery rate of short codes to solicit donations. It's as simple as asking a donor to text "GIVE" to your short code, which can trigger an automation to send them a payment link.
Is Short Code Texting Right for Your Brand?
Short codes inherently have many benefits, including fast, trusted, and scalable communication. These advantages allow brands to leverage them for various use cases, such as marketing campaigns, customer support initiatives, or even employee outreach. However, short codes won't be a great option for all brands, including those with small budgets or those that choose not to prioritize SMS marketing.
If you're unsure whether short codes are right for your brand, Contact Consumers can help. Our managed services experts are eager to provide the guidance you need, so contact us or learn more about our services.