Every business owner knows the importance of building a large customer base. After all, the more customers you have, the faster word-of-mouth will travel, and the more likely it is that you will scale your business quickly. However, many brands don't take the next step to turn their customer base into a loyal, engaged community.
For example, most businesses use email lists to communicate with their customers. But while these are critical to your marketing efforts, you must look past simple contact details and understand who your customers are. You'll need to see them as real people with real problems that you can resolve with your products and services.
Sometimes, companies focus so much on increasing the size of their mailing lists that they lose sight of their target audience. In the worst cases, they'll use illegitimate strategies (like purchasing third-party marketing lists) to reach more people in a cold, impersonal way. Buying email lists from third parties can erode confidence in your business and drive people away from your company — which is the opposite of what you're hoping to achieve.
That's why building an authentic list of people who genuinely support your brand is critical, and why transforming them into a community is paramount. A loyal community will root for your company and buy your products. If you prioritize this more personal approach, your reach will expand naturally over time without the need for disreputable tactics.
This article will outline how to build an email list in a personable, organic way, one that's full of people who actually want to hear from you.
We'll also teach you how to establish a community of like-minded customers who value what your company has to offer.
There's a lot to uncover here, so let's get started!
How to Build an Email List from Start to Finish
Building an email list might sound incredibly challenging if you're just starting your entrepreneurship journey. The questions may be piling up: How will you drive traffic to your website and encourage your visitors to sign up for your email list? What can persuade them to hand over their contact information?
While starting an email list can sound daunting, these steps can help you accumulate a list of loyal followers who want to receive communications from you.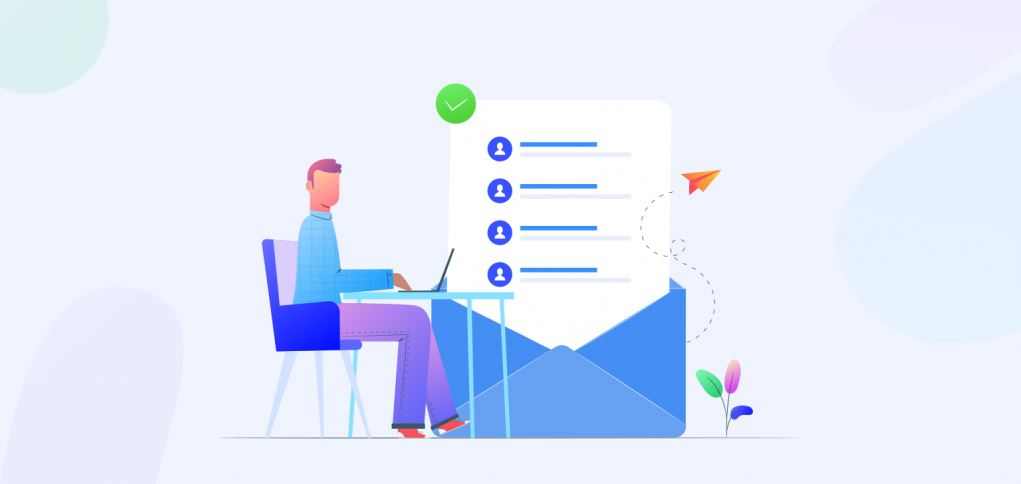 Include a Pop-Up Offer on Your Landing Page
If you're wondering how to build an email list, one of the best ways to do it quickly is through website pop-ups. While some visitors find pop-ups annoying, you can benefit from them if you use them correctly. One of the best ways to do this is by offering something of value in return for the user's email address.
What you provide will depend on your business type. For instance, an e-commerce organization might offer a discount that customers can apply to anything they purchase. A company that provides management training to executives might offer a free e-book on essential leadership skills.
Keep in mind that your pop-up shouldn't overshadow your website, and visitors should be able to quickly close it if they're not interested. This will help ease the annoyance of users who can't stand pop-ups, no matter how much value they offer.
As time goes on, don't forget to measure the results of your pop-up to ensure it remains effective. You may need to adjust your offer to make it more enticing if you don't receive many signups.
Include a Sign-Up Form on Every Webpage
If you're not sure how to grow an email list beyond implementing a pop-up, consider including a sign-up form on every page of your website. The sign-up form shouldn't be front and center so that it detracts from the page's content, but it should be somewhere the user cannot miss, such as in the page's header or footer.
Most website platforms allow you to design a template for opt-in forms so that you don't have to recreate it from scratch every time you add new content to your site. However, you can modify it for specific pages if it makes sense.
While your sign-up form may not generate many immediate opt-ins, you'll find that a portion of your customers will sign up for your emails via this form if you make it readily available. 
Obtain Email Signups in Person
It may seem counterintuitive to think of in-person methods when wondering how to grow an email list. But if you have a physical outlet for your business, you should always look for ways to promote your email list when interacting with customers. For example, one popular and effective strategy is to require all sales associates to ask customers to sign up for your promotions.
Learning how to build an email list through in-person connections can reap more extensive benefits than handling the process entirely online. You might find that customers who are reluctant to give their details online may be less wary when meeting you or your team in person. 
Meeting your clients in real life also allows you to build a stronger connection. Rather than interacting entirely online, customers see the faces behind the website. This allows you to show them what your business is truly about, rather than attempting to explain it with text on a screen. 
Use Social Media to Attract Signups
Companies often use social media as a channel for communicating with customers. It's a fun way to keep your brand top of mind and build up your authority with your audience. 
But if you're wondering how to grow an email list, you should consider the options provided to you by social media platforms. Many will allow you to add a call-to-action button to your main profile page, and you can connect your email sign-up page to this button to rapidly build your customer list. 
However, some platforms make it more difficult to capture email addresses. If you can't implement an email capture directly, you may need to direct users to your website and capture email addresses there. This will require some creativity and tact on your part because the more effort you require to sign up for your list, the fewer potential subscribers will follow through.
Create Localized Landing Pages
Most companies include just a few pages on their website, such as their basic services, company history, and contact details. However, if you create a separate page for unique service areas, you can better customize your site's content to different potential customers. This results in a greater emotional connection with your visitors and a higher likelihood that they will sign up for your email list.
For example, consider a company that offers online bookkeeping services to other businesses around the country. While they could cover a lot of ground by creating a single landing page for their national services, they'd probably attract much more attention if they created multiple pages that cater to different states and cities. That way, each page would attract businesses looking for online bookkeepers in their area.
Ask Customers to Sign Up for Your Emails When They Check Out
Another easy way to attract new subscribers is by implementing a sign-up during your checkout process, both on your website and in-store. Chances are, your checkout page already requires customers to enter their personal information (like their home address, phone number, and email). 
If so, it's easy to implement a check box that allows them to sign up for your email subscriptions while they're checking out. You can also include an automated opt-in form in an email receipt after a customer checks out, asking for their permission to send you marketing emails in return for a discount code that can save them money on their next purchase.
If you're struggling to figure out how to build an email list, these can be incredibly efficient strategies since they don't require any additional effort on behalf of the customer. After all, they're already buying something with you, trusting you with their money. It's not a huge stretch to ask them to trust you with their contact information as well.
However, always ensure you abide by industry best practices and country regulations. Your new subscribers should understand what they'll receive from you, and your communications should always give subscribers the option to opt out of your emails.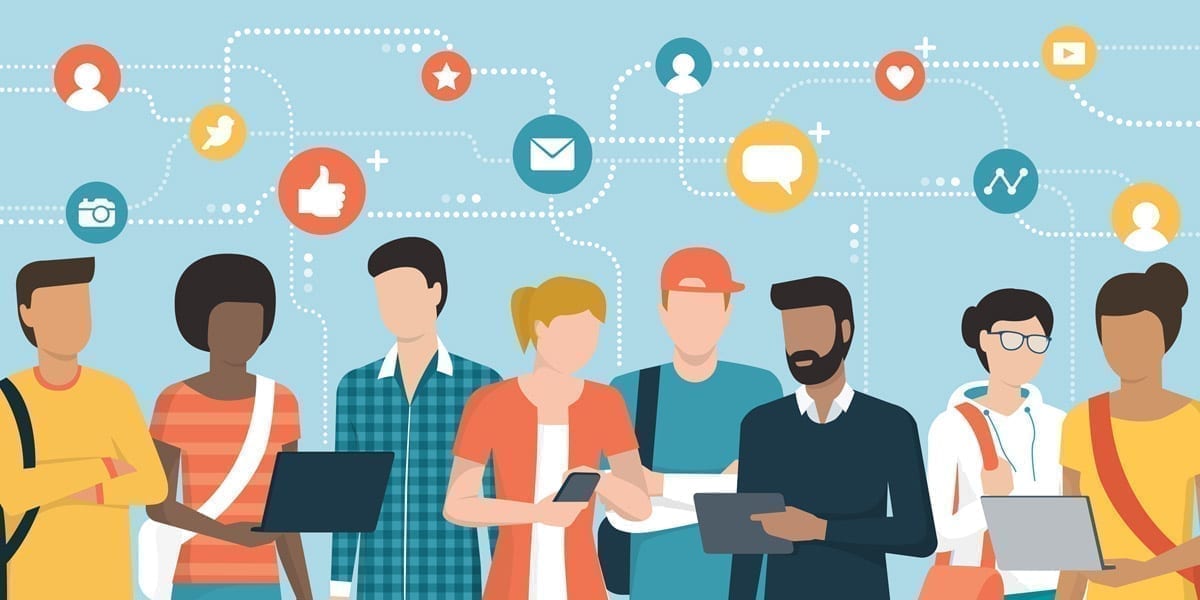 How to Build an Online Community of Superfans
Now that you know how to grow an email list, let's look at building an online community. After all, it's not enough to just have a list of email addresses. Building an online community is crucial to fostering loyal superfans who purchase your every product or service and rave about you to their friends and family.
Let's consider an example of a company with a thriving online community: Ramsey Solutions. 
Founded by Dave Ramsey, Ramsey Solutions is a company dedicated to helping people navigate their finances. While Ramsey started out as an author and the host of a radio show known as The Money Game (now known as The Dave Ramsey Show), his success propelled his brand into a global phenomenon with a fiercely loyal online community.
Today, Ramsey Solutions has numerous outlets for customers to participate in, including multiple television shows and podcasts. They offer online and in-person finance training through Financial Peace University, a specialized learning curriculum that Ramsey Solutions created. Ramsey Solutions also hosts five in-person conferences in various U.S. cities throughout the year.
Regardless of whether you agree with its approach to personal finance, Ramsey Solutions illustrates the possibilities that online and in-person communities can bring. So whether you're just starting with your business or are trying to scale it for growth, you should find ways to resonate with your community through various channels. 
Let's consider a few options for building an online community.
Create a Podcast Centered Around Your Company's Services
Podcasts are an excellent way to share your company's ideas, knowledge, and values with others worldwide. Many people tune into podcasts during their daily commute, when at the gym, or while taking care of their chores.
Various types of businesses and brands can benefit from creating a podcast. For example, if you own an e-commerce store specializing in children's toys, you could create a podcast that helps parents select the best toys for their children's learning and development. You could also discuss common parenting concerns, such as bullying and shyness. 
You don't need to record and edit weekly two-hour shows. A simple ten-minute discussion is enough to attract new listeners and start conversations amongst your followers. However, once you commit to podcasting, it's essential to keep up with it. Your community will begin to anticipate your shows and tune into them as you release new episodes.
Use YouTube to Your Advantage
If you're still unsure of how to build an online community, consider bringing your brand to YouTube. It's one of the most popular sites and search engines worldwide, where people regularly watch videos for helpful advice and instructions. You can incorporate YouTube into your community-building efforts by creating videos that teach your customers how to use your product, explain your company's history, or show what your brand does in your local community.
Contrary to popular belief, you don't need expensive equipment to create videos. Modern smartphones can produce high-quality video (as long as you have decent lighting), and you can download free editing software to get started creating content on a budget.
Consider the popular print fashion magazine Vogue. They invested heavily in creating content for YouTube, and they soon expanded their reach to 2 million subscribers. They regularly produce videos on fashion, beauty secrets, and interviews with supermodels and celebrities. These topics resonate strongly with their target audience, which is one of the reasons they get consistent results.
You should similarly seek to create content that resonates with your customers. The more relevant your videos are to your target audience, the more likely people are to view your videos. Pay attention to your viewing metrics, and use that information to publish videos your audience wants to see.
Establish an Online Learning Community
Another popular option for building an online community is to create a digital learning platform. Many brands are leveraging this strategy as an additional revenue stream or to onboard customers to an email list that eventually pitches the company's flagship service.
Whether you offer your digital course directly on your website or on a platform like Udemy, you'll want to create courses that align with your company's products and services and assist your customers with typical concerns. For example, if you own a crafts website, you might develop online courses that teach skills like crocheting, painting, or drawing.
Courses are a great way to build your community and establish your credibility as a leading expert in your industry. Think about your business and its products, and determine where a course may add value for your customers.
Create a Facebook Group
When considering how to build an online community, no list would be complete without taking a look at Facebook groups. These communities are helpful for individuals seeking specific advice or who have particular interests in hobbies, public figures, and businesses.
Many businesses create a dedicated Facebook group for their page, and in many cases, this will be your best approach. It's an easy way for your customers to congregate and communicate with you directly, building your brand in a personable way.
However, you can also create a generic group that targets your intended audience. For example, if you own a leadership coaching company in California called Louie's Exec Training, you don't have to give the group the same name. You can call it California CEO Leadership Skills or something similar. This group will appear to anyone who searches specific keywords that relate to the community on Facebook.
You can then use your Facebook group to engage with your target audience and help them find solutions to their issues. Aside from free advice, you can gently push them toward your products or services that can address their needs. However, it's essential not to be spammy in these groups — you'll want them to be very organic places where people feel free to share their problems or discuss topics relevant to the community. 
Tying It All Together: How to Build an Online Community with Email
Establishing an email list is a great first step in finding an audience that listens to you and wants to hear about your products and services. With email, you can then promote your other platforms, including podcasts, YouTube, learning communities, or Facebook groups.
You should consider email as the precursor to building an online community that appreciates and values your company. A loyal community will return to you again and again, purchasing your products and seeking your advice as a voice of authority in your sector.
Contact Consumers Automates Your Email Lists
With Contact Consumers, managing your email list is simple and quick. With our platform, you'll gain access to strategic insights into your email metrics, allowing you to adjust your strategies and engage more customers.
The World's leading brands trust Contact Consumers with their Email and SMS campaigns.
Reach out to Contact Consumers today to learn more about our services.