Consumers spend hours researching and planning their trips before deciding where to stay and what activities to enjoy. TripAdvisor found that 52% of Americans prioritize travel research over other aspects of their trip. That's a lot of time dedicated to checking out competitor hotel options, which is why omnichannel marketing is critical.
Omnichannel marketing involves integrating all your marketing processes into a cohesive strategy. It aims to connect your customers through all touchpoints of the purchase journey. 
As customers move from one interaction point to another, your marketing platform tracks their behavior, ensuring seamless communication and providing a better customer experience.
Hotels that engage in strategies designed to attract customers through each stage of their research are more likely to earn their business. If you're the primary option clients see when looking for a hotel in your area, there's no reason to look elsewhere. Booking with you makes the most sense.
Implementing an omnichannel marketing strategy for hotels isn't straightforward. Here are a few techniques for ensuring your strategy is cost-effective and delivers results.
Define Your Target Audience
Think about which features make your hotel more appealing to your customer base. If you offer a high-end experience with luxurious bedding, a five-star restaurant, and marble-enclosed bathrooms, you likely set high prices that only well-to-do clients can afford.
Other hotels will cater to different clientele. Suppose that your hotel is just off the interstate. There are no major attractions in your area. Your primary clients are likely people on lengthy road trips, like families and truckers. 
You'll offer essential services for your influx of nightly travelers. You won't splurge on a day spa since your clients are unlikely to use it.
To start the omnichannel marketing process, you must identify your target audience and understand their needs. They likely share certain demographics and behaviors. Once you know how they interact with your hotel and what drives them to choose it, you can better determine how to market your offerings.
Have a Consistent Branding Approach
Once you determine why your hotel appeals to specific customers, you must create a consistent branding approach across all your marketing channels. 
Your brand voice should include your company logos, fonts, and marketing message. Whenever customers come across your company via your website, social media accounts, email, or offline materials, they should see a unified image of your brand.
Suppose that your target audience is families on a budget. You'll want to highlight your hotel as a low-priced, family-friendly alternative to other hotels. You should convey the same message in your emails and website, with images and wording designed to appeal to families.
Few things are more off-putting than a website that requires extensive steps to book a room. 
Imagine that you create an account, verify your phone number, and sort through pages of options. You select a promising room and look at the available dates — and discover that it's fully booked. At this point, many customers are likely to give up and go to a competitor.
According to Stratos Jet, 70% of clients research hotels through their smartphones, not laptop or desktop computers. Do you have a clunky website that's difficult to maneuver through a smartphone? You'll likely lose customers to competitors who handle their online interactions more efficiently.
To optimize your website for online bookings, make sure it's mobile-friendly, contains high-quality images, and includes CTAs that streamline the reservation process.
Take Control of Your Social Media Presence
Whether you own a massive hotel chain or a one-of-a-kind bed and breakfast, you'll want to remain active on social media platforms. 
You should limit your social media presence to platforms where your target audience is most likely to congregate. LinkedIn and Twitter are ideal if you cater to business customers, while Facebook is popular for family travelers.
Use your social media account to highlight the features of your hotel and interact with customers. You might share visually appealing hotos of your hotel's rooms and public areas. Show people enjoying premises and facilities. Make sure to highlight any upcoming deals you have available.
It's essential to interact with customers when they comment on your posts. Your customers want to know that you appreciate their positive feedback. They'll note how you handle negative comments, so putting a positive spin on any disapproval is important.
Engage in Email Marketing
While some of your guests will be transient, others can become frequent guests of your hotel (or its sister properties) — especially if you treat them right. 
Encourage website visitors and previous guests to sign up for your email marketing list. When you have their permission to contact them regularly, you can keep your hotel top of mind when they need your services.
Your email list serves many purposes, including nurturing long-term customer relationships and targeting specific clients. Take, for example, a hotel near a university. The hotel might send targeted emails to parents who are likely to visit their children during family weekend. It could also target sports fans before important football games.
Segment your audience according to their demographics and needs to reap the most benefits from your subscriber list. 
Experiment with running paid advertisements through search engines and social media. This is an easy way to expand your audience past your existing social media following and email subscribers while catering to consumers who fit your buyer persona. It's an essential part of any hotel's omnichannel marketing strategy.
To see results from your paid marketing campaign, you'll need to run ads your target audience is likely to see. Suppose that your hotel's primary customers are business clients, you might run ads highlighting special event pricing for an upcoming area conference.
You'll want to monitor each paid ad's performance closely. Ideally, every ad will generate a positive ROI. You'll need to tweak your strategy if they don't. Otherwise, you'll waste valuable marketing dollars that may be better spent through other techniques.
Take Advantage of Content Marketing
Content marketing can benefit nearly every type of business, including hotels. You can use a range of content to reach more customers, including blog posts, videos, and long-form how-to guides.
Your content marketing strategy should focus on providing relevant information to your target audience.  Perhaps you run a destination hotel in Miami. A destination guide that highlights unique attractions and events in the city could be helpful to your customers.
To maximize the returns from your content marketing strategy, use the most advanced search engine optimization techniques. Include keywords that your customers will likely search for in all your content, and make sure to highlight your location. 
If your content is too broad and addresses client questions outside your intended audience, you're unlikely to see the results you're looking for.
Prompt Your Guests to Leave Reviews
Most people check reviews before deciding to book a room at a hotel. Online review sites like TripAdvisor, Yelp, and Google Maps are popular sources. Most prospective clients will turn to one of these platforms when they want to learn more about a specific hotel.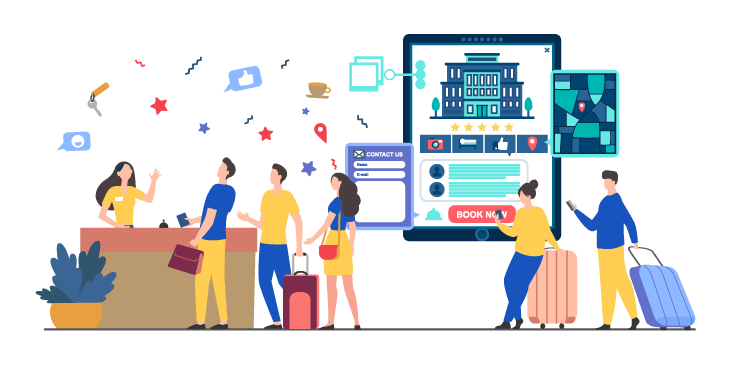 If your hotel has poor reviews, you'll turn off customers before they even visit your website or check your availability.
To minimize bad reviews, strive to ensure every customer has a good experience with your business. If you note that clients frequently complain about the same problem, focus your attention on correcting it.
Some customers who enjoyed their stays won't leave reviews unless you prompt them to. Send them an email asking them to leave a review on your chosen site. You can even head off potential negative reviews. Ask naysayers to contact you directly if they feel they can't leave positive feedback.
Personalize and Automate Your Customer's Experience
A solid customer relationship management (CRM) system should be at the forefront of your hotel's omnichannel marketing strategy. A CRM system streamlines the customer experience, storing essential data and preferences that are helpful for your future advertising strategies. It can save you lots of time.
Use your CRM system to your advantage by automating repetitive activities. You could use your CRM system to encourage guests to leave reviews or to confirm their upcoming bookings. You can set up your CRM system to send marketing messages to clients who fit specific criteria too.
Monitor the Results of Your Omnichannel Strategy
Once you implement an omnichannel strategy, you can't simply relax and wait for customers to book rooms. You'll need to monitor your plan to determine whether it's working or whether you need to make adjustments. 
Start by establishing a set of key performance indicators (KPIs). These KPIs should measure specific elements of your marketing plan, such as website visits or engagement with paid ads.
Regularly evaluate your data to determine whether your marketing efforts are paying off. Look closely for any unexpected trends. You might find that you see an increase in bookings when you offer discounts during certain events or when you use certain subject lines in your emails.
A comprehensive set of analytics will guide your marketing strategy and help you make informed decisions.
A Hotel Omnichannel Marketing Takes Work
Creating an effective omnichannel marketing strategy for your hotel may take some effort. You'll see the reward in higher bookings and client engagement. It can help streamline the marketing process, ensuring you interact with potential clients naturally. You'll reach a broader audience than you would through traditional marketing strategies.
Contact Consumers provides a comprehensive solution for hotels seeking to grow their business through email and SMS messaging. Contact us today to learn more about our products!