SMS messages have been around for a while, but businesses are just starting to learn how effective they are for interacting with customers. Communicating with clients via SMS lets you directly interact with people who want to hear from your brand. 
Research shows that nearly 98% of people read all the text messages they receive. As a result, you can guarantee there will be eyeballs on your SMS texts.
As the SMS landscape changes, new technologies and trends will reshape how companies use the cutting-edge advancements to communicate with clients. Here are a few trends to learn about and consider implementing into your SMS strategies.
The typical SMS message has character limits, which help ensure that messages aren't overly lengthy and improve deliverability among recipients. In addition, not every SMS subscriber on your list will own a smartphone. Some may still use flip phones or other devices that cannot receive long SMS messages.
However, more people are buying phones that can receive multimedia texts. Rich communication services (RCS) use a newer technology that allows senders to embed text messages with unique features like graphics, videos, and interactive buttons. 
RCS makes your text messages more visually appealing than a simple text-based SMS message. As a result, it can improve engagement among your subscribers.
For example, suppose that you run a travel agency and are organizing a promotion for a special vacation package. Rather than a simple text, you can use rich media messaging to send your customers a beautiful video that shows off the destination, which they can view directly within the message without having to visit another page. This convenience makes the customer experience more engaging, and it's an enticing way to compel them to book a trip.
Chatbots allow customers to interact with your company without picking up the phone. Usually, they appear on websites, but businesses are beginning to integrate chatbots into their SMS messaging practices.
Chatbots help answer basic information about your company. For instance, you could program a chatbot to respond to common queries about your business hours or discount policies. 
Automation is another feature that companies can benefit from. Certain text messages are ripe for automation, such as order and delivery status and confirmation of SMS signups. When you automate specific notifications, you ensure your clients receive up-to-date information on their transactions, which can reduce client support requests.
Suppose that you operate a retail business. You likely receive common questions that your team has to answer on a regular basis, such as your return policy. By leveraging an SMS chatbot and defining a ruleset about return policies, you can allow customers to ask their questions and get instant answers. This convenience greatly enhances the customer experience and keeps your service agents from getting bogged down with common questions.
AI-Powered Personalization
The expansion of artificial intelligence (AI) in recent years has been astounding. Nearly every major website has incorporated some form of AI into its processes. For instance, Amazon relies on AI for product recommendations, and Netflix uses it to assess client viewing habits and suggest content to watch.
You can implement AI into your SMS messaging practices. AI and machine learning algorithms track client interactions with your texts, helping you learn what types of texts are most effective and how customers respond to them. It can also help you segment and personalize messages to specific clients.
For example, suppose that you have a mobile app that customers don't take advantage of as much as you'd hoped. You can use AI to track user behavior, identify users who haven't engaged with the app or underuse certain features, and automatically send targeted, personalized SMS messages to encourage your customers to re-engage.
Geolocation technologies make it possible to send SMS messages when clients are physically near your store. If your subscribers share their location data, you can automate your SMS messaging to send them a discount or some other type of engagement to encourage them to stop by.
Location-based targeting won't be helpful for every business. For instance, an e-commerce company probably won't benefit from this practice. However, when used appropriately, location-based targeting is an excellent way to hyper-target your customers when they're near your business.
Suppose that you run a sandwich shop and want to increase traffic during the lunch hour. Assuming you already have a healthy subscriber list, you can send an SMS to nearby subscribers, perhaps even offering a one-time discount. 
Mobile Wallet Integration
More people are using their phones to pay for products and services. This is made possible by apps such as Apple Wallet and Google Pay, which securely store a customer's credit and debit cards. 
To use either app, customers simply open their digital wallet and scan it against the company's POS system. There's no need to dig through your purse or physical wallet for your card — saving time and potentially protecting customers from thieves.
Some SMS platforms allow companies to integrate messages with Apple Wallet and Google Pay to send SMS texts directly through their apps. This provides subscribers with automatically renewable special discounts on future purchases. Other companies find the apps helpful for sharing tickets for events like concerts or movies.
For example, suppose that your retail business has a loyalty program. By combining SMS messaging and mobile wallets, you can send loyalty rewards or membership cards directly to a subscriber's digital wallet. This way, your customers can store their loyalty or membership information digitally, rather than having to carry around physical cards. This simplifies the customer experience and ensures they always have their information available.
Marketers know the importance of monitoring the performance of their campaigns. Analytics can alert you to critical information about your marketing strategies, like how customers engage with your ads and whether they generate sales.
Analytics for SMS campaigns have improved dramatically in recent years. Advanced tools can segment your open rates across customer demographics and identify how many people click on the links you send. Your SMS analytics software also provides helpful advice, like recommendations for timing your messages and deciding how frequently to send them.
Companies that rely heavily on SMS as a marketing strategy should invest in a platform with advanced analytics features. While this may cost some money, your purchase can significantly improve the ROI of your SMS campaigns.
For example, suppose that your marketing agency handles SMS campaigns for multiple clients. By investing in an advanced SMS analytics platform, you can provide detailed reports to each client, including metrics like campaign performance, engagement, and ROI. These reports simplify the process of demonstrating the value you bring and the effect you have on your clients.
Omnichannel Marketing Integration
Omnichannel marketing involves integrating your advertising activities across different channels. It aims to streamline the customer's journey through the buying process by connecting each interaction they have with your brand.
You can connect client interactions through your website, social media, paid advertisements, email, and SMS messages. Once you have your client's basic data, it's possible to retarget your marketing efforts toward them until they make a purchase.
Ideally, each interaction will store information about prior engagements on other channels. For instance, if your client clicked on a link in your SMS message, you could later target them with an online ad for the item they viewed.
Omnichannel marketing is a more holistic form of traditional advertising. In conventional marketing, all client interactions between multiple channels are "new." Since there is no connection between channels, providing a seamless customer experience is more challenging.
Suppose that you want to provide a seamless shopping experience for the customers that frequent your home improvement store. So if a customer adds items to their online cart, you can send them an SMS message with a reminder and a link to their cart. You could also retarget them through social media with relevant ads or send them emails offering discounts. 
Enhanced Security and Compliance
The rise of new technologies like geotargeting, omnichannel marketing, and artificial intelligence has made it easier than ever to digitally share personal information. As a result, more countries are implementing regulations that place additional safeguards around the storage and use of customer data.
The European Union's General Data Protection Regulation (GDPR) is the most stringent data security law, requiring that companies have a legitimate reason to collect customer data and work to protect it from hostile actors. The GDPR also mandates that companies ask for consent before using data for other purposes, such as advertising.
Other governments are considering legislation that restricts the use of personal data. Companies should stay abreast of data laws in the countries they operate in to ensure their marketing activities don't run afoul of regulations.
For example, suppose that you have a mobile app that provides location-based offers to customers. In some areas, there may be restrictions on the collection and use of location data, such as specific consent from the user. You must comply with these restrictions, clearly state your intentions to users, and offer options for them to opt-out or manage their preferences.
Conversational SMS Marketing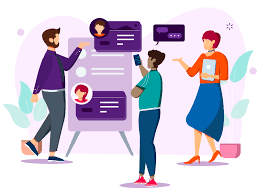 Conversational SMS marketing involves texting customers through one-on-one, real-time conversations. Each conversation helps you learn more about your clients and how you can better address their needs. 
Conversational SMS marketing can occur in a few ways. Some companies have direct numbers that clients can text for customer service help. In these cases, there is either a company representative or an AI bot on the other end of the line ready to answer customer questions.
Other companies use conversational SMS marketing as part of their service offerings. For instance, a realtor might use conversational SMS texts to learn more about what their clients want in their next home.
Similarly, a church will use conversational SMS marketing to discuss an upcoming event with its congregation in a group chat.
When done right, conversational SMS marketing fosters a personal connection between the business and its clients. However, organizations that use automated AI tools in their conversational SMS marketing techniques should review logs to ensure that the approach effectively resolves customer questions.
Suppose that you're organizing an event for your church and want to communicate with your congregation. Instead of generic, mass messages, you can and should leverage conversational SMS marketing. This way, you can have real-time interactions, allowing members to ask questions, RSVP, or give feedback. This conversational approach creates a sense of community and engagement, making your congregation feel involved and valued.
A/B Testing and Optimization
A/B testing is a standard marketing strategy that companies use to test the effectiveness of their advertising techniques. It involves trying different messaging to determine which is most effective at driving consumer engagement.
For example, an email marketer might use A/B testing for subject lines. One message's subject line might say, "Open here for your gift," while another says, "50% discount on all home decor for the next three hours." 
The marketer would email two test populations to determine which email had higher click rates. Once they have their results, they could apply the most effective subject line to the email they send their remaining customer base.
A/B testing is also helpful for SMS messaging, particularly among companies with large subscriber bases or highly segmented customer groups. After applying the test to specific populations, the company can refine its content and optimize its messaging to enhance the results from its strategy.
Keep an Eye on SMS Marketing Trends, and Tweak Your Strategies When Necessary
The key to remaining relevant with SMS marketing is staying on top of trends. You should pay attention to emerging technologies that impact SMS messaging and adopt new techniques if you believe they'll be helpful in your marketing plan. Keep in mind that not every trend is beneficial for all organizations.
The Contact Consumers SMS platform can boost your text marketing efforts, improving customer retention rates and increasing revenue. Visit our website to learn more about our SMS solutions and discover why clients like Liberty Mutual and Stripe trust us for their marketing needs.