No business wants its customers to ignore its text messages. While text messaging remains the best way to ensure a client sees communication from an organization, there is still a potential for customers to ignore these messages. 
Google Verified SMS aims to provide customers with confirmation that the text they receive is from a legitimate business. This article will discuss how Google Verified SMS works and how it can benefit your organization's text messaging efforts.
Text Messages for Business
Over the past few years, more businesses have embraced text messaging as part of their advertising strategies. 
Research shows that text messages have a 98% open rate.  Thus, text messages provide a significant advantage to organizations that want to communicate directly with their customers.
Text messages are highly versatile. Depending on the organization's industry, text messages may notify clients of flash sales, be used to schedule an appointment, or provide customer support. There are virtually no limitations to how a company may integrate text messaging into its marketing efforts.
Defining Google Verified SMS
Google Verified SMS is a relatively new tool created by Google that authenticates the origin of a text message. When customers receive a Google Verified SMS from a business, they see the organization's name, a badge guaranteeing the sender, and a preview of any links sent in the message.
Since most SMS messages originate from four or five-digit phone numbers, it can be difficult for clients to determine who is messaging them. As a result, they may be less likely to interact with any corporate SMS messages they receive. 
Google seeks to clarify the SMS sender and the content of the message, creating a better experience for both organizations and clients.
Reasons Why a Customer Might Not Interact with a Business SMS Message
There are several reasons why a customer may choose to disregard a business text message. A few include:
No Recognition of the Sender
Determining the origin of an SMS text message isn't always straightforward. For starters, SMS messages generally appear to have come from numbers shorter than traditional phone numbers. Sending addresses are usually only five digits in length. 
Unless the sender provides some identification for their business, the customer may disregard the contents of the message, believing it to be spam.
Google Verified SMS helps mitigate recognition issues, ensuring that each text sent by a business contains a verification badge and the name of the sending organization. If the customer recognizes the company's name, they're more likely to engage with the content of the message.
Not Interested in the Message Content
Not every customer will be responsive to each text message your organization sends. The message contents may not apply to their current needs, or they may not have the time to pursue the details further. There are multiple reasons your clients may ignore your texts, and not all of them will be known to you.
It's essential to ensure you follow text messaging best practices. Don't text your clients too often, and make sure that your messages are relevant to their needs. 
Once you develop a significant text following, you should segment your messaging to fit your customers' needs and interests. Segmenting your audience list and only sending relevant information to specific segments increases the likelihood that your recipients will read your texts.
In today's world, it seems like spam is everywhere. Unwanted paper ads fill your mailbox and appear on your front door stoop. Messages of unknown origin clog up your email inbox. 
Some spammers attempt to reach you via phone calls to your cell phone or landline. While the government, email providers, and antivirus services try to stay one step ahead of spammers, these white knights aren't always successful.
Unfortunately, authentic businesses are negatively affected by spammers. When a customer is concerned that a message is spam, they likely won't open it and won't reply to it. 
Google Verified SMS seeks to reassure customers that the messages they receive aren't spam, giving these users a sense of security they don't have with traditional SMS messages.
Applying Google Verified SMS to Your Business
If you want to implement Google Verified SMS in your business, you're in good company. Since Google began providing the service, multiple large companies — including Kayak and SoFi — have activated verified SMS accounts. As more organizations become aware of the service, they'll likely sign up as well. 
Companies must register as a partner to get started with Google Verified SMS. The process is relatively quick and entirely free. 
You'll begin by providing Google with critical details about your company, including your Google account information and the contacts of the people who can work on your verified SMS project. 
Next, you'll create a Google Cloud Platform (GCP) project number, which you'll use to track your text activities and communications with your clients.
Once you've provided Google with all the requisite details, you should receive a response from the company within three business days. After you're all set, you can send a few trial texts to ensure the platform works before you start your full campaigns.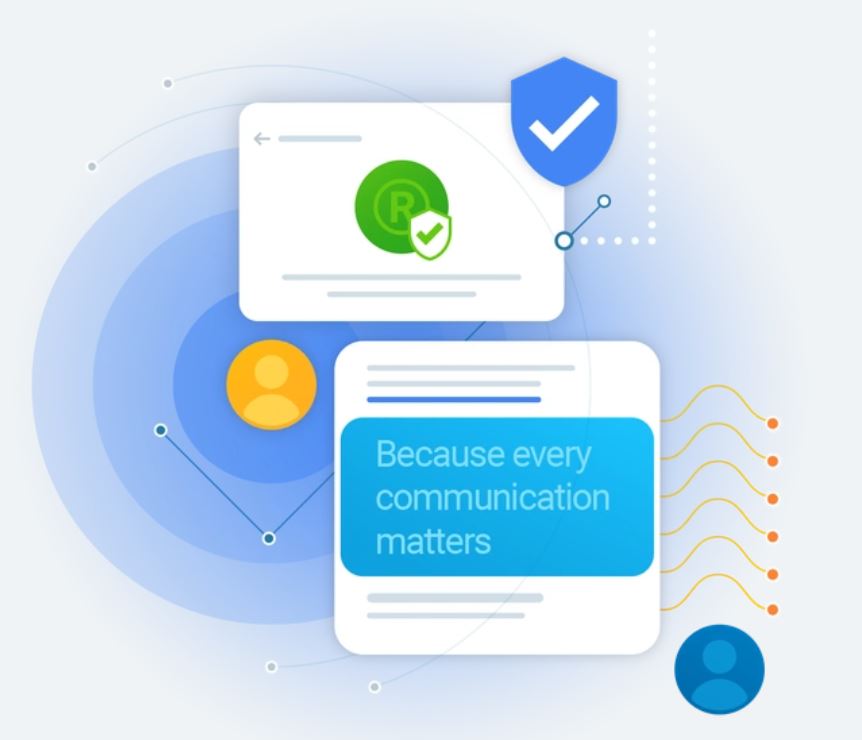 Customers and Google Verified SMS
Thankfully, customers do not have to do anything or download any app to receive Google Verified SMS text messages. They are not required to change their phone settings or anything else that would hinder the effectiveness of the Google Verified SMS program.
However, your customer must own an Android phone to receive Google Verified SMS text messages. At this time, Google does not support phones that run the iOS operating system, so your Apple smartphone users are out of luck.
There are also limitations on locations that can receive Google Verified SMS messages. Currently, only residents of the United States, Canada, India, Mexico, the Philippines, Brazil, the United Kingdom, Spain, and France can receive Google Verified SMS communications. 
Google does expect to roll out additional availability to other countries in the upcoming months and years.
Benefits of Using Google Verified SMS
It's pretty obvious Google Verified SMS will be a game-changer for organizations that regularly communicate with their clients via SMS. Some benefits of using the system include:
Establishing Trust with Customers
No customer wants to click on a link in a text message only to arrive at a phishing website that steals their information. Hackers are becoming increasingly sophisticated, and Google Verified SMS provides a way for companies to protect their customers from unscrupulous actors.
When a customer receives a Google Verified SMS message with previews of any links in the communication, they are more likely to feel secure. They'll appreciate that your organization took extra steps to make communication seamless and safe. 
Google Verified SMS can only enhance your organization's credibility.
With Google Verified SMS, every message you send to your clients will contain your company's name, logo, and contact details. You won't need to worry about customers not knowing who the message is from. 
Organizations won't need to notify clients of their names in each SMS message. Instead, Google handles that work for you by including company contact details and the organization's logo in the header of each communication. 
Aside from enhancing customer trust in your SMS messages, you'll also be able to build brand awareness without paying additional fees for marketing or advertising. As your clients become accustomed to seeing your messages, they'll recognize your organization by your name or logo alone.
Reduce Customer Payment Concerns
Sometimes, customers are more reluctant to purchase goods or services from a company they don't know. Clients may doubt the organization's validity — especially if it is a start-up. Many fly-by-night companies appear for a short time, then fall into the dustbins of internet history.
If your company is relatively new, you'll want to establish credibility with your customer base quickly. It takes time to establish credibility, but the payoff is well worth the effort. One way to establish credibility is by verifying your company through every means possible. 
Set your organization up with Google and go through the verification process. Sign up with the Better Business Bureau (BBB). Create marketing channels through multiple platforms, including Facebook, LinkedIn, and a company website.
The more significant a presence your company has both on and off the internet, the more likely you are to attract customers willing to pay for your goods and services.
Connecting your company with Google Verified SMS will assure customers of your organization's validity. Clients will be less likely to express concerns about paying for a good or service through your SMS text messages.
Sail Through Fraud and Spam Filters
Like emails, SMS messages are subject to fraud and spam filters. Most cell phone carriers use some form of filtering to kick out communications that appear to be spam.
With Google Verified SMS, you don't have to worry about your messages going into the spam box. Carriers will see that you have a confirmed number and will pass your communications directly to your customers.
Contact Consumers Is on Board with Google Verified SMS
Contact Consumers allows organizations to streamline text and email marketing efforts with one convenient solution. Using Contact Consumers, you can develop your advertising templates, store contact information for your subscribers, and measure the performance of each promotion.
The Contact Consumers platform is fully customizable, and companies who wish to integrate Google Verified SMS into their text messages can easily do so with our API. Learn more about our solutions today!