When you see the phrase "Gen Z," do you imagine kids in middle school? If so, you're not alone. Gen Z has grown up and gone to college. They are emerging in strength as a consumer group. If you haven't learned to communicate with them effectively, now is the time to do that. 
Do you regularly communicate with students on college campuses? If yes, it's time to master college student communication. That breaks down into two key areas. You must understand how Gen Z engages and the technologies they use. This article will look at some facts, guidelines, and strategies to help you get started.
Who Is Communicating with Gen Z on College Campuses?
If you belong to any of the following groups, you should be prioritizing college student communication:
You are employed by a college or university

You have identified university students as a target demographic for your business

Your non-profit organization or agency is active on college campuses
Before you decide that Gen Z isn't your target audience, remember that in a few years, this generation will be in the workforce, starting families and eventually replacing millennials as the dominant group when it comes to consumer spending.
How Does Gen Z Communicate Differently?
If you are a Millennial, you probably remember dial-up internet. Your first phone likely had text and calling capabilities only, and you may have been in your teens before you had one. Video games didn't connect to the internet until you were older. You are a member of the last generation that wasn't constantly connected.
Now, compare that to Gen Z. This is a generation that has never lived without smartphones, online video game systems, and high-speed internet. Many learned to use laptops and tablets before they learned to write. 
It's also important to note that people in this generation have always had technology and infrastructure that allows them to communicate without restrictions. They communicate with GIFs, videos, and other visuals. 
There is one clear way to reach the Gen Z demographic — using text messaging. If you have to choose a single means by which to communicate with members of Gen-Z, it should be SMS (and its more capable partner MMS).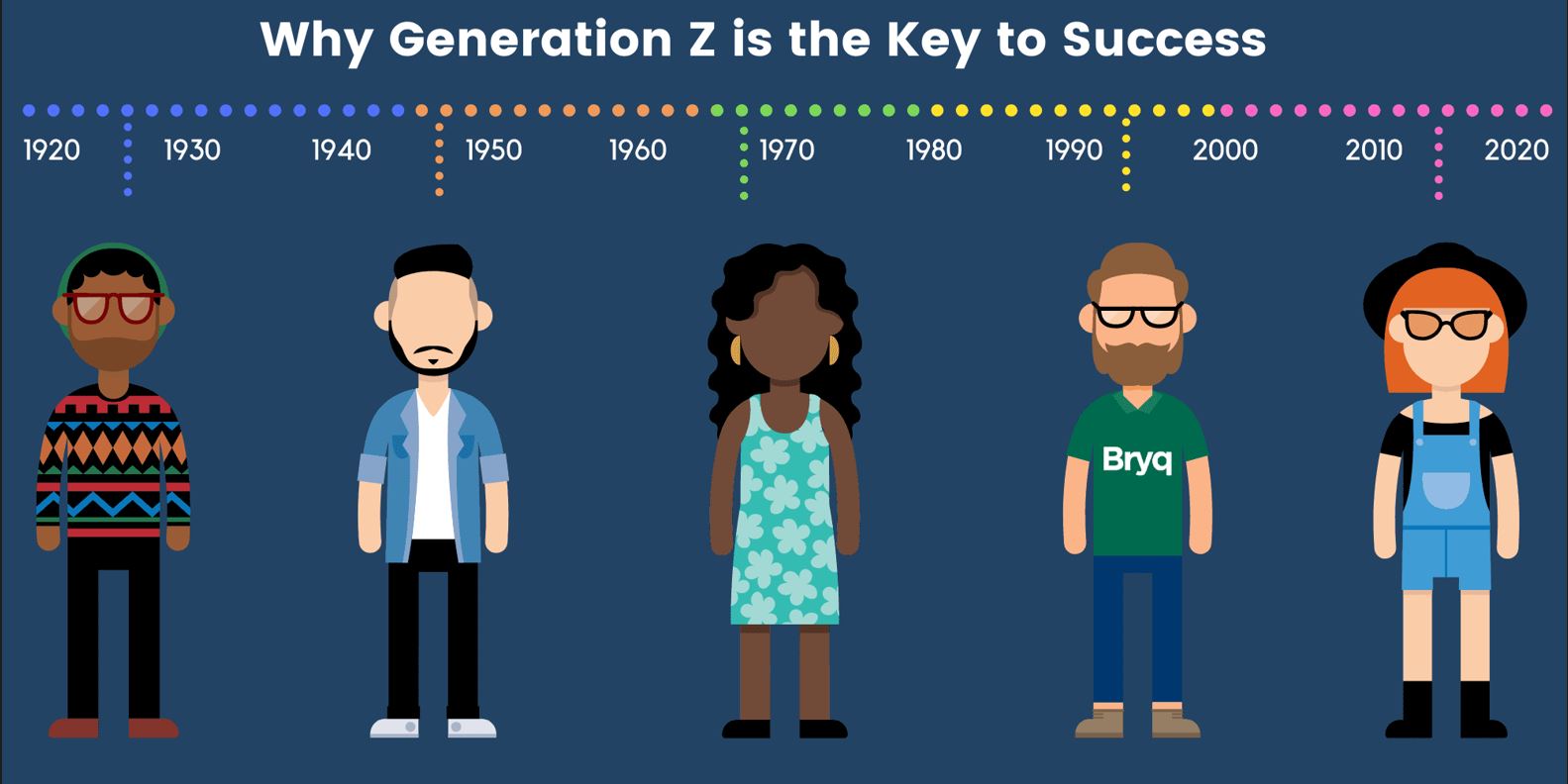 Customizing Your Messaging for Gen Z
The method of communication is important, but it's not nearly as important as the message. Like Millennials, members of Gen-Z value authenticity and rapid access to information. They have a highly-developed ability to detect insincerity and a healthy distrust of brands.
This understanding should influence how you compose the SMS messages you use to reach Gen Z audiences. Be direct with Gen Z audiences. Use visuals. Get to the point. 
Yes, members of Gen Z prefer casual communication, just like Millennials. However, that doesn't mean you should co-opt their slang. That can come across as silly, pandering, or downright condescending.
SMS Strategies for College Student Communication
Let's look at ten strategies universities and brands that engage students can apply when using SMS for college student communication.
Set Students Up for Success by Communicating Deadlines
Today, students are under more stress than ever. This stress is driven by economic anxiety, world events, and unrelenting pressure to succeed. Fortunately, many colleges are taking a proactive and empathetic approach to this development. They are finding ways to reduce students' stress and help set them up for success.
For many students, the fear of missing deadlines is a big source of anxiety. That same anxiety may also cause distractedness that leads to missed deadlines. 
Fortunately, SMS is an easy-to-use tool that offers a solution for this stressor. Instructors, department heads, and university admin can use texts to send out important reminders that keep students on track.
Use SMS to Offer Basic Academic Support
Imagine you are a college student who is struggling with an assignment after hours. You need help, but it doesn't warrant a trip to the student academic center. Your professor's office hours are short and not convenient to your schedule.
Universities that offer some form of SMS-based academic support give students one more option for getting the help they need. Academic questions can be fielded by TAs, upper-division students, tutors, and academic services workers.
Engage Students During the College Recruiting Process
Brand marketing teams use SMS to keep Gen-Z target customers engaged throughout the buyer's journey. There's no reason that colleges and universities can't use the same technique to reach out to prospective college students. 
University recruiters can send targeted messages to students. These messages can be personalized to reflect where the target student is in the decision-making process. 
For example, a student who has just shown interest could be sent a link to a video about the university with a welcome message. Later they can be engaged with a text message from an admissions counselor.
Share Promotional Offers that Are Targeted to University Students
Gen Z students may or may not open emails or click on ads. However, the open rate for text messages is close to 100%. This reliability makes messaging an ideal format for sharing deals and special offers with college students. 
SMS offers can also be used as a way to retarget students who have shown interest in your band or product. One example of this would be sending a coupon code to a student who may have left an item in their online shopping cart.
Promote Safety with an SMS Alert System
If your college doesn't have an emergency alert system, consider creating one with an SMS function. Any existing emergency alert system should include SMS as an option for getting important safety information out to students quickly. 
SMS can warn students of weather-related closings, hazards on campus, or urgent matters such as bomb threats.
Ensure Better Communication in Student Organizations
Student organizations help to build better campus culture. College students are more engaged with college life when they have a chance to become involved in athletics, academic clubs, community service organizations, and student government. 
These organizations operate well and serve students best when communication functions smoothly. 
Unfortunately, emails get lost or may not be seen for hours or days. On the other hand, an SMS message will always arrive at its destination, and the recipient will get a notification right away. This reality ensures that important messages about meeting time changes, invitations, and other communications are more likely to be seen by members.
Additionally, student organizations can use SMS to share information with students for recruiting purposes. They can also use messaging as a way to increase attendance when marketing organizational events.
Allow Students to Request Support Using SMS
Students often need support from a variety of campus resources. Here are just a few examples:
Maintenance requests for dorm room issues

Counseling and other mental health support

Tech issues with student emails and online accounts

Billing and financial aid questions
Universities can assign an SMS short code to various departments. Students can then use their phones to send support request messages and quickly get the help they need.
Use Short Surveys to Gather Student Feedback
Colleges and universities can use bulk texting services to send student surveys. There are many applications for this functionality. Students can be surveyed for their thoughts on on-campus initiatives and policy changes. 
Additionally, mass surveys can be used for academic purposes. Many research projects involve using polls and surveys as instruments. Bulk texting can reach enough students to make an acceptable sample size.
time. Student tours, athletic events, concerts, lectures, food drives, cultural festivals, and charity initiatives all occur regularly. Unfortunately, attendance can suffer if students aren't made aware of these events before they happen.
SMS is a great tool for sharing information about events and offering invitations to students and staff across campus. Thanks to two-way messaging, students can also RSVP to invitations. This functionality is just one more feature to help ensure events are successful.
Not all SMS messaging initiatives need to be built around serious goals or initiatives. It's helpful to reach out to students with informative and encouraging messages via SMS. Students can be engaged with:
Interesting facts about the college

Campus life hacks

Study tips 

Self-care messages

Information about college resources

Reminders about campus policies
Sending out messages is a great way to get students more involved and let them know that the university cares about their success and well-being.
Other Benefits of Using SMS to Communicate to Gen Z Students
The fact that college students are so responsive to SMS is just one reason for brands and campuses to embrace messaging. There are other compelling reasons as well:
Bulk SMS is very cost-effective. Students don't need to purchase or download any app to receive messages. The process of setting up and distributing targeted messages is also simple.
Students tend to be attached to their phones at all times. Because of this, they usually receive messages right away and are very likely to open and respond to them quickly.
SMS Has Integration Capabilities
Bulk SMS software can be integrated into customer relationship management suites, websites, and other software through the use of integrated APIs.
SMS Offers Data Protection
Other forms of conversational communication require students to share significant information about themselves, including profile pictures, messenger app account names, and other data. With SMS, students simply share a phone number. This setup enables them to receive texts without revealing any personally identifying information.
Contact Consumers: A Full-Service SMS Engagement Platform
Contact Consumers offers brands and universities a full suite of tools to reach out to students using SMS messaging. Visit our website for additional information.