The concept of storytelling is nothing new to the realm of marketing. It's been praised as an engaging way to share a message with audiences and create a precise emotional response. 
When people consider the mediums in which storytelling is used, however, they mostly envision longer, more complex formats. Blog posts, articles, and videos are commonly used to tell stories simply because there's enough "room" to allow a story to unfold.
But what about storytelling within the context of SMS marketing? Is that possible, given the strict limit of around 160 characters? Though it may seem impossible, you can still, in fact, tell an engrossing story despite the size limitation of text messages.
What Is Storytelling in Marketing?
Storytelling is a technique used by marketing teams to combine the data they've collected with a narrative in order to provide context to customers. Businesses may use a combination of techniques to compose and share stories, but the overall objective is to share something convincing about the brand or its products using a process that is proven to be compelling.
Why Do Brands Tell Stories?
Brands tell stories because they are effective. Marketing, as a whole, is meant to evoke emotions and create a desired response, and storytelling is perfect for that.
People Remember Stories
People become emotionally connected with stories, which increases their recall value. Consider these two examples of SMS marketing messages:
"Our non-toxic cleaning products are safe around pets and kids."

"When you use our non-toxic cleaning products, you'll get a sparkling home and keep your family safe."
The second message will stick with the reader for longer because they have been provided a form of context that will emotionally connect with them. In other words, the second message will allow them to see themselves within your narrative.
Creating Stories Can Unify Your Target Audience
Typically, marketing content must be segmented and fine-tuned to a target demographic in order to see results, but an engaging story can connect with anyone. Humanity has established universal values and needs that we all share, ingrained so deeply in us that they're hard to ignore. 
With that being said, if you can tap into those core desires and instincts, you'll not only be able to better connect with your current audience but also attract a much larger audience in a way that is powerful, intuitive, and ultimately influential.
Stories Are an Effective Way to Explain Something Complicated
If your business sells a product or service that is complex by nature, it can be difficult to communicate its intended message to your audience. You may struggle to explain its concepts without getting lost in techspeak or other jargon that will do nothing but frustrate your target demographic.
Through storytelling, you can work to avoid such an outcome. An audience will understand the concepts you're attempting to explain to them if you frame them within a story. Doing so will also force you to use common, user-centered language as you design a narrative that speaks from the perspective of the customer.
A Good Story Is a Powerful Call to Action
Donating to a cause after reading or watching a story about one of the beneficiaries is a very common occurrence. Likewise, people often make purchasing decisions after a story effectively demonstrates the benefits of a product or service through a compelling narrative. 
Aside from putting your product directly into the hands of your potential customers, there's no better way to convince people that you have something they need.
Stories and Text Message Marketing
You have stories to tell about your brand, products, and values, and your other large-scale marketing efforts may already include some form of storytelling, but now it's time to apply this impactful concept to your SMS marketing campaigns.
Why Use Storytelling in MMS and SMS Text Message Marketing?
Stories are only impactful if people consume them. Someone has to click the link to your blog post and read it, open your email, or watch your video from beginning to end, but none of these actions are guaranteed to happen. 
When you incorporate text messaging into your marketing, however, the chance of having your content be read becomes much higher, as text messages have an open-and-read rate of more than 90%.
Text messages are also effective in speaking directly to their recipients. Keep in mind that, when given a choice, most people prefer conversational and instant communication like text messaging over other long-form formats. In other words, even if you were to send an SMS story to an audience of hundreds, every person who receives it would be engaged as an individual. 
The benefits of using storytelling in your MMS and SMS marketing campaigns do not stop there, though. Other advantages include the following:
Immediate Feedback
If you make use of a text message marketing platform that allows for two-way communication, you get the benefit of prompt and direct feedback on the stories that you tell. As such, you're able to immediately change your strategy to get your story back on track, all at a low cost to you.
In contrast, other forms of marketing you use may require you to analyze weeks' worth of data before you fully understand whether you have made the impact you were hoping to, and needing to uproot your narrative at that point can be a costly endeavor.
Making an Effective Medium Even Better
Text messaging is already an effective and budget-friendly way to reach your audience, making it more than important as competition has intensified across the vast majority of industries. 
Dollar for dollar, your mobile marketing efforts may already be outperforming your other advertising strategies. When you add storytelling to the mix, the result is marketing content that more deeply resonates with your audience and therefore leaves a greater impact.
Think of storytelling as a new layer of usefulness to your SMS marketing that you can use for more than just promotion. By telling a story, you've developed a tool for connecting with your audience and building your relationship with them.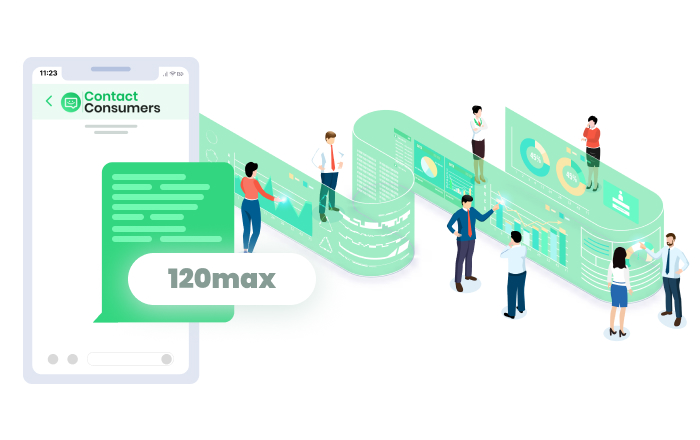 How to Use the Storytelling Format in Your Text Marketing
The storytelling format is nothing more complex than a beginning, middle, and end. A story must reach out and grab its audience's attention at the beginning in order to give its author the opportunity to take a deeper dive into whatever it is that they want to share. From there, an enticing narrative will take readers to an ending that is satisfying and emotionally impactful. 
The way that this unfolds within a text message is going to be different than it is with other content formats, of course.
The Beginning of Your SMS Story
In text marketing, the beginning of your story may be as short as a single sentence, but that sentence must be powerful. Remember, you want to compel the recipient to read further, so imagine what your audience will see as soon as they receive a message notification — that must be your hook.
Your opener is an area where you can take advantage of some of the features that are inherent parts of SMS messaging. Personalize the start of the messages you send, using the data you've collected to build meaningful stories for each person on your subscription list.
The Middle of Your Text Story
Now that you've written a strong and attention-grabbing beginning, your recipient is no doubt ready to read further. At this point, you want to feed them more detailed information. At the same time, though, you don't want to stray too far from the most effective aspect of SMS messaging — its conciseness. 
Here is also the point where you should decide whether you want to rely fully on text to tell your story. MMS gives you the power to send multimedia messages that can make a bigger impact.
Additionally, MMS has a much larger character limit, so consider the story you are trying to send and ask yourself: Would a GIF, photo, or video make things better? Could you hook subscribers deeply enough that they would be willing to read a longer message? If you can accomplish that, MMS may be the better choice.
The End of Your Text Message Story
If your story is effective, it will create a desire to take action. Bring things to a close with a satisfying conclusion and a clear call to action, letting the recipient know what to do next and creating a sense of urgency.
With text marketing, the more immediate the response, the better, as texts aren't like other content formats where people may return to take action after taking time away to think about their response. People often reopen emails but not texts.
Think Beyond a Single Text Message
There are many ways to use text to share stories with your target audience. You aren't limited to sending the same story in a single text to every subscriber. Some other options may include:
Using a shortcode or keyword to let the user choose their own story

Asking questions and using the answers to determine what happens next

Creating a theme and sharing several stories that relate to it
Finally, remember that SMS messaging doesn't have to stand alone. You can integrate your messages into your campaigns alongside emails and other platforms. Use texts to support your storytelling in email campaigns, or send a follow-up email to support your SMS stories. By keeping themes and narratives consistent, you create a richer user experience.
Adjust to the Format, But Stay on Brand
Your marketing content should match the platform and audience you are trying to reach. The content you share in emails is going to be vastly different from what you share on Facebook, and both of those will be different from what you post on TikTok and so on. You need to make similar adjustments with the stories you share via SMS as well.
But even with that being said, however, there should be something that remains true across every channel. Your branding must remain consistent.
The Tools You Need to Tell a Text Marketing Story
No matter how you tell your story, it's going to be more effective if you have the right tools at your disposal. The right technology allows you to automate your campaigns, giving you more time to handle the creative aspects of storytelling.
You can make a great story even better when you're able to deliver it to the right audience with precise timing, and you can accomplish all of this if your SMS marketing is driven by Contact Consumers.
Our platform can distribute your SMS messages to a single user or an audience of hundreds, so if you are ready to learn what a powerful messaging platform can do for your storytelling campaign, contact us to learn more or ask for a free quote.