With each new year come new trends and tactics that business owners and marketers use to reach their audiences. Some of these will come and go, remembered as no more than fads. But some will doubtlessly stand the test of time and prove to be a worthy addition to any marketer's arsenal.
One trend that isn't going anywhere is mobile and SMS marketing. If the last several years have shown anything, it's that adopting a mobile-first approach is crucial for connecting with a modern audience. From lead conversion to customer outreach to website design, the brand that prioritizes a mobile audience will win.
So what's new for SMS and mobile in 2023? Which trends should you prioritize in your mobile marketing approach, and which should you disregard? Our team keeps a close eye on emerging trends and their efficacy, so here are the 7 mobile and SMS trends we've identified that you should leverage in the coming year.
1. Conversational Commerce Meets SMS
Conversational commerce isn't exactly new, but it is changing. In its early days, it merely referred to using messengers and chatbots in e-commerce. But this term is evolving to fit a new need. Today's customers don't just want the convenience of mobile shopping — they want to be able to fulfill their shopping needs using no more than SMS, and brands are responding to this demand.
Conversational commerce provides a new way to execute customer transactions from start to finish. This includes customer inquiries, automated product recommendations, and sales transactions. Successful brands enhance their SMS commerce options, such as SMS bill pay and payment due messages. 
This is also a trend that will make waves in the nonprofit sector. More organizations will be able to solicit and receive donations via text, saving time and resources for the non-profit and providing added convenience for donors.
2. Incorporating SMS More in the Omnichannel Approach
Brands are increasingly pivoting to an omnichannel strategy to fulfill the needs of "channel switchers," customers that regularly switch from one platform to another while engaging with brands. For example, during their customer journey, someone might:
Visit a company's website to find the nearest store

Physically go to that store to browse products

Continue reading product reviews online

Watch product demos on the brand's YouTube channel

Return to the company website to purchase the product 

Receive an email invitation to subscribe to SMS marketing and support

Use SMS to troubleshoot an issue they have with the item they just bought
SMS is a cost-effective and efficient channel for quickly relaying vital information during sales and beyond. As such, SMS already has its place in an omnichannel strategy, but that role will only expand in 2023 as marketing and support teams clarify the usefulness of messaging during the customer journey — both before and after a purchase. 
3. More Businesses Adopt SMS Trends
Despite being older technology, text marketing for businesses is a fairly new approach. However, in 2023, more businesses will incorporate SMS into their marketing and customer support.
As the use of mobile trends upward, brands should review their strategies to make the most of the opportunities it provides. Since SMS open rates are much higher than email (which businesses have broadly adopted over the last decade), SMS will likely overtake email as an outreach channel.
However, as more brands invest in text marketing, it will become harder to use to gain a competitive edge. So if you want to use SMS messaging to get ahead of your competitors, you'll need to act quickly.
4. SMS Personalization Levels Up
It would be a mistake to approach SMS marketing with the same tactics you might use in email marketing. By nature, SMS should be more personal. After all, people use text messaging to stay in touch with their friends and family members. Because of this, customers expect and only respond to some level of personalization.
If you decide to adopt SMS marketing, make sure you keep this in mind when developing your approach. If you're already leveraging this technology, consider whether your SMS marketing is reaching your customers in a way that resonates with them. Personalization is key to differentiating your brand from competitors, but simply addressing customers by name isn't adequate.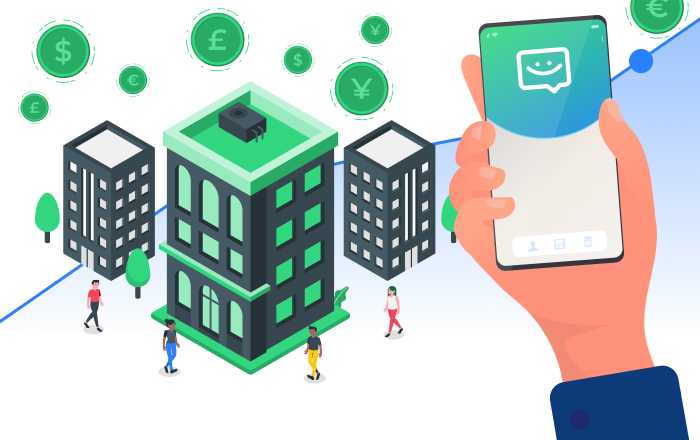 Brands once shied away from hyper-personalization out of fear that it felt too intrusive to customers. In reality, this level of personalization appears to be precisely what audiences demand. After all, no one wants to receive SMS marketing messages clearly for a group. Instead, they respond better to messages that appear to be written directly to them. So in 2023, expect to see brands embrace this style of marketing. 
To make this happen, marketers need to leverage customer data better when crafting marketing content. They'll also need to use more strategic timing to determine when they will send texts. This will be key to fostering brand loyalty and building customer relationships.
5. Two-Way Transactional SMS Messaging
Some brands are already jumping on the bandwagon of SMS trends, intent on being early adopters. That's great, but even the savviest brands are missing out on a key aspect of this trend that will become even more important in 2023: two-way communication. 
Yes, text messaging is great for keeping people up to date. Consumers and others appreciate receiving timely notifications and reminders. However, many of them would also like an easy way to respond or take some other form of action when they get these messages.
For example, suppose that you send a courtesy SMS to notify a customer that their order is shipping. That's great, but what if you took it a step further? You could give them an opportunity to add a specialized carrying case for your product or upgrade to expedited shipping, and the only thing that customers would need to do is respond. 
This is just one way that two-way transactional messaging could be used to make the customer journey more convenient. But it doesn't just allow you to enhance the customer experience; you also give yourself an opportunity to upsell.
To leverage this trend, you'll need to audit the transactional messages you're currently sending. Then, consider the customer's perspective. Where could they benefit from the ability to respond to your messages? Look for places where you can implement this strategy and encourage more engagement from your customers. This is necessary for providing the right options at the right time to enhance customer experience or relieve potential frustration.
6. Regulations Around SMS Become Stricter
Everyone receives the occasional phishing or spam text. You might recognize them quickly and ignore them, and you might think that everyone can spot these dangerous messages just as easily.
However, many people don't recognize when they're being targeted. And this problem is so widespread, with these fraudulent messages impacting millions of people, that protecting customer privacy and data is absolutely critical.
Businesses and customers are taking this problem seriously, and so are governments across the world. As such, this issue is going to lead to increased regulations and restrictions that impact businesses using SMS. One strong possibility is that some governments will require brands to register their SMS campaigns before they execute them. This means that your team should spend more time in the planning stages to ensure that all communications will be approved.
If you don't act on any other SMS trends, this one should grab your attention. It's going to be important to know and comply with any regulatory changes around text marketing. 
These restrictions may seem frustrating at first, but they benefit everyone. Customers will have more trust in the SMS messages you receive, knowing they are regulated and approved. Your business will also experience improvements in metrics such as click-through rates and conversions. That alone should be enough motivation to embrace these changes instead of resisting them.
7. Toll-Free Numbers for SMS Make a Bigger Impact
In 2022, toll-free numbers became an important topic. In the United States, Canada, and other countries, businesses were required to register a toll-free number if they wanted to be able to send out unlimited SMS messages. The motive behind this was to reduce spam and fraud.
While this was a good thing, it did create some headaches. For example, it can take well over a month to complete the registration process. Hopefully, mobile carriers will improve this process in the future to make compliance easier.
Headaches or not, these restrictions aren't going away, so businesses will need to act early to ensure they are ready to launch any SMS campaigns without getting delayed by these regulations. Brands that do not register may find that their messages are blocked by carriers or flagged as possible spam. 
These aren't the only SMS trends coming in 2023, but we've identified these seven as ones that should be at the top of your list as you develop your marketing strategies for the coming year.
While each of these trends stands on its own, there is one common thread: Customers have accepted text marketing, but their expectations are clearly increasing. They want SMS to be a tool that works for them. This is made clear in the demands for better data protection, two-way transactional messaging, accountability, relevance, and the expansion of conversational commerce to include SMS.
Finally, in addition to choosing the right trends to adopt, the most successful brands will approach text marketing with a new attitude. Rather than using it as a means to push customers through the sales funnel, they will focus on identifying ways to use messaging to create better experiences.
Where Will You Start in 2023?
Even if you know the most important upcoming SMS and mobile trends, it can be difficult to know where to begin. If your team is just now exploring text marketing, it can be even more challenging. But we are here to help.
Contact Consumers provides an SMS marketing platform that makes it easier for you to create and manage campaigns in one place. We also offer expert advice and insights via our campaign management services. Contact us for a free quote or to learn more about our services.