There's no denying that climate change is a major concern, and the need to take action is becoming more urgent over time. To have hope for a sustainable future, everyone must do their part. Unfortunately, the issue seems insurmountable at times, and few people believe that they can truly make a difference on their own. As a result, they often don't take small steps that can have a huge impact.
So how do schools, employers, and government agencies bridge the gap between caring about climate change and actually doing something? One solution is to implement text messaging as a way to fight climate change.
What's the Connection Between Text Messaging and Climate Change?
As it turns out, text messaging has the potential to create small but important behavioral changes in people. How? People have their phones with them constantly, making it the perfect delivery system for timely, important messages. It's an ideal platform for getting people to take small but meaningful short-term actions. 
For example, some organizations send tips and reminders on topics ranging from parenting to weight loss. These initiatives can be quite effective, so why not apply the same concept to climate change?
Who Would Use Text Messaging to Benefit Climate Change?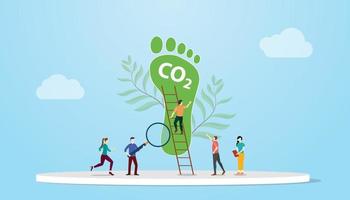 Any organization with the ability to influence its target audience could use SMS to encourage actions that benefit the environment. This includes:
Employers

City and county governments

Nonprofit organizations

Schools and universities

Businesses
Here are some use cases detailing how these climate change SMS messages might be applied:
Employers
Employers can use their reach and influence to educate their employees about climate change and motivate them to help. These messages might include:
Encouragement to carpool or take public transportation to work

Reminders about waste reduction in the office

Brief tips and facts about the

impact of climate change

News about company efforts to reduce emissions

Encouragement to work from home on low air quality days

Sending out sign-up forms for climate change volunteer events
Employers can also motivate team members to take action by creating contests or giveaways around adopting behaviors that are good for the environment. For example, employees could be entered into a drawing for a free day off if they show proof of participating in a local carpool program.
City and County Governments
Many people enroll in text messaging from local governments to receive timely news about road closures, community events, burn bans, etc. As such, these institutions can use these connections to send out texts that may educate and motivate citizens to take action. 
Local government agencies can reach out to citizens with messages about climate change, including:
Reminders to recycle and compost

Information regarding electronics recycling and other green events

Steps local agencies are taking to reduce waste

Updates and special offers for rideshare and public transportation options
For example, a county government might use SMS to send sign-up forms for public transit passes, along with a coupon code to encourage people to take the bus.
Nonprofit Organizations
Nonprofit organizations can use messaging to help influence behavioral changes in donors and people who receive services. While organizations that are focused on environmental causes may have a bit more influence, any nonprofit can adopt a climate change texting initiative. 
Here are some examples:
Reminders to apply for services online

Invitations to eco-focused fundraisers or charity events

Solicitations for donations to climate change charities

Information about local reuse and recycling events

Daily or weekly green-friendly news and tips
There's a good opportunity here for nonprofits to use multimedia messaging (MMS) to tell engaging stories about climate change initiatives and inspire audiences to take action.
Schools and Universities
Schools are often at the forefront when it comes to creating and participating in environmentally friendly initiatives. Additionally, many institutions use text messages to communicate with students, staff, parents, and community members.
Here are some examples of school-initiated text messages to influence people and create more awareness:
Reminders to students to carpool or ride the bus

Invitations to join school-sponsored clubs supporting the environment

Information about on-campus recycling centers

Recruitment messages for volunteers at campus clean-up events

News and information on waste-reduction measures the school is taking
Educational institutions are in a particularly good position to encourage behavioral change because they can reach both students and parents.
Businesses
Businesses can use their reach to encourage customers to make better choices when they shop. Customers who have already subscribed to receive messages about sales and other news may be open to receiving tips on green shopping. Here are some examples:
MMS messages with scannable coupons for customers with reusable bags

Sales announcements for organic or locally produced items

Steps the business is taking to go green

Reminders or encouragement to return recyclables to the store
When businesses take steps to encourage customers to be eco-friendly, they should be careful to highlight the changes they are making to help the environment as well. Otherwise, climate change texts might be a source of skepticism, rather than inspiration.
Climate Change Messaging Initiatives with Contact Consumers
Any business or organization can use SMS to influence others to do their part to help the planet. Contact Consumers offers a messaging platform to automate this process and ensure that your green-friendly texts reach a wide audience. Contact us for more information and a free quote.