There is no doubt that the solar installation business is booming. Now, more than ever, consumers are becoming quite alert to the effects of climate change and rising energy costs. Homeowners and businesses are more willing to install solar panels to reduce their carbon footprints and electricity bills. 
The federal government and many states offer financial incentives for solar panel installation through various tax cuts and rebates. As a result of these programs and consumer interest, solar installation companies are on the rise. Industry experts expect a 33% average annual growth in the solar industry in the years to come. 
With all the newfound interest in solar energy, it's no surprise that solar installation companies have a lot of competition. Even oil giants like ExxonMobil and Chevron have expanded their solar projects in recent years.
More competition means solar installation companies must deploy effective advertising strategies to reach new customers and develop larger client bases. A comprehensive omnichannel marketing plan can help these businesses expand their reach and grow revenue. 
Here are a few ideas to help solar installation companies embrace omnichannel marketing methods:
Form a Partnership with Other Home Improvement Professionals
Some of the best opportunities for enhancing business revenue come from partnerships with other organizations in your area. Homeowners who seek professional assistance with remodels, landscaping, plumbing, and other projects may consider installing solar panels upon becoming aware of their benefits.
By networking with other home improvement companies, you can develop a partnership with businesses in your area. For instance, you can give business owners brochures to hand out that advertise your solar installation business to their customers. In return, you can promote the other organization's products or services whenever you have a client.
Make Friends with Realtors
Realtors are often the first to know when a house is about to come on the market or when a home sells. Whenever a home changes hands, it's not uncommon for new owners to make improvements or change essential parts of the property.
Like a partnership with home improvement professionals, a relationship with competent realtors in your area can prove hugely beneficial. Realtors can recommend your services to interested property owners. They may also advise clients on the benefits of installing solar panels, including higher home valuations and tax incentives.
While the internet remains the king for advertising, print advertisements can also be beneficial, especially when concentrated in areas where homeowners are more likely to be interested in solar panel installation. 
As part of your omnichannel marketing strategy, identify neighborhoods in your area with a high concentration of homes or businesses with solar panels. Home and business owners who witness their neighbors installing solar panels are more likely to be interested in doing so themselves. 
Get the most bang for your advertising buck by sending out mailers directly to homes and companies in the targeted areas. Make sure your advertisements include details on the benefits of solar panel installation.
Take Advantage of Local Neighborhood Websites and Groups
Websites like Nextdoor are an excellent way to connect local homeowners with your business. You can create your own business page on Nextdoor to promote your company's solar panel installation offers. Many homeowners join Nextdoor to seek advice on local home improvement companies and events around their neighborhood.  
Another excellent option for reaching homeowners is through neighborhood Facebook groups. Often, people will join their local Facebook group to stay abreast of happenings around their neighborhood. 
Homeowners often ask for advice from their neighbors on landscaping services, plumbers, and other home improvement companies. You can join neighborhood Facebook groups and promote your solar installation services to interested people.
In today's business environment, it's almost unheard of for a company not to have a website. Websites are everywhere, and ensuring your organization has a well-designed site is essential for your omnichannel marketing strategy. Without a website, it's difficult for clients to find your business and determine what services you offer.
When you set up a website for your company, creating it with the best search engine optimization practices in mind is essential. Use keywords intended to attract customers, and localize your site as much as possible. 
After all, if your solar installation company is based in New York, you likely won't be able to assist clients in California. You want to attract customers within your geographical reach.
Your website should present your services clearly and professionally. Clients should be able to easily navigate your website without needing to jump from page to page. Prior customer testimonials, evidence of your professional certifications, and pictures from previous solar installations are all helpful for establishing credibility with future clients.
Use Content Marketing to Your Advantage
Content marketing is an integral part of presenting your solar installation company as the premier firm in your area. 
Various content marketing strategies exist, but blogging is the most common form. Establishing a regular blog that discusses topics concerning solar panels is helpful to readers and your business. 
The more you blog, the more likely your articles will capture the attention of potential customers, especially if your articles target keywords common in your industry.
Topics you may cover in your blogs include the benefits of solar panels, potential financial incentives for installing solar panels, and photographs of previous solar installation projects your company has completed. 
The more blogs you have on your website, the more likely it is to attract visitors and interest from consumers.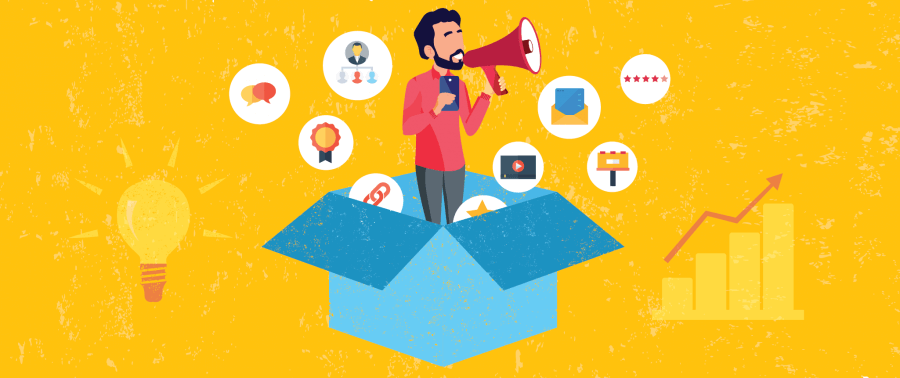 While you may not think social media marketing helps attract future customers, it is essential to any omnichannel marketing strategy. Social media platforms like Facebook and Instagram offer targeted ads to reach clients most likely interested in home improvement projects.
Once you set up a social media page for your company, you can begin to offer targeted ads. Targeted ads allow you to reach customers that meet specific demographic criteria, like location, expected income level, and age. 
Partnering with a social media advertising professional can ensure you create ads that reach your customer base and don't result in wasted ad spending.
You should monitor every marketing channel you use to ensure your brand name remains credible and well-known to your customer base. Ensure that you respond to comments from your customers on your social media pages and on common review sites like Yelp, Google, and Bing. 
If your company has a presence with the Better Business Bureau (BBB), ensure that you maintain your profile and respond to customer reviews immediately. Clients searching for a reputable home improvement company often check reviews on various sites before choosing a provider. 
You want to ensure that you respond to all negative and positive reviews to ensure potential customers see your business favorably.
Podcasts are a relatively new form of content advertising, but they're helpful to solar installation companies seeking to establish a presence in their communities. You can find local podcasts and ask for an interview or purchase an ad on the show for your company.
If you advertise on or are featured on a podcast, choosing one relevant to your industry is essential. For instance, a local home improvement podcast can be an excellent option. Podcasts focusing on real estate, climate change, or other similar topics may also be good choices.
Company owners who choose to speak on a podcast should ensure they can communicate the benefits of solar panels. If public speaking isn't your thing, you may ask someone within your company to speak on your behalf or purchase a pre-recorded advertising spot to attract customers.
Obtain a Listing on a Solar Directory
The rise of interest in solar power has led to the creation of solar directories, which list the names of local solar installation companies. Sites such as Solar Reviews, Energy Sage, and Consumer Affairs provide free listings to business owners who want to include their company on the site. 
Customers can also review solar companies listed in these directories. As you build your reputation, clients will begin to leave reviews on the site.
Client testimonials are some of the most potent sources for attracting new customers. As you build your business, you'll want to ask customers if they'd be willing to provide a video or written testimonial for your website. As you create a client testimonial page, you'll find that customers will be more inclined to engage with your company. 
Customer testimonials (especially videos) are a great way to provide examples of your company's work to future clients. You can use client reviews to present visual evidence of your solar installations and how the solar panels have benefitted your customers.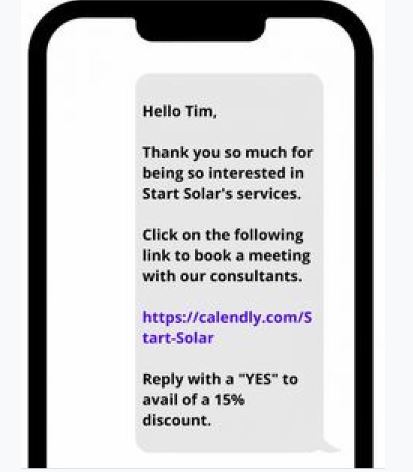 No omnichannel marketing strategy is complete without SMS marketing. SMS marketing has become one of the best ways to reach your clients immediately. You should ask clients to sign up for your SMS marketing messages through your marketing channels — print advertising, your website, and social media ads.
Remember that most people won't willingly give their phone numbers to businesses for advertising unless there is an incentive to do so. Many companies offer new subscribers a specific benefit, like a discount on a future purchase or the opportunity to receive text-only deals. 
Text messaging is one of the most vital advertising methods available. Research shows that people read their text messages 98% of the time. In comparison, emails average between a 4% and a 20% open rate, depending on the industry. 
Once you develop a strong SMS marketing campaign, you'll be able to funnel more customers to your business, resulting in more significant sales and a more extensive customer base.
Omnichannel Marketing for Solar Installation Companies
Contact Consumers offers an all-in-one marketing platform you can use for email and SMS marketing campaigns. Our solution allows you to easily manage your promotional activities from end to end. 
Using our services, you'll gain access to email and SMS templates that are fully customizable, as well as a robust analytics tool for monitoring the success of your advertising strategies. Check out the available solutions at Contact Consumers today!