Have you ever sent a text message only for it to sit in limbo? Behold the mystery of undelivered text messages. While most text messages make it to their recipients, some don't. Non-delivery of texts is one of the most frustrating parts of running an advertising campaign with SMS messages.
However, stuck text messages don't only affect organizations — they can impact individuals, too. Let's discuss some of the most common reasons why messages don't make it to their recipients and what you can do about it.
1. You're a Spammer (or Look Like One)
Everyone hates spam, yet spam continues to increase through text and email. Spam messages are sent by fraudsters, typically attempting to get information about you or steal your money. There are all types of schemes that unscrupulous people use to take advantage of unsuspecting individuals. Some of the most common include:
Offering gifts or prizes

Promising you a low-interest credit card

Notifying you of odd activity on a bank account that you don't have

Claiming there's a problem with the payment for a purchase you haven't made

Advising of package delivery for something you didn't order

Promising you well-paying work-from-home jobs

Offering to sell you cryptocurrency 

Requesting you verify your bank account or Apple ID login
There is no shortage of opportunities for scams, and thieves often don't give up until authorities catch them. 
Carriers will block your message if they believe it is spam. Red flags that can cause your carrier to stop your legit message as spam include:
Use a link shortener if you send a link to a website. Link shorteners take up less space in your message and are less likely to raise the eyebrows of your carrier. 
Most SMS platforms (including the one from Contact Consumers) will automatically shorten the links you send, so you don't have to do it yourself manually.
Using the Same Content in All Your Messages
Each message you send should be unique. That goes for all of your texts, including flash sales, coupon specials, notices of product launches, and other communications. Repetitive content may not only flag your messages as spam but also cause your subscribers to lose faith in your brand.
Writing Excessively Lengthy Messages
You should save your long-form content for your blogs and emails — not text. Texts should be short and sweet. They capture your recipient's attention for a few seconds, and your subscriber will decide whether they want to follow up on your message or not. 
If you find yourself drifting into multiple-paragraph territory when writing a text, you've lost the focus of your message. Rethink the goal of your communication and decide whether it should be sent as an email instead.
Sending Messages in All Caps
There is absolutely no reason why a business should send its message in capital letters. If you do so, your carrier will likely block your future messages to recipients.
Similarly, individuals should never send messages in all caps. If there's a lot of anger in the conversation, it's probably time to take a break from the phone and cool off.
2. Your Organization Needs a Different Phone Number
Carriers recognize two types of text systems: person-to-person (P2P) and application-to-person (A2P).
Person-to-person communication is the most traditional form of texting. When you text your partner to pick up a pizza on the way home from work, that's a P2P communication.
Occasionally, small businesses that aren't aware of the regulations on marketing texts will build up an SMS subscriber list and attempt to send promotional texts via the P2P system. Carriers will flag this activity and block you from sending future messages.
Application-to-person (A2P) is the appropriate system for sending business marketing texts. A2P uses a unique platform to store customer contacts and send bulk messages to your subscriber list. When you sign up for the platform, you'll receive a particular phone number you can use for sending your texts. 
3. The Carrier Has Technical Difficulties
Why is my text message not sending? Sometimes the problem isn't you; it's them. Just like all technological services, carriers occasionally experience service outages or issues with their routers that delay or stop all text messages. 
If this is the problem, sit tight. Carriers typically fix routing issues within a few hours. Once the carrier is back online, you can resume your texts or SMS campaign. Usually, they'll send a notification to customers once service resumes.
4. There's a Local Block on Text Messages
Are you sending text messages to different regions in the United States or even other countries? Beware. Sometimes local regulations prevent organizations from delivering marketing messages.
International texting is a whole different ball game. If you have international subscribers on your SMS list, you'll want to carefully review the country's international text regulations. Some carriers don't allow international texts because of the expense, so don't be surprised if your message doesn't go through. 
Other regulations you may encounter with international texting include time constrictions. Some countries will only allow organizations to send marketing texts during business hours, which local laws define. If you send a promotional text outside the window, the carrier will block it.
5. Your Recipient Put You on Block
You've likely been on the receiving end of texts you don't want. After all, what is more annoying than being interrupted during an important business meeting by the ding of your phone? 
Sometimes, blocking can be more personal. People occasionally block others they don't want to hear from but don't wish to confront. Known as ghosting, it's not exactly the most socially acceptable behavior, but it fulfills its purpose.
If you're running a marketing campaign and notice specific numbers aren't receiving your texts, they may have blocked you. 
Businesses that notice an uptick in undelivered text messages should attempt to figure out if customers are blocking them. If so, they should review their SMS campaigns and make sure they're not breaking any unspoken rules, like texting too often or at odd hours.
Make sure your SMS campaigns have a purpose, and you aren't sending messages that don't add value to your customers.
6. Your Message Contains Illegal Content
The Cellular Telecommunications and Internet Association (CTIA) has responsibility for enforcing the regulations concerning SMS text messages. Organizations cannot send messages containing certain types of content without risking a strong block from your carrier and potential fines.
Messages that fall into illegal or gray areas are more susceptible to interception from carriers. Make sure not to send messages that fall into any of the following categories:
Abusive, misleading, violent, or obscene texts, like calls to arms or pornography

Phishing messages that intend to obtain private information from consumers

Texts that cause personal safety concerns

Communications that encourage discrimination 

Threatening messages

Texts that include viruses or malware

Advertisements for drugs or pharmaceuticals

Texts intended for people 18 or over that don't have appropriate age verification in place
Many legitimate texts, like financial or investment services or advertisements for tobacco, CBD, or other similar substances, can fall into the gray area. If your organization's products or services fall into categories that might violate CTIA regulations, seek an attorney's advice before embarking on an SMS marketing campaign.
7. Your Customer Gave You a Landline Number
Why is my text message not sending? Maybe your client was too shy to tell you upfront that they didn't want you to text them, or perhaps they just wanted that coupon for an extra 25% you offered them for signing up for text message promotions. Or, maybe your customer legitimately believed you could text them on their home landline.
Regardless of your client's intentions, if they gave you a landline number, no SMS will get through anytime soon. You'll need to remove the number from your subscriber list and keep trying to build up your client base.
8. Your Customer Didn't Pay Their Cell Phone Bill
In times of financial crisis, sometimes people can't pay their bills, including their cell phones. If your client recently lost their job or inflation is taking a severe bite out of their pocketbook, they may cancel their phone plan or hold off on their regular payment.
There's not much you can do if your client doesn't pay their cell phone bill. You can keep them on your subscriber list for a month or two to see if they resolve the issue, but if they don't, you'll need to remove them from your contacts.
9. Your Customer Turns Off SMS Messages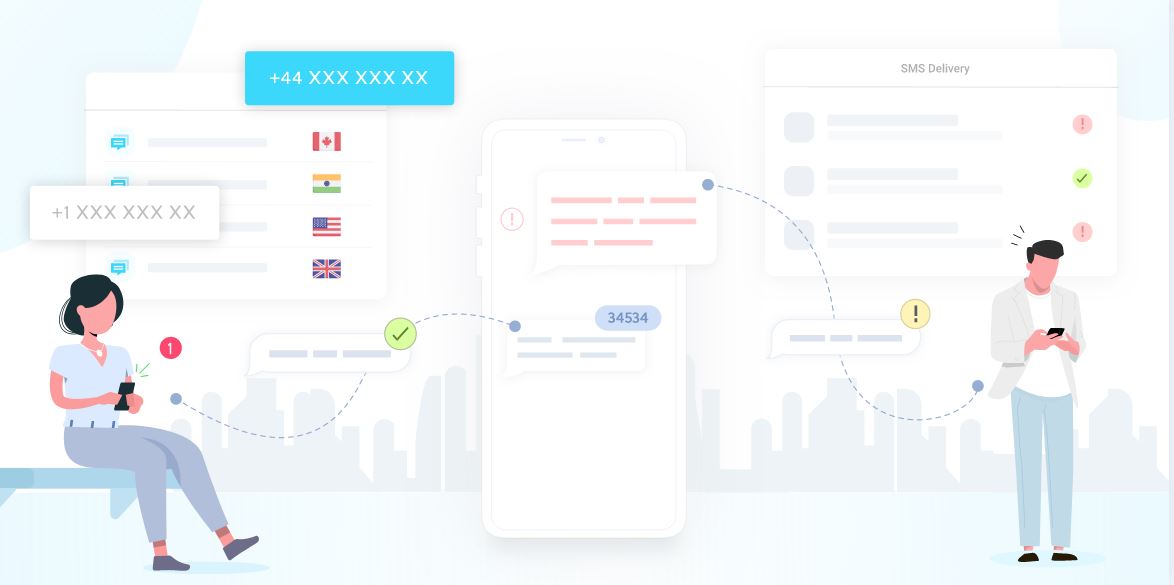 Sometimes, people actively decide they don't want to receive SMS messages. To stop future receipts, they will turn off the ability to receive texts on their Android or iPhone smartphones. 
People who don't want SMS messages may use specific apps to do all their texting, like Viber, WhatsApp, or Telegram. It's much more common to receive texts via an app than traditional SMS messages in some countries. International carriers may charge for text messages, or the recipient may have a lot of contacts with international phone numbers. 
Individuals in Europe prefer texting via applications since residents regularly travel among different countries with different regional carriers. Texting in WhatsApp and other similar programs is free, making it a practical solution for those seeking to minimize costs.
If your customer doesn't accept SMS messages, you'll need to remove them from your subscriber list. Send them your communications via email instead.
10. You're Sending Too Many Text Messages
Why is my text message not sending? Sometimes it's because your carrier notices you overuse the service. Organizations that aren't using the proper A2P system can fall into this category. 
Carriers expect most text messages to follow a pattern. For instance, you send a text, and your recipient replies with another one. The conversation continues until both parties decide to end it.
Organizations that send a text might not expect a reply to their communication, depending on its content. If the entity sends numerous texts over a short period, like a few hours, and receives no response, the carrier may block them. Your organization can avoid filtering from sending too many texts by using a dedicated platform like Contact Consumers.
Why Is My Text Not Sending? Now You Have the Answer!
If you've been wondering why your texts aren't making it to your subscribers, you now have ten potential reasons to consider. The most common reasons for undelivered text messages include the carrier flagging you for spam, not using a proper A2P system designed for SMS texts, or subscriber-related problems.
Ensure your organization has a dedicated platform to get the most out of your SMS campaigns. A platform provides a unique phone number for your SMS texts and can help you manage your subscribers.
Contact Consumers offers a streamlined solution for managing your SMS and email promotions. With our platform, you can manage both types of marketing campaigns. You'll gain access to pre-filled templates you can use for your advertisements or customize your own for maximum customer engagement. You'll also be able to review the performance of your campaigns with our convenient, real-time data reports.
To learn more about Contact Consumers, check out our website today.